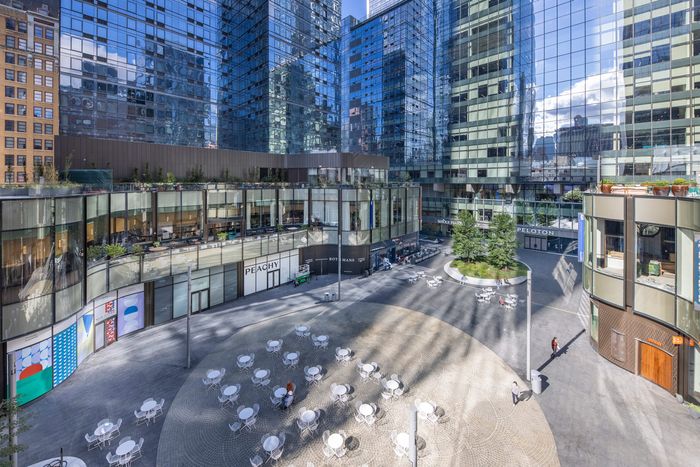 Not bad!
Photo: Jakob Dahlin
You don't have to be too grizzled to remember when the territory west of Penn Station was Manhattan's most desolate zone. The aptly named but universally forgotten Dyer Avenue formed a fume-filled gulch before plunging into the Lincoln Tunnel. The concrete ziggurat at 33rd and Tenth Avenue had the look of a place designed to muffle screams from deep inside. (Although it had a skating rink on the roof, so maybe the howls were joyful.) Trains ran through an open ditch before plunging into the terminal's darkness. Street life consisted mostly of windblown litter. Then the city rezoned the entire area, turning it into a vast construction site.
Beyond the polished precinct of Hudson Yards, there's still enough noise and grit in the air that it comes as a surprise to duck off West 33rd Street between Ninth and Tenth Avenues into a quiet, shaded plaza in Manhattan West and have a choice of café tables, restaurant seating, or sinuous marble benches. You would never know that you're sitting on a platform in midair above a knot of transportation infrastructure and haze-shrouded traffic. Sure, it's a meager T of public space slipped among skyscrapers, a fancy outdoor food court dressed up as a European piazza, and a big developer's idea of where regular people would like to hang out. But I'll take it! A block away and less than three years old, Hudson Yards has aged from a shiny new space station to a disconsolate one. Manhattan West feels like a corner of New York conceived with actual human beings in mind.
Roughly 15 years in the making — or 36, depending on when you start the clock — Brookfield Properties' eight-acre, $4.5 billion Manhattan West complex fills in the gap in megadevelopments between Related's turf (at Hudson Yards) and New York State's (Moynihan Train Hall and the soon-to-be-Facebook offices next door). The newest pocket city has two surprising strengths. The first is that, somehow, a high-rise complex largely designed by a single firm (Skidmore, Owings & Merrill) and built by a single developer (Brookfield) came out looking like an attractive hodgepodge.
Two glass-skinned office skyscrapers flank the Ninth Avenue entrance, aspiring to an illusion of weightlessness, like a pair of elongated soap bubbles. (One houses the law firm Skadden, Arps; the other is still under construction.) Like Hudson Yards, Manhattan West is effectively a habitable bridge. A landscaped platform spans the river of rail below, and the giant towers find purchase wherever they can. Building over train lines without shutting down service is a monstrously delicate job that involves shifting loads around so that a lone column touching down alongside the tracks can do the job of five. The structure is mostly hidden behind curtains of glass, but you can see its traces in the lobby of One Manhattan West, where a marble-clad base curves toward the ceiling and meets a wooden hull, echoing the great steel diagonals inside the glossy walls.
At the rear of those thin-skinned skyscrapers comes a pack of motley buildings. A boutique hotel, the Pendry, presents an undulating dark-glass façade banded in ribbons of somber brick. The Lofts reclaims an old masonry holdover that hangs out awkwardly with the new kids and provides a brushstroke of nostalgia. A residential tower, the Eugene, is an unstartling glass canister full of amenities and the people who pay for them. And then there's the ziggurat, designed by Davis Brody in 1969 as 450 West 33rd Street, then reborn and redubbed Five Manhattan West a few years ago when the architecture firm REX stripped, gutted, and dressed the beast up in vitreous ripples and zapped it into a tech center. Instead of looking like a greige elephant's paw squashing the train yards below, it now sports a glass tutu that almost, but not quite, camouflages it in the reflective terrain of Midtown.
The variety of designs — none spectacular, all respectable — suggests a gradual architectural accretion rather than a grand unified plan supported by the kind of bravura engineering that only big companies can afford. It's still a corporate simulacrum of a city, but given the history of such gestures, it's surprising they got it anywhere close to right.
The second marker of Manhattan's West success is that the public space feels like it was designed as a positive presence and not just as the gray stuff left over between buildings. A pair of curving low-rise restaurant buildings cup the plaza, alleviating the sense of being confined inside a high-rise corral. That move alone corrects one of the missteps of Hudson Yards, where food life is stashed on the upper floors of an indoor mall, remote from casual passersby. Here, it spills out into public view. Restaurant tables flow out toward public café tables. Upstairs, bar and restaurant terraces provide views and a bit of executive-level romance, and a 160-seat theater promises "contemporary variety" shows, whatever that means.
James Corner Field Operations designed the horizontal plane, with miniature groves and orchards, tiny gardens, grassy blobs outlined by wavy travertine benches, and a central bull's-eye paved in overlapping circles. The space isn't huge — a couple of acres — but it's cannily subdivided to accommodate a variety of experiences at different times of day: spectacles, lunches (including takeout from Whole Foods or Daily Provisions), intimate chats, and platoons of commuters striding through.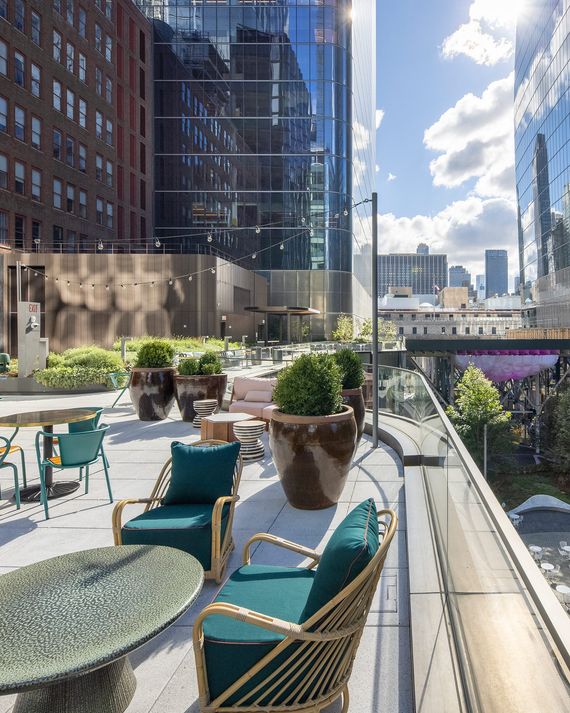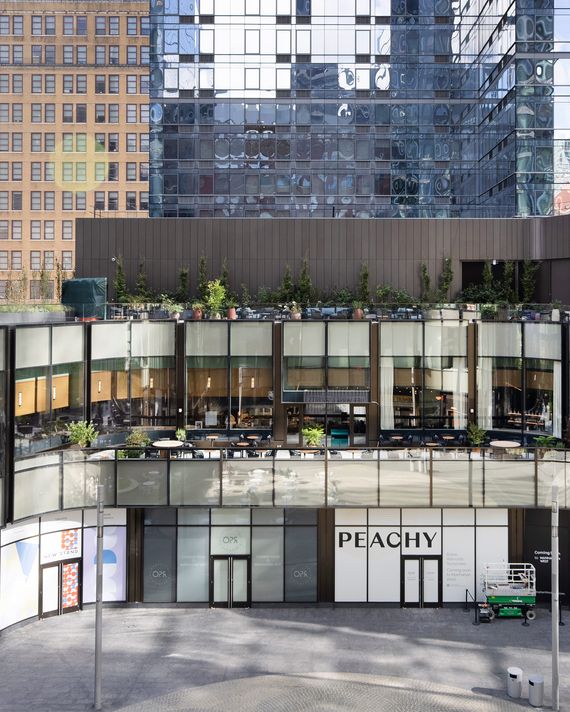 Will those activities materialize? For now, it's still a buttoned-up plaza surrounded by empty interiors. The success of the project — and of Midtown writ large — depends on those office buildings refilling and generating daily tides. Governor Kathy Hochul has recommitted to her predecessor's plan for a pedestrian bridge over Tenth Avenue, connecting the High Line and Hudson Yards to Manhattan West and Moynihan Train Hall, a move that will complete the job of divorcing the pedestrian realm from the street below, starving the sidewalks and feeding the linked plazas. Stroll along the breezeway on the southern edge, beneath the massive concrete legs that hold up Five Manhattan West, and you get a sense of what it would be like to just keep going, 30 feet above the street, all the way to the Whitney.
In the meantime, Brookfield has managed to turn the ongoing construction of Two Manhattan West, the final tower fronting on Ninth Avenue, into an urban opportunity. Instead of erecting the usual sidewalk shed to protect passersby from falling debris, the developer sprang for a high-roofed canopy dressed up with billowing fabric ceiling, multicolored LED lights, and an artistically artificial orchard of fake lemon trees below. Like so many private managers of public spaces, Brookfield has internalized the lesson of Bryant Park: pack the calendar and the available acreage with events, exercise classes, concerts, screenings, and pop-up holiday fairs. Manhattan West will accordingly get a steady stream of developer-curated entertainment, as well as ice-skating at a street-level reincarnation of Sky Rink (now at Chelsea Piers). A mega movie screen will soon make its debut, suspended from the façade of Five Manhattan West.
Not every public plaza needs to be so relentlessly activated if it's well enough designed; New Yorkers can fabricate their own vitality. The one thing that's missing here is anywhere to play. Are there no children in these apartments? The designer Ryan Swanson has advocated building moments of pointless joy into public spaces: not just fenced-in playgrounds or dancing water jets but also smaller-scale installations, like benches that can be played like marimbas and climbable sonic sculptures. Those flourishes can help soothe adults, too, by adding a touch of impromptu softness and fancy to tightly scheduled days. That's the paradox of privately owned public space in a big development: It forces a big company to figure out how to make a neighborhood seem less branded, and more messily urban, than it really is.