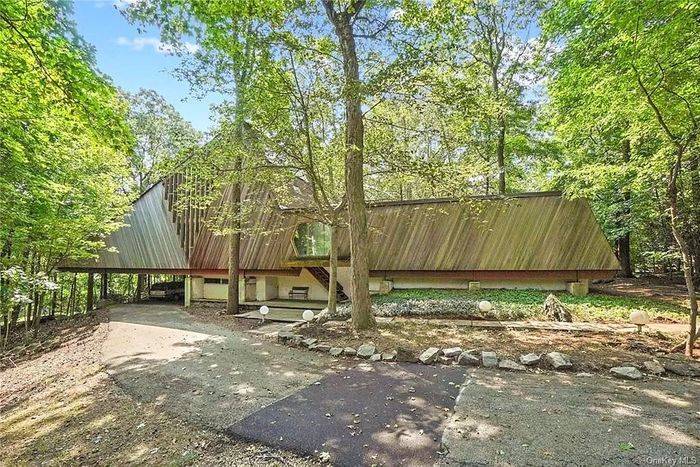 Photo: HomeTourVision, courtesy of Amy Via and Todd Goddard of the Architectural Homes NY team at Houlihan Lawrence
On a heavily wooded cul-de-sac lot in Ardsley — a tiny, Dobbs Ferry–adjacent village in Westchester County — sits a particularly unusual '60s cabin. Designed by Davis, Brody, and Wisniewski (now Davis Brody Bond, the firm behind the 9/11 Memorial & Museum and the National Museum of African American History and Culture) and on the market for the first time since it was built, the house looks a bit like a stretched-out A-frame on stilts. Its roofline slopes dramatically but asymmetrically, like a wedge, and there are massive angular cutouts for windows embedded throughout the façade.
Inside, there's a cathedral-like living room with original redwood walls and ceilings (panels are positioned diagonally for better acoustics), a gigantic brick fireplace, and extensive sliding glass doors opening out to a deck (which takes up the full width of the room, nearly 24 feet). A wooden staircase winds up to the second level, which has the two original bedrooms, each with a walk-in closet.
To accommodate their growing family, the owners added a single-story, three-bedroom children's wing in 1971. That's also when they extended a portion of one side of the original structure to create a solarium-like dining room with a wall of large slanted windows supported by wooden arches.
Listing agent Amy Via of the Architectural Homes NY team at Houlihan Lawrence says she has had 15 showings since the open house, which was flooded with 50-odd people — most all who seemed interested in putting in the "immense" amount of work the house will require (the kitchen is a "gut job," Via says, and the baths, electric system, and exterior property will need updates as well). The open house was also where Via discovered that the home's vintage NuTone wall radio and intercom system still works. She turned on the radio from the kitchen and the music went right through to the bedrooms.