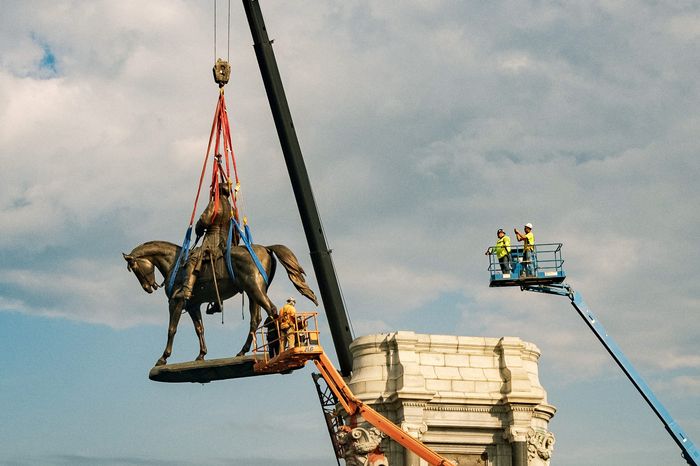 Photo: Amr Alfiky, National Geographic/Getty Images
In the United States, there are more monuments to mermaids than there are to congresswomen. Sit with that: more monuments to mythic aquatic creatures than the real-life women who have shaped the laws, rights, and freedoms that affect every single person in the country. This finding comes from a new report from Monument Lab, a Philadelphia-based research studio that studies public art and history. In fact, it found a ratio of about 22:2 of mermaid statues to congresswomen in its new National Monument Audit.
So whom exactly does the United States honor in bronze? Thanks to the audit, we can answer that question with more confidence. For the past year, with funding from the Mellon Foundation, Monument Lab's team of 30 researchers pored over public records of the nation's monuments — about 500,000 in all — with a closer analysis of the patterns and trends in a smaller set of about 50,000. (The mermaid-to-congresswomen ratio comes from the sample set.) It's not an exhaustive inventory of each and every statue, but rather a "panoramic snapshot of the monuments we've inherited," says Paul Farber, the co-founder of Monument Lab and co-director, with Sue Mobley and Laurie Allen, of the National Monument Audit. Its release comes more than a year after the protests that targeted statues representing white supremacy during the uprisings after George Floyd's death, although the question of how to remember the country's most fraught legacies is far from resolved. "We're hungry, as a culture, to understand who is represented and who does the representing," Farber says.
Not since the Smithsonian's Save Outdoor Sculpture audit of 1990, which focused on the maintenance of outdoor statues, has there been an attempt to understand the country's public monuments at a national scale. There isn't a government body that oversees them or even a shared definition of what a monument is. For the purposes of the audit, Monument Lab defined it as "a statement of power and presence in public." And, taken all together, what the Lab found was that monuments often carried distortions, omissions, and willful misconceptions of our collective history.
Human memory, after all, is unreliable. It's not a stretch to think the way we've inscribed memory into the landscape suffers from the same slipperiness — or manipulation, depending on whom you ask. In the Southern Poverty Law Center's 2016 survey of public symbols of the Confederacy, most monuments to that oppressive regime were constructed after the South lost the Civil War. "For some Americans, history isn't what actually happened," wrote the Atlantic's Clint Smith in an article about the myth of the Lost Cause. "It's what they want to believe." The National Monument Audit found a similar revisionist drive in the pioneer-themed statues erected during the middle of the 20th century, more than a century after settlers headed West and the California gold rush began.
Revisionist history is powerful, and the notion that monuments are permanent makes them a prime tool for those who want to advance their narratives. "Historically this has put in the hands of those with officially sanctioned power and resources the ability to shape the Monumental Landscape with their values and visions in mind," Farber says.
We can see this in the 50 people with the most monuments across America. They are mostly U.S. presidents and generals who owned land and were born into wealth. Half enslaved people. Only three are women: Joan of Arc, Harriet Tubman, and Sacagawea. And those depictions — like a Charlottesville statue of Lewis and Clark circa 1919, standing proudly in front of a crouching Sacagawea, whose biography is unreliable — aren't great to begin with (this one was recently removed).
More broadly, the report states, "Violence is the most dominant subject of commemoration across the nation." In monumental form, this fundamental feature of the country's origins and national identity is presented without any acknowledgement of the pain and trauma that was inflicted. Not surprisingly, war monuments made up about a third of monuments in the study set, and half of those in the nation's capital.
The audit confirms what many Americans already know about the connections between these symbols and broader societal systems. Our monuments aren't history, they're hegemony. And these systems not only build statues, they maintain them. Marble and bronze degrade, and that everyday care involved in polishing away oxidation or scrubbing off bird poop are investments in time, resources, and political influence, the report says. The morning after protesters in Philadelphia's 2020 uprising defaced a statue of Frank Rizzo, the city's former mayor and police commissioner who told the city to "vote white," it was completely cleaned up — a visual confirmation of what is most valued: the status quo. (The statue has since been removed.)
But the authors also hope the audit can do more than confirm what we already know. It can guide the next generation of monuments. As Farber says, "The Audit's calls to action are about our relationship to monuments to build deeper knowledge and understanding, to look at how monuments evolve in their relationship to power, to imagine healing monuments across generations, and to support a profound shift in representation … It's about multiplicity and complexity, not single voices."
We have examples of this at the local level. While grassroots arts groups and local artists have always reckoned with monuments, cities and national organizations are starting to catch on. New York City completed its own audit in 2018 and found similar patterns among its monuments (there were mostly men, few women, and plenty of colonialist ideals to go around) as the Monument Lab audit. In response, the city initiated programs like She Built NYC, which aims to increase the representation of women in public monuments, and recently commissioned a sculpture of Shirley Chisholm for Prospect Park.
But those well-meaning efforts haven't always gone smoothly, often because we're still grappling with the history itself. A proposed statue of women's rights activists in Central Park was criticized for omitting the work of Black activists, and the solution — to add Sojourner Truth and have her in conversation with Susan B. Anthony and Elizabeth Cady Stanton, who left Black women out of their suffrage efforts — was historically inaccurate. And in San Francisco, a monument to Maya Angelou was rejected by city officials because they wanted something that looked like a traditional, figurative representation.
Perhaps one of the audit's most consequential recommendations is to accept that monuments are neither permanent nor timeless. As the report says, they ought to "meet the demands and aspirations of our time." And that process of reenvisioning is already in place, as Mellon has funded the next big project from the Lab, Re:Generation, which will grant ten art-and-justice projects $100,000 each to shift the perspective of what commemorative landscapes can be, either through the creation of new works or by adapting an existing commemoration.
Just a couple of weeks before the audit's release, a caravan of cranes, cherry pickers, and flatbed trucks pulled up to the statue of Robert E. Lee on Monument Avenue in Richmond, Virginia. They were there to remove the 12-ton statue of the Confederate general, which had loomed over the area since 1890. A group of around 150 cheering spectators gathered, which was smaller than the crowds that had rallied around the statue after the killing of George Floyd last summer. But still, those gathered were intensely emotional. Devon Henry, the owner of the construction team hired for the removal, hugged his mother when the statue came down. The Lee statue was eventually carted away to an undisclosed state storage facility while plans for its future are finalized.
Farber was also in the crowd, with final proofs of the National Audit in his backpack. The audit tracks monument removal, and this one was the most recent in a slew of Confederate monuments and symbols, about 170 in all, that have been dismantled since 2015. Seeing cranes lower Lee's statue to the ground, after so many years of calls from local residents to remove it, "was a profound moment to register," Farber says. Two weeks later, Richmond unveiled the Emancipation and Freedom Monument on Brown's Island, about two miles southeast from where the Lee monument had formerly stood. It's composed of two 12-foot-tall bronze statues representing a man, woman, and infant newly freed from slavery. The monument, sponsored by the Dr. Martin Luther King Memorial Commission, has been in the works for over seven years.
While the timing of a Confederate monument removal happening so close to the installation of one celebrating emancipation felt like a symbolic turning of the page, it was actually a coincidence. Governor Northam's order to remove the Lee statue in June 2020 had been logjammed in the courts, while the Emancipation statue was originally scheduled for an unveiling in 2019 to mark 400 years since the first recorded slaves were brought to America.
Such transformations in our commemorative landscapes ought to be welcomed. "It's not a zero-sum game," Farber says. "There are people who make it seem like there is a binary. You want them removed, or you want them there. But there's constant change built into monuments and into this country. Monuments are not frozen. They're not beyond reproach."