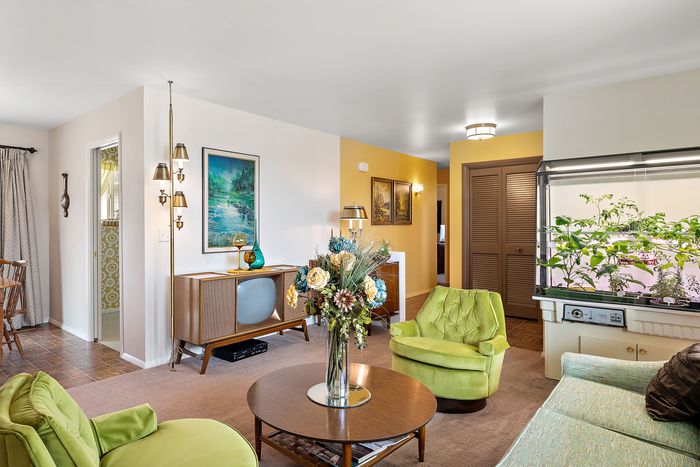 Photo: Shutter Shock Media
The butter-yellow house at 1925 W. South Slope Road in Emmett, Idaho, appears to be a preserved-in-amber fragment of mid-century suburbia. You might guess that it had been inhabited by the same owners for the last half-century or so, a mild-mannered married couple, perhaps, who were content to skip the renovation trends of the '70s and '80s — of every decade, really — and stick with their floral-print wallpaper in goldenrod yellow and prim powder-pink bathroom. But when the three-bedroom, two-bathroom house was listed for $660,000 in August, there was one glaring detail: The house, in all its retro-simulacra glory, isn't even a year old.
Jacki Carroll, 60, built the humble ranch after many years living in mid-century houses — in Arizona, Tennessee, and wherever else her husband's Air Force career took them — and decades of estate-sale scouring. The self-described "happy homemaker" who decorates cakes on the side has highly nostalgic tastes formed by her '60s upbringing, and Emmett, which is known for its drive-in theater and its cherry trees, is a bit old-fashioned itself. But the house is strangely un-aged: Aside from the kitchen appliances and some of the furniture, many of the materials and details in the house have never been used, despite being between 50 and 60 years old.
The Emmett house is not groovy or maximalist or design-minded; there are no expansive panes of glass or angular beams like you might find in an Eichler or a Neutra. Instead, it looks like the house down the street, more Levittown than Le Corbusier, and was in fact built according to a layout originally published by Hiawatha T. Estes's Nationwide House Plan Book Company, which in the '60s sold widely distributed blueprints. The homes are mostly in the "long and low California style," Carroll says, and are immediately recognizable if you're in the know. "You could tell his houses because they have scalloped fascia on them, and they have a kind of asymmetrical pitch on the front of the house," she says. "One side is longer than the other, and it swoops down over the top of the door."
Carroll and her husband started searching for plans in 2020, after watching a number of actual mid-century homes in and around Boise sell immediately after they went on the market, a symptom of the region's vigorous COVID-era housing market. They landed on Plan No. 3509, lifted from a 1960 catalogue that they purchased in a lot of five on eBay for about $50. At 1,387 square feet, it had three small bedrooms lined up on one side of the house, a semicircular terrace, and a 19-by-8-foot kitchen with a nook. "All we had to do was bump out the back of the house by, like, three feet," Carroll says, to add a little breathing room to the bedrooms, which are minuscule by 21st-century standards.
Long before the Carrolls had plans to construct anything, Jacki had been quietly amassing everything needed to outfit a vintage house, trawling thrift stores and eBay and estate sales. But having a trove of dead-stock building materials is only half the battle, as wrangling half-century-old fixtures and flooring, much of which did not comply with 2021 building or electrical codes, turned out to be tricky. One sink back-flowed in a way that would have been acceptable in the '60s, but no longer; certain panes of glass were discarded because they did not meet the energy standards of the 2020s. And the iron posts on the front porch are not weight-bearing at all, says Darin Inman, who owns the firm that did the construction, Riteway Builders. Instead, the roof is cantilevered, putting its weight on the front wall, and the posts have no structural purpose.
The contractor also brought some vintage know-how to the project thanks to a few employees who have been building homes since before the moon landing. The dovecote at the peak of the roof and the pale-yellow siding were overseen by one older man. When Carroll showed him the image of the Estes house, "he remembered it," she says, and called upon his own memory as he went to work, closing in the rafters and integrating the iron posts, but reproducing its '60s sensibility well enough to satisfy her keen historical vision.
Inspired by old Better Homes and Gardens and American Home pictures of white-brick fireplaces surrounded by walnut paneling, she bought plywood from a local store and gave it six layers of walnut stain and satin varnish. Next to the fireplace sits a 1960 tube TV, acquired from a thrift shop and outfitted for watching local channels in black-and-white. That vinyl brick flooring, part of the mid-century craze for Colonial-style interiors, was the last of its kind; the manufacturer had been producing the design since the 1940s but stopped making it a few months before they moved. "They had two rolls left, and they told me I had to buy an entire roll," she says. The Emmett house only required half of it.
The kitchen appliances, which all came from Craigslist, were a breeze; although they date to 1964, they had been basically unused. "I don't think the owner was much of a cook, because they were in perfect condition," Carroll says. She did have some of them repainted in General Electric pastel yellow, by a hot-rod shop in Tennessee, to give them "that brand-new shine." The doorknobs and other pulls throughout the house have the same pedigree: "That old-fashioned brass doorknob and all the hardware in the bathroom is new old stock that I had bought off of eBay and Etsy, and they were still in the packages, obviously marked down about a dozen times because they were trying to get rid of them."
But after seven months of living in this meticulously re-created mid-century dream home, the Carrolls are already moving — thus the listing. A new job for her husband is taking them to North Carolina, along with almost everything used to furnish the ranch: the swivel chairs, the tube TV, the half-roll of vinyl flooring. Carroll and her husband are looking for yet another mid-century house, but a lot of what they're seeing has a flipper problem. "I guess it's too much HGTV," she says. "Our realtor sends us a daily list of houses to look at, and every once in a while his helper will send us one that's been greiged. You think, Oh, it's going to be so cute! And then … there's that gray. There's the gray flooring, and the gray walls, and the gray this and the gray that."
"I like bright and happy colors," she says. "I don't like white. I don't like gray. I mean, white has its place, but I don't like it overwhelming the house … We'll probably do our next house in turquoise."