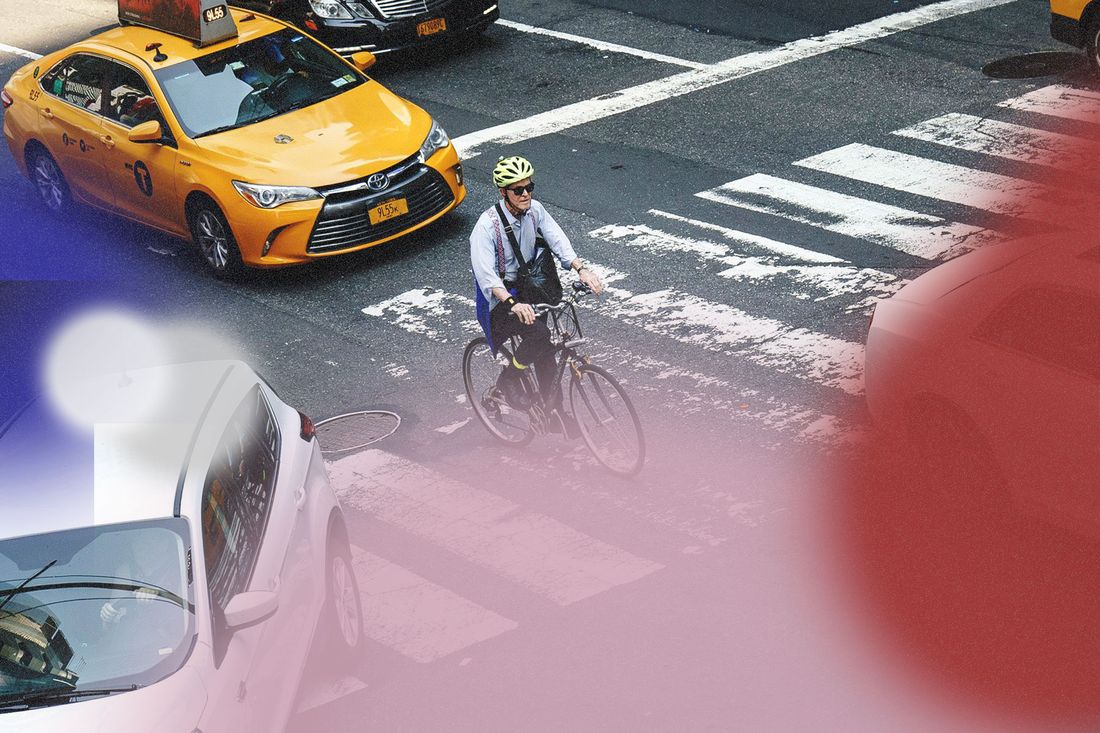 Photo-Illustration: Curbed. Photo: Drew Angerer/Getty Images
In May, I rode my bike from El Museo in East Harlem home to Brooklyn. That trip took me down Second Avenue during the dinner rush — and on that Saturday night, its chaotic energy was dialed up even more than usual. It was one of the first truly warm spring evenings, and it seemed every newly vaccinated New Yorker was out, crowding the sidewalks as they waited for tables at streeteries and clutched their takeout drinks. In front of an Italian restaurant, a Sinatra-esque singer crooned.
On paper, Second Avenue is one of the city's nicer, better-funded biking routes; most thoroughfares don't have its protected bike lanes, bike signals at stoplights, or smooth new asphalt. Yet I still felt like I was playing a game of Frogger, dodging pedestrians who stepped into the bike lane unthinkingly and waiters running food across the lane from kitchens to streeteries. Over the course of one block, at least a dozen delivery drivers on e-bikes whizzed past me. Pairs of slow-moving Citi Bikers riding side by side caused mini traffic jams. Occasionally, the four-lane avenue was completely empty of motor vehicles, but then a car would come barreling down, seemingly out of nowhere, and roar through at a speed far above the limit.
My ride was not unique. It's been a perilous year for bikers and pedestrians, and the summer didn't calm anything down. During the first quarter of this year, there was a 58 percent increase from 2020 in the number of pedestrian deaths from car crashes, which was already the deadliest figure since Vision Zero was introduced in 2014. Now this year is on track to be the worst for traffic fatalities since Bill de Blasio took office. It's true that there are now more bikers on the road, jostling for space on the 1,300 miles of bike lanes with Citi Bikes, scooters, mopeds, and e-bikes. But there are also more delivery trucks, streeteries, and cars. Everyone is trying to hang onto a piece of asphalt, and fights over the street — who rules the road, who gets ticketed, who gets to live, and who ends up dead — are as old as the city itself.
Thanks to pandemic-era initiatives like open restaurants, open streets, open storefronts, open culture, and the Curtains Up program, a lot of us live outdoors much more than we did before. While some of these programs were intended to be an interlude (and were offered as a substitute for direct aid to struggling industries), now we don't want to give any of them up. They're popular, so politicians are lifting the red tape for a second year. Conflicts over street space are dominating political races and community-board meetings, where shouting matches over e-bikes, streeteries, and park parties flow into debates about long-standing and worsening issues like gun violence and homelessness. A multiyear spike in anti-Asian hate attacks is making many New Yorkers fearful of walking on the streets and taking public transit. A full reopening is essentially here, and we're simultaneously using our street space as if we're under lockdown and proceeding as if things are back to "normal." The streets can't take much more.
Not everyone is benefiting from all the new programs. Take the home-delivery boom, and the truck traffic, congestion, and pollution from depots in neighborhoods like Red Hook; Soundview, in the Bronx; and Old Place, in Staten Island. Your app-based takeout Thai order means more delivery bikers on the road, many of them speeding to keep their ratings up and getting hurt or hurting others in the process. Then there is the open-restaurants program, which permitted ad hoc, temporary outdoor-dining interventions that now, in its second year, has turned into a flash point between residents and business owners. Some residents regard streeteries as a private-land grab and a missed opportunity. "This could be gardens, this could be playgrounds with kids, this could be bike parking," one West Village resident told Streetsblog. But even beyond the question of whether or not to build one, there are simply places in the city where establishments can't or won't. Cassandre Davilmar, the owner of Lakou Café in Crown Heights, told Bon Appétit that she didn't think outdoor dining would work for her, because the infrequently cleaned street is full of garbage and congested with traffic. She applied for Open Streets designation to help with the latter, but the city told her that Utica Avenue was ineligible because it was on a major bus route.
The fallback solution to seemingly every social problem afflicting our public spaces is to frame it as a matter of safety, which translates to a demand for more cops or penalizing the most vulnerable people on the street. The mayoral primary was steeped in this debate, and Eric Adams, a former cop, emerged the winner. When the Park Slope BID tried to get e-bike riders to slow down in June, it called the NYPD, which proceeded to ticket delivery workers — who are mostly immigrants — for not wearing helmets. After Park Slope residents protested, the BID "uninvited" the NYPD. A couple of days later, the Upper West Side's Community Board 7 transportation committee voted to ban e-bikes from its bike lanes. Overpolicing delivery cyclists who are trying to work and fulfill the demands of the well-off — and pose a statistically nominal safety risk compared to cars — while prioritizing drivers and recreational riders reads like a rehash of the classist midtown bike ban from the 1980s.
The forthcoming streets master plan, spearheaded for now by City Council President Corey Johnson, is a step in the right direction. The bill promises to "prioritize the safety of all street users, the use of mass transit, the reduction of vehicle emissions, and access for individuals with disabilities" through measures like prioritizing pedestrians at traffic signals, redesigning 2,000 intersections over the next five years, expanding the bike-lane network, and reworking truck routes and commercial loading zones. The first draft of that master plan is expected to be released at the end of 2021, and it'll be up to the city's next mayor — almost surely Adams — to follow through. But it mostly calls for infrastructural changes, which don't (and can't) address the social dynamics that determine whose interests are prioritized. Painted bike lanes won't resolve how NYPD officers target immigrant delivery people with tickets. It's also a matter of how decisions are made: The disparity in infrastructure between Manhattan and the outer boroughs is vast, and that ought to be addressed and accounted for in any plans. What's missing is an approach that frames streets not just as a system of conveyance but as a vibrant site of public life that all New Yorkers have a right to use and enjoy. The spirit of the streets master plan — to prioritize all street users, not just privileged groups — means rethinking the processes through which people participate (or don't) in decision-making. And including "all street users" means intentionally considering how all abilities, races, sexualities, gender expressions, and classes can participate.
Safety alone, as a framing concept, doesn't challenge the dynamics that consistently prioritize the able-bodied, the wealthy, and the privileged. Last summer, I spoke with six women — Tamika Butler, Ascala Sisk, Liz Ogbu, Vedette Gavin, Veronica Davis, and Odetta MacLeish-White — about their spatial-justice work in the fields of urban planning, public health, transportation design, and environmental engineering. They argued that cities must directly confront the power structures that shape our urban environments, from the way problems are framed to how they are resolved.
"Transportation, like every industry, must use this time to 'look at old problems in new ways,'" Butler wrote in a Medium post last April, as the pandemic gripped cities. "[E]ven when it reveals things in ourselves and in our society that make us profoundly uncomfortable." The theory shaping their framework comes from the concept of brave spaces, which is typically used in academic and movement-building contexts. It acknowledges that "safety can't be guaranteed in a world that is unsafe to marginalized people" and that such people often have to be brave in most places. A brave space is one that is about mutual learning and accountability, while a safe space is one that provides support and emotional and psychological security.
The framework the six women created confronts the uneven power dynamics fostered by race, class, gender, and other social differences by positioning planners and designers as people who have as much to learn as the people they are designing for. Their framework is a set of questions that policy-makers, engineers, and designers working in the public realm ought to be constantly asking themselves: What is the problem I am trying to solve? Who consistently benefits from the problem not being solved? Who consistently suffers from the problem not being solved? Does a new protocol or procedure worsen or help existing disparities? A preoccupation with safety means rehashing the same fights and getting the same results. With those questions in the foreground, a solution might look like expanding curbside architecture to offer more than just seating for private restaurants, as was the case with Restorative Ground, a public-seating installation in Hudson Square that was designed with the needs of neurodiverse people in mind. Or it might take a harder look at which neighborhood avenues are excluded from Open Streets and offer more support to include them, so that it isn't just the areas with the most resources getting the benefit of pandemic-era programs.
In a recent Slate story aptly titled "It's Hard to Have Fun in America With So Many Guns," Henry Grabar outlined the predicament of trying to design our way into safe, dynamic streets with an example from Chicago. Last summer, Chicago's planning-and-development commissioner, Maurice Cox, set out to make 75th Street a more fun place to be and hired architects to design parklets for the street in a project known as the Boardwalk. Painted neon green with murals on the outside walls, the parklets were a hit. Some were filled with picnic tables, others with fake grass kids could play on. But after a mass shooting near the intersection with South Prairie Avenue on June 12, the Boardwalk was dismantled after just a couple of weeks. Business owners on the street, like Stephanie Hart of Brown Sugar Bakery, lamented the decision to remove the parklets when they weren't at the root of the violence. "There was a specific incident that had nothing to do with the Boardwalk," Hart told Block Club Chicago. "Unfortunately, sometimes when something terrible happens, people look at what's different and what's changed even though it is a beautiful thing." Meanwhile, some neighbors pointed out that Cox's intervention didn't really address the reckless driving and gun violence in the neighborhood, which made them wary about using the space before. Cities have to find a way to make streets enjoyable — and ensure that hanging out on them isn't a matter of life and death. "There's an eatery out on 75th Street. Do you think I'm going to sit out there on the corridor, the way these fools drive down that street and act senselessly?" one community member told Block Club.
As the end of the year draws near, we're approaching a moment when streets will be reappraised yet again. The people-first streets programs that were embraced during the pandemic are at an inflection point, now that the vaccine is here and the patience and grace the COVID crisis afforded is waning. We've already seen good programs, like free fares on buses, shut down. The chronically underfunded MTA was on the brink of collapse, yet it put the needs of riders over its bottom line. It was a brave action, and it would have been braver for politicians to demand more funding to ensure affordable and reliable mass transit. (Paris did it.) Some residents near 34th Avenue, the Jackson Heights open street that's been regarded as the city's finest, are calling for tighter rules and more community engagement about the future of the program, while others are clamoring to turn it into a "linear park." The Meatpacking District is planning to make Open Streets permanent. Community boards are starting to hold hearings about the long-term future of open restaurants, and outrage is brewing. Will elected officials buckle under economic pressure or the desire to return to how things were before the pandemic and cut these programs? Or will they find ways to listen to those who don't or can't usually show up to community-board meetings and traditional public forums?
Traffic congestion continues to rise. Traffic violence also continues to rise. Deaths from crashes are 30 percent higher this year than last, and last weekend the city saw an especially devastating one, when a reckless driver hit a family walking on the sidewalk near Vanderbilt Avenue and Gates Avenue in Clinton Hill, killing a 3-month-old in a stroller. Some witnesses said the driver was being pursued by the NYPD for driving erratically and that the 3-month-old infant in the stroller, Apolline Mong-Guillemin, flew 15 feet after being hit. Just a few blocks south, Vanderbilt is an open street. I wondered if this crash would have happened if the open street were extended north just a few more blocks. I wondered what would have happened if the police hadn't started chasing this guy in a residential neighborhood. I wondered why such a reckless driver — he had 160 traffic violations since 2017 — was on the road in the first place, and why the streets worked better for him than the family out for an evening stroll on the sidewalk.
The crash, and Mong-Guillemin's death, reminded me of another fatal crash in the same neighborhood in November 2013, just a couple months before Vision Zero became city policy. An SUV driver fleeing an earlier crash struck a 9-year-old boy as he stood on the sidewalk, pinning him against the wall of a building. In the eight years since, efforts to build more bike lanes and bus-only lanes in this area have been met with fierce resistance. Will we waste another decade?