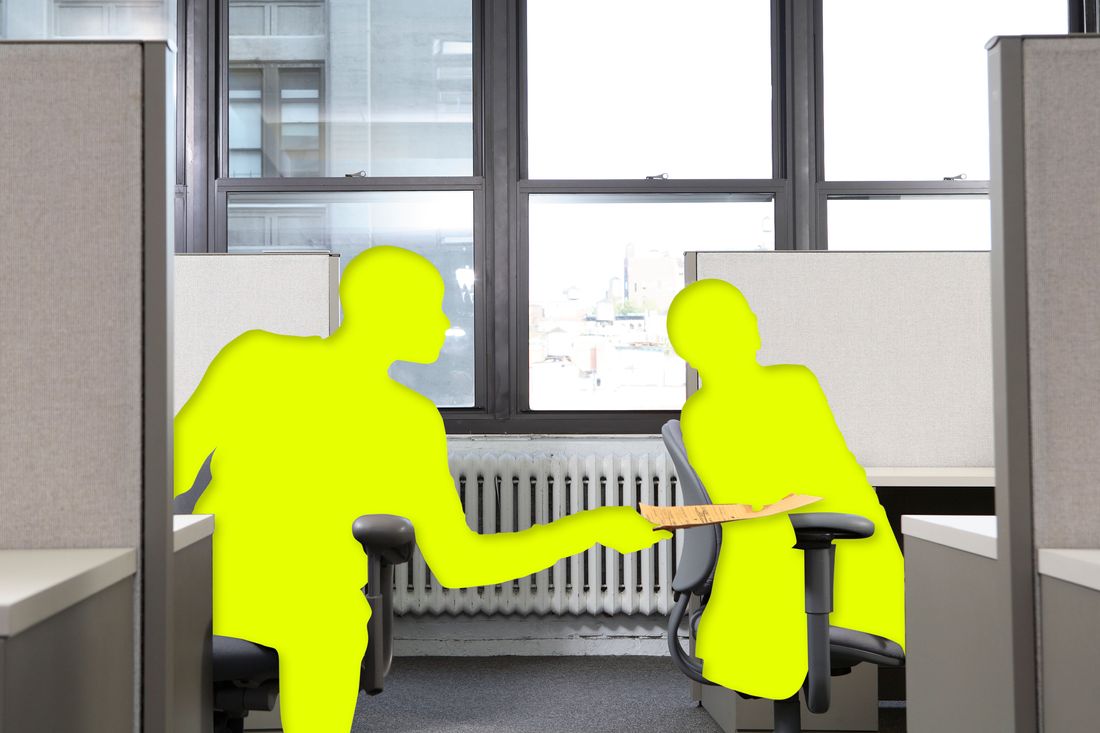 Photo-Illustration: Curbed. Photo: Allison Michael Orenstein/Getty Images
When Mayor Bill de Blasio announced earlier this month that the city's 300,000 municipal employees had to return to the office five days a week on September 13, many city workers panicked. Parents scrambled to line up child care. The immunocompromised rushed to put in requests to continue to work remotely. And people across all departments, from entry-level employees to senior management, began updating their résumés. By calling employees back while the Delta variant is still overwhelming the country, de Blasio has set the city government up for a staffing crisis.
Conversations with more than a dozen city employees reveal a workforce preparing for a critical loss of staff across departments. All but two of the employees Curbed interviewed (all of whom asked for anonymity because they are not authorized to speak publicly) said they were actively searching for new positions or considering leaving the workforce altogether. Despite being passionate about serving the public, working for the city has become a liability, and they are now turning to better-paying private-sector jobs. Some have already put in their two weeks' notice. The labor shortages threaten to eventually slow city services and stall projects, with all New Yorkers to suffer the consequences.
"This is accelerating a brain drain after 18 months of a lot of attrition. We're already a skeletal crew, operating on fumes. Morale was already way low," said a director with the Department of Housing Preservation and Development. "It's like a doom spiral that keeps feeding itself because the staff that are left, their jobs are getting bigger, and bigger, and bigger, which makes it less likely to retain those staff."
The division that oversees the city's pipeline of affordable-housing projects has suffered a recent "mass exodus," as one staffer put it. HPD says it is still pursuing new development deals, but is "prioritizing direct staff engagement on our projects closing this year" — which is to say, new development projects are essentially on the back burner. The Housing Department says it won't be able to assign additional staff to new construction and preservation projects until more positions are filled, which it currently expects to happen next year. But if more employees leave now, it's unlikely that they'll be staffed up anytime soon, especially since Eric Adams, the Democratic candidate for mayor, has promised a two-year hiring freeze.
Employees in other high-skill roles at the Housing Department are also eyeing the door. "I am interviewing for jobs where I would make up to three times as much as my current salary," said one data analyst with HPD. "I didn't go into this field for the money, but if I can get more work-life balance and more pay, it would be really difficult to look at that and stay with the city of New York."
It may only take a couple of weeks for someone to resign, but filling these jobs could take more than a year. Candidates not only need the qualifications to fill those high-skilled roles, they also need to meet the city's civil-service requirements. And then it takes time for employees to become well-versed in their jobs. "I can bring a data scientist on, but it takes time for them to understand the context of the information that they're interpreting. You have to train these people," said one employee with the Department of City Planning (DCP). "And if they're constantly turning over, that's more of my time that gets spent on professional development and staff management, and less of my time that gets spent on thinking about policy implications and implementing these ideas."
At the City's Commission on Human Rights (CCHR), at least two of the agency's roughly 20 active staff attorneys resigned the week they were set to return to the office. The agency's lawyers have the critical task of pursuing anti-discrimination cases, including against landlords refusing housing vouchers and those racially discriminating against potential tenants. But an existing staff shortage has already led to heavier caseloads. Typically, when someone resigns, all of their cases are reassigned, but the agency's lawyers — who might have as many as 50 cases — are already juggling hefty workloads. If more people leave, that will only make it harder to see cases through efficiently. "I think we're going to have to turn people away," said one staff attorney at CCHR. "And justice delayed is justice denied."
Having a housing-discrimination case rejected by the city is just one of the many swift consequences departures fueled by the mayor's order could have on New Yorkers. But de Blasio doesn't seem concerned: He has told WNYC that he's "absolutely convinced" that a full return to the office is the right approach, and insinuated that the work-from-home era of city government resulted in a drop in productivity. That has frustrated city workers, who say their team's performance has actually improved while working remotely. Ultimately, they argue, he should just let people continue to work at least partially from home, as many were just weeks ago. "The fact is that there are a lot people who work in the city only because they care about public service, and they could easily get a job elsewhere," said City Councilman Mark Levine, the chair of the council's Health Committee who wants the city to introduce a hybrid remote-work model. "And that will be an enormous loss for New York City."