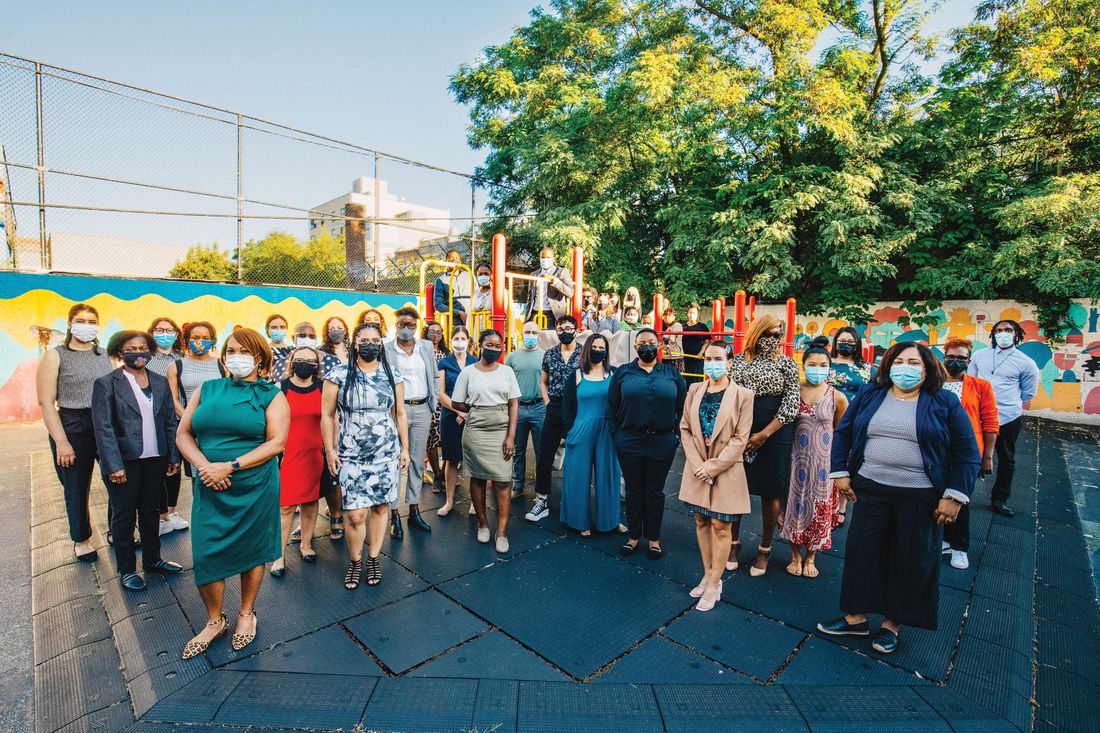 From left:
Stacey Guarino, Lou-Ann Jordan, Anna Battaglia, Julia King, Belmarys Sosa, Erica Wolff, Sarah Abodunrin, Laura Espada, Jessica Sain, Denise Garcia, Suad Shahein, Valerie N. Macey, AnneMarie Kerr-Calnick, Curtis Phillips, Kristen Pelekanakis, Marcia Cox-Joseph, Johanne Jean-Pierre, Charlie McDonald, Kiran McCallam, Giuseppe Rebaudengo, Andrew Brown, Tammy Chervoni, Melissa Graham, Ruth Guerrero, Latoya Albert, Katelyn Zohn, Genevieve Wheelock, Lois Davis, Shashana Gooding, Julia Alexander, Nia Haggwood,Catherine Melendez, Carla Alexander, Jo Wu, Victoria Godoy,Ruth De Los Santos, Keisha Mercury, and Jahim Clarence.
Photo: DeSean McClinton-Holland
In September, Valerie N. Macey, the principal of P.S. 705 Brooklyn Arts and Science Elementary School, ordered 30-foot red carpets from Amazon. The first day of the 2021–22 academic year was approaching, and Macey — who became principal two months before the lockdown — thought her students should have an entrance as grand as that of the Grammys or the Met Gala. "I wanted the ropes and everything. I wanted white doves," she said. On September 13, the students at the elementary school strutted down the carpet and into the building. The two educational assistants DJ-ed. "We took a picture of every student. We shouted out their names," said literacy coach Tatum Boothe. "We said, 'We see you. Welcome back.' "
That same day, New York City's nearly 1-million public-school students returned to the classroom. With mask and social-distancing mandates in place, school drop-off has turned into a logistical feat. Every morning before the first bell, the teachers and teachers' assistants at P.S. 705 line up at the entrances with clipboards and forehead thermometers, ready to shuttle all 310 children through temperature checks and health screens. Macey put away the red carpet after the first day, but she still wanted the drop-off to feel like a festive event — a way to settle the nerves of not only the students (some of whom had not been in a classroom for a year and a half) but also the parents and the staff. "I do a lot of reading about schools in rural areas or suburbs where it's just one schoolhouse," Macey said. "Everybody knows what's going on. I adopted that model where parents, kids, teachers are in constant communication." On the corner by the entrance, the crossing guard chats with children and parents; as the students walk in, teachers crack jokes and give elbow bumps.
Located between the two gentrifying neighborhoods of Prospect Heights and Crown Heights, P.S. 705 was selected in 2015 for a pilot program to maintain student diversity; a number of seats are set aside for low-income students, English-language learners, and those in the child-welfare system. For the first week this year, the teachers didn't assign formal academic work. Instead, students were asked to draw up rules for their classrooms and come up with jobs they wanted to take on for the school year — and to fill out a résumé and application accordingly. "As adults, we have a memory where we're like, I've been here. I know what to do. But with kids, they forget," said Denise Garcia, a fourth-grade dual-language teacher. "They were forgetting how to walk the hallway, where the bathroom is, how to be around other people." But Garcia noticed that many of her 8-to-10-year-old students did return with a new vocabulary to describe what they were experiencing. "When I was in third and fourth grade, the words anxiety and depression didn't exist, but now they say things like, 'You know, if you're not talking to your friends every day, that can lead to depression,' or 'When people are talking too closely, that gives me anxiety,' " Garcia said. "It's great they're using these strong words to identify how they feel. I'm over here like, 'Yup, me too!' "