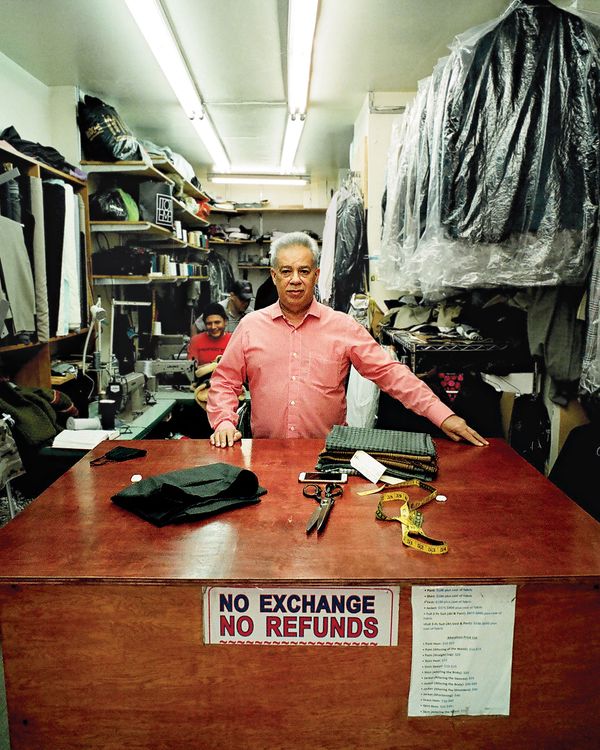 Ramón Nuñez of Ramon Tailor.
Photo: Josh Aldecoa
When friends visit Flynn McGarry's restaurant, Gem, on the Lower East Side, he will often encourage them to check out the unassuming tailor with the tiny storefront two doors down. That's where, for the past five years, Ramón Nuñez has been making the chef's custom pants, shirts, and suits at prices he says are "way too cheap, always." Before the pandemic, the tailor shop was relatively quiet, the clientele comprising mostly local residents and other people, like McGarry, who had heard about it through friends. Now, "everyone is going to him," says McGarry. Most days, fashion editors and creative directors wait outside for their turn at Nuñez's attentions. Where foot traffic to Gem used to bring new clients into the shop, now, McGarry jokes, "friends will only come say hi to me because they're going to see him."
The 67-year-old tailor has operated at 110 Forsyth Street since 2004, but the business truly began 43 years ago in his daughter's bedroom in the Allen Street apartment building he still lives in. In 1978, Nuñez had just emigrated from the Dominican Republic to the U.S., where he found a job as a zipper specialist at a pants factory. But since he had been trained as a custom tailor back home, each night after work he continued to create bespoke pieces for family members and friends. (The tailor's first-ever Stateside customer, a former client from the D.R., called with a commission two days after Nuñez arrived in New York.)
To source his materials, Nuñez established relationships with the fabric stores that dominated Orchard Street in the '70s, like Modern Woolens and Beckenstein's. Soon, those stores began sending customers his way. In a few years, Nuñez had a large enough client book to quit his job. So in 1990, he opened his first shop at 137 Allen Street, where the super was a friend and rent was $500 a month. Customers were charged $20 to $25 for custom pants and $2 to $3 for alterations. As the business grew, he moved twice more: in 1995, to a larger space down the street, where he was able to hire his first employees (and where one day in the late '90s, Nuñez's daughter Nelly recalls, a "mob" of fans appeared outside when Willem Dafoe came in to get a suit made), and then again about a decade later, when that building was deemed unsafe, to a smaller shop at 110 Forsyth, where he is today, for $600 a month. (He pays $1,300 now.)
Things really changed in 2015, when Café Henrie arrived on the block. Founded by street artist (and nightclub owner) André Saraiva, the millennial-pink-clad restaurant quickly became popular with models, photographers, and actors, who, as it happened, were perennially in need of a good tailor to tend to their Comme des Garçons trousers. Nuñez, who likes to stand in his store's doorway, befriended the Café Henrie staff as they set up their new space, even making a set of hot-pink aprons for them to wear while they worked. When Gem took over the location, its whole waitstaff started going to Nuñez too — first for alterations, then for his custom pants. (While Nuñez will tailor his silhouettes to the style preferences of his customers, photographer Elissa Salas says his typical design is "classic, with a high waist and loose bottom.") Gem's then–wine director, Daryl Nuhn, became so friendly with Nuñez she ate lunch in his shop — she estimates her trouser collection at 60 pairs.
A few months into the pandemic, Ramon Tailor began to suffer for the first time. Nuñez lost several of his oldest clients to the virus, and few others were coming in. So Nuhn and another client, photographer Ana Velazquez, asked Nuñez if they could make him an Instagram account. "We asked people we know, and who know Ramón, to follow him," says Nuhn. Nelly, who has been helping at the shop, says that as a result of the account (@ramonstailorshop), which showcases her father's custom pants, suits, and crop-top sets (and which is followed by comedian Lauren Servideo and Gossip Girl's Zión Moreno, among others), alterations now make up a smaller part of the business. They've even installed a rack at the front of the store so customers can try on Nuñez's most-requested designs (lemon-colored crop-top sets, snake-print pants) before adding their names to his order list.
As that list grows, the tailor has had to extend his turnaround time from five days to two weeks. "Every time I visit him," Nuhn says, "he's like, 'I'm so busy. I don't know what to do.' " Racks full of orders are crowding his work space, and he has had to create a system to ensure the highest-priority pieces get done on time. And longtime customers are noticing that their secret is no longer safe. At a recent barbecue, photographer Josh Aldecoa asked a friend of a friend if she was wearing one of the tailor's custom tops. "She was like, 'Yeah!' I could just tell. I recognized it right off the bat."