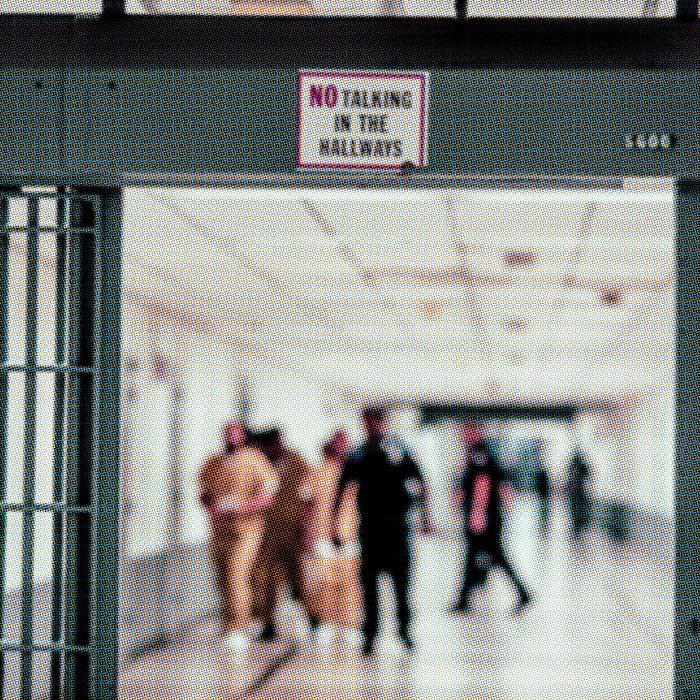 Photo-Illustration: by Curbed; Photo Michael Kirby Smith/The New York Times/Redux/B) The New York Times
The ongoing violence and despair that defines Rikers Island reached a grim milestone last week when the tenth death of the year was reported. Even after multiple visits from elected officials and a flurry of Twitter threads, op-eds, and letters from Congress, the situation continued to deteriorate: An 11th person — Isa Abdul-Karim, 42, who was one day shy of qualifying for release — died on Sunday, and a 12th person died Wednesday at the nearby Vernon C. Bain Center jail. At least half of the deaths this year have been suicides.
Much of the chaos is linked to the crowded intake area of the Otis Bantum Correctional Center, one of eight jails on the island, where new admissions are processed. People are only supposed to stay there for 24 hours before being transferred to cells or dorms, but many are currently being held in intake for weeks at a time in filthy, packed cells. In a belated attempt to address the problem, Mayor Bill de Blasio on Tuesday announced the jail would add two additional intake clinics and open an additional housing unit to ease the overcrowding. Understaffing — largely the result of what is believed to be an organized sick-out — is also a serious problem. The city reported an average of 2,304 absences per month this year, compared with 773 per month last year.
Governor Kathy Hochul signed the Less Is More Act last week, which immediately released nearly 200 people being held on nonviolent technical parole violations and will trigger the transfer of 200 more people to a state facility in the coming weeks. But as of mid-September, more than 5,000 people are still locked up on Rikers.
We spoke to three New Yorkers who were released from Rikers Island this month about what they experienced in the jail. All names have been changed to protect their identities.
Cameron, 21 years old, released September 9
I was in intake for a week. Rikers is really bad right now. There's no COs, they're not feeding people, there's no water, no showers, no phone calls. There's people there that haven't took showers in two weeks or longer. You barely eat; they don't care. There were people in cells having seizures, and they just left them there. I was in a cell with about 30 other people. You could be sleeping, and they'd spray mace or come banging on the cells for no reason, just to wake you up. You've got COs talking about how they own us and can do whatever they want to us.
I got tested for COVID four days in. No one in the cell had a mask. People were asking, but they wouldn't give them to us. People said they were going to call 311. The inmates come together to help each other — the inmates is the ones that's feeding us and helping each other; the COs don't do nothing. We ate twice a day. We shared food. Some days they'd only give you hard stale bread.
I couldn't call nobody. My mom was worried.
Mr. K, 58, released September 10
I was in 14 months. That's the longest time I've ever been on Rikers. Usually you move through and get up out of there. And now they've got some guys who've been there two or three years already. It's bad there now. Everybody's putting fear into each other's hearts. It's like cannibalism, eating each other up. There's no love in jail. Back in the day, COs used to aggressively abuse prisoners. But the law changed so that the inmates would have more leniency — COs can't throw you in solitary. But that has made it a little more unruly. The COs now are very unprofessional, and every corrections officer, they've gotta work double shifts. That changed things, because most of the time they're tired, and then they're not doing their jobs correctly. One time I went into the bathroom and I slipped and I fell. It was 10:30 in the morning, and the officer in that area was sleeping and didn't help me.
These COs are under a lot of pressure, because these young guys just disrespect the officers. They didn't use to do that back in the '80s. Since I've been there, there've been a couple of riots. Security threw tear gas at us, and the guys threw it back at them. It was like a war zone. The officers should have better backing — they need to be trained how to be professional and to deal with people, psychologically. But some of them just don't do their job. I've seen guys get beat up, and officers just spray them all with mace and leave.
They need to reform bail, for real though. Everybody on the street don't be having that type of money — we don't have those resources. I'm poor, you know? If you're living in the projects, how are you going to get $1,000? But a new DA is coming into Manhattan, and everybody says he might be better. We all hope so.
Mateo, 20 years old, released September 19
I got to Rikers at 3 a.m. last Tuesday morning — I was kept in intake the whole time, five days. They were just stuffing more and more prisoners — up to 32 or 38 people — in the cell without being tested for COVID. They wouldn't bring us water if we needed it, they wouldn't feed us; if the corrections officers were mad, they just wouldn't come look at us even if somebody was passing out. There was a guy who had asthma showing them there was nothing inside his inhaler, on the floor grabbing his chest, and they just looked at him. There was another man who was 61 who had diabetes who was not offered insulin the entire time he was there.
One CO said, "All right, y'all want to talk shit? Nobody here is seeing the medic until Sunday. I run your life. Your life is in my hands." It was a crazy situation. At one point, some prisoners took it on themselves to finally get some attention for the man that was having an asthma attack. They attacked another prisoner, trying to wake everybody up and rile them up. That prisoner got upset and attacked another one. That's what it took for the COs to come. They were macing us with MK-9. Everybody in the cell was throwing up. The macing happened every single day.
A lot of people were saying, "I've been in intake for three weeks, two weeks," not even getting a bed or nothing. Some cells did have mats in them, but they had bedbugs. It was wild gross. It felt never-ending. They weren't giving us phone calls so we weren't able to speak to family members. When they would give us meals, it was just those little cereals you get in middle school.
Honestly man, they just need to shut that place down. Some people make mistakes; in my case, it was a stupid mistake. Some addicts in there just needed a place to sleep. People just need help. That's all anybody in the cell was asking for: help. They wonder why people are so violent when you're yelling from a cage, "Help, help, help," and you're looking at us and ignoring us like we're not there. You can't be mad at a dog you made rabid.