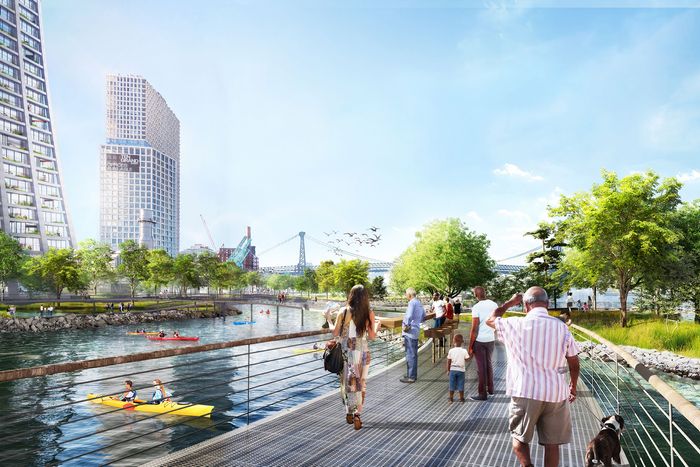 The community would also like Bushwick Inlet Park, please.
Art: James Corner Field Operations and Bjarke Ingels Group (BIG)
If Two Trees thought a waterfront park with an urban beach and kayaking, a new YMCA, 25 percent deeply affordable housing, and a resiliency infrastructure of tidal flats, saltwater marshes, and breakwaters (with an 18-hole mini-golf course open to the public in the meantime) would be enough to placate Williamsburg and Greenpoint residents, it was wrong. Last night, Community Board 1 voted to approve River Ring, the company's waterfront megaproject, but with changes that were more than a little extreme.
It'll have to get 33 percent smaller to reduce local infrastructure strain. The affordability will have to rise to 50 percent. Two Trees will have to install geothermal heating instead of a fossil-fuel system, redesign the towers to be more "contextual" (whatever that might mean, given that the Williamsburg waterfront is basically a string of glassy high-rises at this point), and coax the city, finally, to fund and complete Bushwick Inlet Park. Also, Two Trees will be required to fund — in perpetuity! — a "local independent agency or organization to oversee and enforce the rental fees and increases of affordable and market-rate apartments."
The conditions were the same ones that the board's Land Use Committee put together a week ago, when it voted to oppose the project unless they were met. Of course, the community board's vote is advisory, so none of these conditions is actually binding, but they indicate what the community hopes to gain from negotiations — a lot. Last night, the board didn't vote on the project until after midnight, more than five hours into the meeting, and they didn't even attempt to hash out new ones. By that time, several members were griping about the late hour and expressing fears that they would lose their quorum and have to meet again the following night. After a debate on whether voting no with conditions or yes with conditions would give the Community Board stronger bargaining power, they voted 20 to 15 in favor of the project, with one person abstaining. One board member expressed confusion as to the difference between voting no and voting yes with the same set of conditions: Wasn't that the same thing? Well, sort of. But voting yes with conditions sends a message to the borough president, Eric Adams, and the City Planning Commission that the community does want the project — they just also want a lot of other things.
That's understandable: The city approvals process is, in many ways, a drawn-out negotiation, albeit one that is bound by the conditions of reality. Dave Lombino, the managing director of external affairs at Two Trees, said that the developer is prepared to offer more affordable units (although not the full 50 percent that the board demands). "The vast majority of opponents have moved to the neighborhood since the '05 rezoning and live predominantly in one of the four or five condo buildings nearby," he said. "I think most of the community board sees this as a vacant waterfront site amidst a forest of other towers and that it's an opportunity to generate housing, jobs, a big park, and a Y. At the same time, it's clear that everyone wants to get as much affordable housing as they can from this site, so we'll have to go in that direction."
Two Trees has said that if the rezoning doesn't pass, it intends to sell the site, which it bought for $150 million from ConEd in 2020. They say that the likeliest buyer would be a last-mile delivery service, raising the implicit threat of truck fumes galore (and likely of more traffic — one of the big "infrastructure" concerns — than a largely residential building). But the developer has pulled out all the stops to see that the project does pass. In addition to holding what Two Trees says were dozens of meetings and charrettes with the community and every neighborhood group, the designers of the project will allegedly protect 500 inland buildings from flooding and be independent from the city's sewer and stormwater systems and electrical grid. Then there's all the other perks, from YMCA to that mini-golf course to beehives and an urban farm. And, of course, the beach. Though that one is turning out to be a bit of a hard sell: "Vote no," one woman at last night's meeting urged the board, going through a long list of concerns. "A beach no one is going to use," she said. "No one is going to swim in the East River."