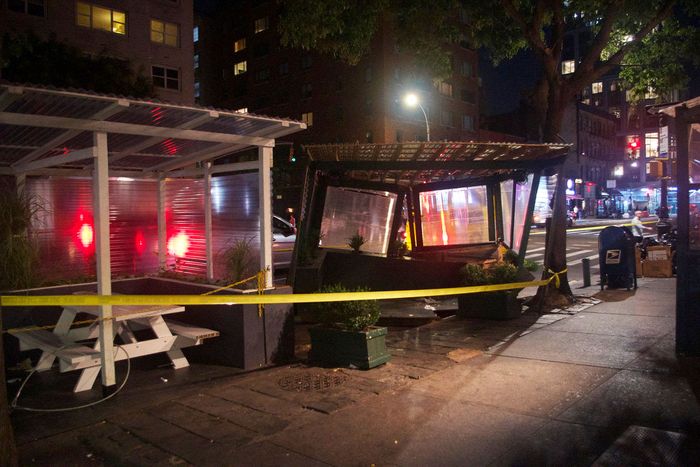 Corner of Sixth and YIKES.
Photo: Christopher Bonanos
You know that uneasy feeling when you're sitting in an outdoor dining shed, watching cars roll by, considering what would happen if one of them got a little bit out of its lane? An independent journalist covering an anti-vaccine-mandate march in Greenwich Village tonight arrived at Sixth Avenue and West 13th Street just in time to see the worst-case scenario come true, as a garbage truck had struck and dragged Bar Six's dining shed—with a diner sitting inside.
Fortunately, it moved only ("only") about ten feet before the truck stopped, but the streetery—this one is mostly built of dimensional lumber and translucent corrugated plastic, perhaps 12 feet by 15 feet—was badly smashed in. "No one was injured during the incident tonight," said Anna Socolof, a manager at Bar Six. "It definitely was scary for us, and I'm happy our patrons are all right." Police and a supervisor from the Department of Sanitation responded promptly, she said.
Over the phone, the bar was audibly lively. She said that her staff had previously notified a local paper about concerns over just such a possibility, and asked the DSNY to be vigilant in the neighborhood.
Nearly half of New York City's restaurants were employing some form of outdoor seating by September of last year; the outdoor dining sheds have become a semi-permanent landmark since the pandemic and a sign of resilience but also, at times, of inequity. In July, their approved use was extended for another year. In March of this year, a driver hit eight people and an empty dining shed in Midtown.
A community affairs representative for the NYPD did not answer the phone.