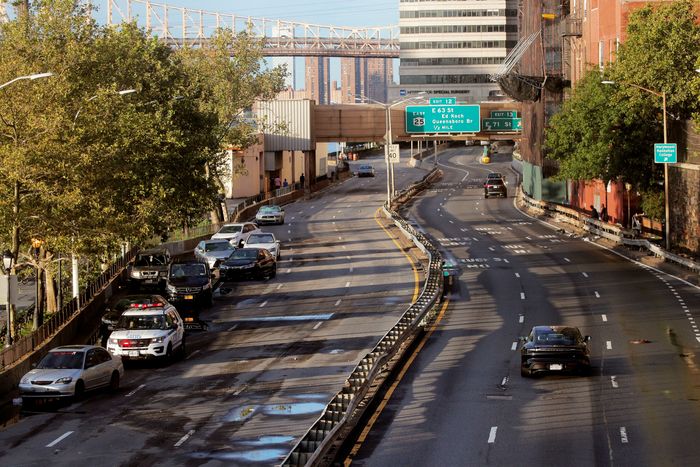 Photo: Brendan McDermid/REUTERS
The FDR Drive — that's the elevated FDR Drive — was underwater Wednesday night as the tail end of Hurricane Ida swept over New York City from the west. The storm brought the heaviest single hour of rainfall by far in New York City's recorded history — 3.15 inches between 9 and 10 p.m. — and city streets in low-lying and even not-so-low-lying areas grew impassable. Much of the subway system came to a halt. Shortly after midnight, the 19th Precinct announced that it had closed the FDR's entrances and cautioned drivers not to use the highway.
That was useful, but on Thursday morning we saw what happened to drivers who were already on the highway when the flow of water got intense: Abandoned cars dotted the road for miles, left where they had stalled out or where their passengers simply bolted on foot.
At least one rideshare passenger left the car she'd been riding in as it half-rolled, half-floated along.
As the roadway drained, tow trucks pulled onto the roadway on Thursday morning to clear them away. The idyllically sunny morning threw into sharp view the bedraggled remains of the night before — and the inadequacy of the city's aged infrastructure to deal with our new normal.