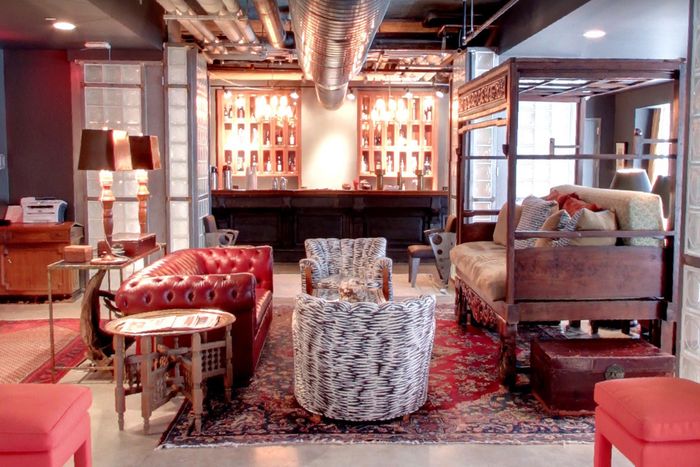 There's a lot going on here.
Photo: Google
When Truffles Tribeca, a luxury rental on the northeastern edge of the neighborhood, opened in 2009, it was very au courant, with its polished concrete and dark-wood floors, its jewel-tone walls, its exposed ductwork, and an 18th-century opium bed that the developers made a very big deal about. (Not to mention its eye-roll-inducing name.) A decade later, one-bedrooms in the building were still renting for as much as $5,800 a month, but all those once-trendy finishes looked, in the words of one downtown luxury broker, "horrendous." So horrendous, in fact, that the Related Companies, which bought the building in 2019, is planning a gut renovation. And that seems — even considering the building's faux industrial–global traveler–steam-punkish late-aughts vibe — extreme?
Maybe not. "The hallways, the rooftop, the lobby are so dated. Even the screening room looks horrible. Which is strange because it's not an old building," said Shane Boyle, a Triplemint agent who specializes in downtown luxury rentals. "People want clean, light, and bright." And, he pointed out, there has been an influx of new tech companies nearby, so it makes sense to cater to the tastes of the moneyed people working there, tastes that do not run to things like dark-wood floors covered by carpets. (And not great floors: One Yelp review compared them to Play-Doh, so easily were they dented.)
Diane Ramirez, the chief strategy officer for Berkshire Hathaway HomeServices New York Properties, wasn't surprised either. Some landlords would just give those cinnamon-colored walls a coat of Benjamin Moore Dove Wing, but Related is known to have exacting standards. "In my experience," she said, "if you're going to fix a place up, it's best to do a gut reno. Anything else will just look like slapping paint on it."
Although many luxury landlords change out kitchen and bathroom finishes every 10 to 15 years (sometimes along with the floors, which are strangely susceptible to trends), a gut renovation just 12 years in is highly unusual. It's even atypical for Related, as far as anyone can tell — the company declined to comment for this story — but it seems to have been the plan when the company acquired Truffles Tribeca two years ago, as the building had been getting dodgy reviews from tenants even before the sale. (Complaints included dirty windows, mice, and leaks.)
"I've seen buildings that were so mismanaged that after a year they looked like ten-year-old buildings," said Andrew Barrocas, chief executive of the brokerage firm MNS. They accumulate blackened chewing gum that fuses to the sidewalk ("Sidewalks need to be scraped, not just power washed," he said), rust streaks from the balconies, and improperly installed faux-fancy amenities — "a lot of people are doing these standing showers nowadays, but if you don't put the right base below it, you get a lot of issues," Barrocas said.
And luxury rentals completed during the housing-market crash (as Truffles was) are particularly prone to aging badly because some of their builders, seeing the writing on the wall, cheaped out on the materials. The problem is especially prevalent in neighborhoods like Williamsburg, which was in the midst of a building boom when the crash hit. A number of projects, like the Lewis Steel building on North 4th Street, that were planned as high-end condos became instead somewhat less-high-end rentals. In some cases, "developers could see it coming, and they did stuff like using minimum pipe size for plumbing so there are issues like bad water pressure and cheaper fridge packages — Blomberg versus a Bosch or Miele — so the appliances break after a few years," said Marc Schaeffer, a real-estate agent at Brown Harris Stevens. "The lower-end materials they used to cut costs have not aged well. My biggest peeve is that stucco finish — buildings don't fix it until water gets in and it starts to crack." Perhaps the most dramatic example of an aughts-era developer cutting corners was 120 South 4th Street in Williamsburg, which had apartments renting for more than $5,000 a month in 2015 when the Department of Buildings issued a vacate order because of its "questionable structural integrity," due to "the installation of substandard structural steel columns, trusses, beams, welds."
Even the highest-quality, best-maintained apartments get updates for aesthetic reasons after a decade or so. Since 2009, Schaeffer said, "kitchens have actually swung twice. From Shaker-style cabinets and black granite to all-white, Ikea-ish. Now it's natural wood tones, black or brass fixtures." Luxury is, after all, by definition not just pristine but new. Even the most classic, timeless properties require frequent refinishing, refurbishing, retouching, and renovating to maintain the sheen of perfection that makes them desirable.
Even so, many luxury landlords don't bother, especially when their properties are fully rented. "There is one landlord I work with in the East Village that I have been pleading with to renovate the hallways and the lobby," said Boyle. "Usually, the response is 'Look, we're 98 percent occupied. What is the point?'" At that building, Boyle said he recently listed a three-bedroom duplex for $7,000, which was $1,200 more per month than it had been drawing in the past few years. He got so many offers that they bumped the rent to $8,000.
What it all comes down to in the end is how much money a landlord wants to invest to stay in the top tier: Do you give in and become one of those Murray Hill high-rises that command lower-range luxury prices for having a doorman, an elevator, and a gym? Or do you fight? Replace the parquet with herringbone, the GE with Wolf, the popcorn ceilings with tailored plasterboard and recessed lighting? "Everything is a function of price," said Tara King-Brown, an associate broker at Corcoran. "There are a lot of tired rental buildings out there, but people find their lane. There will always be someone who is willing to put up with the — well, 'patina' is a nice way to put it." In the case of Truffles Tribeca, the renovation likely won't end with the building itself. "You can definitely bet they'll be changing the name," said one real-estate insider.