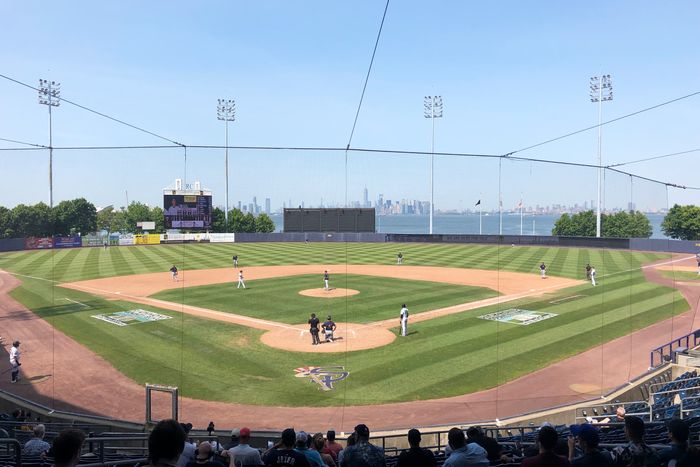 Richmond County Bank Ballpark, future home of an Atlantic League baseball team — name to be determined.
Photo: Joe DeLessio
Staten Island's lovely ballpark at St. George lost its longtime tenant last year when the Staten Island Yankees were eliminated as part of a restructuring of Minor League Baseball. But starting next spring, it'll host a new team, in the independent Atlantic League, and soon, that new team will be getting a name. In July, the ownership group of the new franchise — led by Gristedes billionaire John Catsimatidis and political operative Eric Shuffler — put out a call for suggestions, asking fans for a name that "reflects the strength and heritage of Staten Island" and "captures the tenacity and loyalty" of the borough. And earlier this month, it revealed seven finalists, from which the winner will be chosen: DragonSlayers, FerryHawks, Frontliners, Greenbelters, Harbor Heroes, Responders, and WatchDogs.
But what exactly does it mean for a team name to be quintessentially "Staten Island"? If a name needs to capture the essence of the borough, what, precisely, is that essence? And how does that translate to a name that can be slapped on hats and jerseys and refrigerator magnets?
Jason Klein set out to answer these exact questions five years ago. In 2016, the Staten Island Yankees explored changing their name and retained the services of Brandiose, a branding firm co-founded by Klein that's known for developing off-beat minor-league identities like the Binghamton Rumble Ponies, the Hartford Yard Goats, and the Amarillo Sod Poodles. Klein says that for every client, his team looks for a name that tells a story about the community and celebrates something about it. The firm solicits names from locals and, crucially, asks them to explain why their suggestion represents the area. Then come conversations with the team's front office to brainstorm more names, followed by focus groups, and finally a (non-binding) internet vote of finalists.
In the case of the Staten Island Yankees, Klein says Staten Islanders told Brandiose that they saw the borough as a gritty community with a fighting spirit. They said they considered Staten Island patriotic, and that its blue-collar citizens have a strong work ethic. Certain icons, both living and inanimate, came up frequently: the ferry, the Verrazzano, the Wu-Tang Clan. And they told Brandiose that it's a borough that lives in the shadow of Manhattan and Brooklyn, and that they thought of it as something of an underdog.
Klein says he wasn't into any suggestions that referred to the Staten Island Ferry, which he called "not huggable" (and which he said presented a trademark problem anyway). But the rest of the feedback yielded five finalists: Bridge Trolls, Heroes, Killer Bees, Pizza Rats, and Rock Pigeons.
Staten Island is a borough used to being slighted, and so perhaps it's fitting that Pizza Rats—which referred to a viral video showing a rodent in the subway with his own slice—ultimately beat out the more Staten Island-centric names. Klein says that the mascot did evoke a certain underdog spirit (a nod to locals' feedback), but the thinking at the time went that a headline-grabbing New York City name would ultimately move more merchandise than a hyperlocal Staten Island one. (The subway doesn't reach Staten Island.) "It's a challenge because on the one hand, you want to make it relevant to the community. At the same time, you want it to be loved and revered outside," says Klein.
(The coda to the story: Klein says the big-league Yankees "weren't 100 percent comfortable" with that result, and the Staten Island Yankees name ultimately survived. Pizza Rats would go on to be used as an occasional alternate identity.)
This time around, all parties agree that a name that better reflects the borough is a necessity. "Eric [Shuffler] is trying to balance something that's going to lend itself to a really cool logo and merchandise opportunities but that is sort of anti-Pizza Rat, and is sort of Staten Island-centric," says Staten Island borough president James Oddo, who also really disliked the last naming attempt. "I became friends with [former Staten Island Yankees president] Will Smith, who's a really good guy. We've had many a conversation about this, and I still break his balls on Twitter anytime I see a name that's sort of ridiculous, telling him, It's still better than the Pizza Rats."
The new name, which will be chosen from the seven finalists unveiled earlier this month, hasn't been announced yet, but at a press conference at the ballpark last month, Shuffler hinted that the one that will ultimately be chosen is likely to be among the first-reponder-inflected ideas. That tracks with what Staten Islanders told Brandiose five years ago, and with what Oddo says about the borough now. "There's a reason why no community in this nation suffered more loss on 9/11 than us, because we have so many firefighters," says Oddo. "We're gritty. We can be angry, we can be short. We'd cut off our grandmother to get ten feet ahead on Hylan Boulevard. But when the shit hits the fan, like it did on 9/11, like it did after Sandy, that's when we're at our best."