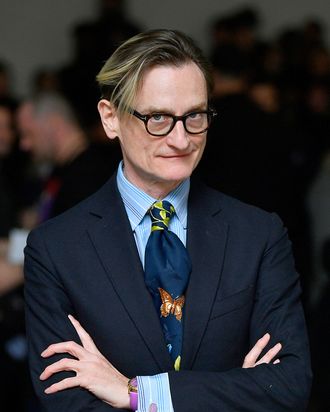 Photo: Roy Rochlin/Getty Images for NYFW: The Shows
Few magazines are as resistant to the winds of change as The World of Interiors, which has had only two editors in its 40-year history. Come January, it will get its third. Rupert Thomas, the 22-year stalwart and protégé of its founding editor, Min Hogg, will step down, and Hamish Bowles, a 25-year veteran of Vogue and a longtime lieutenant of Anna Wintour's, will step in. (Both Vogue and World of Interiors are owned by Condé Nast, where Wintour, whose home was once featured in WoI, is chief content officer.)
WoI is small — its circulation hovers around 55,000, piddling compared with the more celebrity focused Architectural Digest, the other shelter magazine/global brand owned by Condé Nast — but proud. Founded in 1981 by Hogg, a wealthy but still raffishly bohemian Londoner whose father was ear-nose-and-throat doctor to the Queen, World of Interiors concerned itself with gorgeous but not overly perfected manses ("a certain sort of mellow and knocked-about English country house predominated," Nicholas Coleridge, the former chairman of Condé Nast Britain, wrote after Hogg died in 2019). What it did not concern itself with was Hollywood, how-tos, budget decorating, or, to a large extent, the internet. Its web page remains a fairly cursory affair, though it does have an Instagram. "Min detested market research, cover lines, interference, anything commercial," Coleridge wrote. "When Condé Nast later purchased the American magazine Architectural Digest, Min declared, 'Now we know for certain that Condé Nast has no taste.'" Taste is in the eye of the subscriber, of course, but the difference between WoI and Architectural Digest, now in the hands of fellow Vogue alum and Wintour protégé Amy Astley, is at the very least clear: The latter proudly features the homes of the likes of Kylie Jenner, Ashton Kutcher, Serena Williams, and Drake.
Bowles's brief appears to be to bring WoI into the world of the internet. According to the release Condé Nast sent out trumpeting his arrival, he will "lead The World of Interiors' editorial team into a new era that honours the magazine's timeless heritage while expanding its influence and reach to audiences across digital and video." In many respects, Bowles seems a WoI man through and through, with a whiff of exquisite anachronism about him, a meticulous dresser who insists on matching his pocket squares to his socks — socks made by the pope's sockmakers, no less — with a museum-quality collection of couture. (Vogue has spent years exploiting his foppishness for comic effect, sending him to dumpster-dive and to shoot hoops with Amar'e Stoudemire in the name of journalism.) His home features custom millwork meant to evoke 18th-century France and 19th-century Britain — which will not come as a surprise to readers of WoI, who saw it featured on the magazine's cover in 2014. But in recent years, Bowles has emerged as a creature of the digital age, hosting multiple podcasts and YouTube shows for Vogue, where he will continue as global editor at large.
His ascension comes at a moment when Condé Nast, under Wintour and CEO Roger Lynch, is centralizing its operations. The last two years have seen the departures of many of its top editors in Europe, including the editors of the French, Spanish, Italian, and German Vogues, and the enshrinement of global editorial directors for individual flagship magazines (Wintour for Vogue, with Edward Enninful, the editor of British Vogue, serving as European editorial director under her; Astley for Architectural Digest; and so on). "We are now focused on how we can take advantage of the global reach of our brands at a scale we have never been able to before," Wintour told The Wall Street Journal when these promotions were announced in December 2020. Bowles, in his new role, will continue to report to Wintour.
Unlike these other magazines, WoI has only a single edition, without — to date — the ambition for massive reach. Whether it will stay, in its new era, a jewel apart is a question no doubt rattling a few chaise longues in dusty piles from here to the Cotswolds. Not to mention within its offices at Vogue House. "It's so successful as a business, and so solid, that I'm very wary of pushing them in directions they feel uncomfortable going in," Albert Read, the managing director of Condé Nast Britain, told the New York Times in 2019. "I mean, if the World of Interiors circulation suddenly jumped to 150,000, I'd almost be worried." As for its digital future, it already has 698,000 followers on Instagram, which is a start.