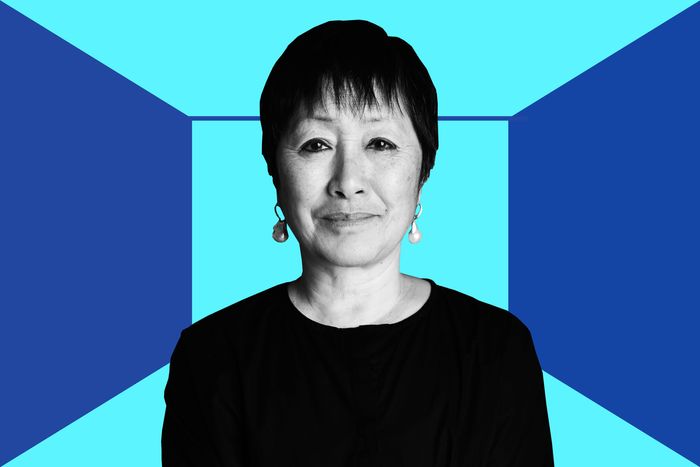 Photo-Illustration: Curbed; Photo: Taylor Jewell
New York's 21 Questions column is back with an eye on creative New Yorkers. First up: Billie Tsien, the architect who co-founded Tod Williams Billie Tsien Architects with her husband. TWBTA is currently working on the Obama Presidential Center and is best known for the LeFrak Center at Lakeside, the Barnes Foundation, and the American Folk Art Museum (RIP).
Name: Billie Tsien
Age: 72
Neighborhood: Lincoln Square
Occupation: Architect
What's hanging above your couch? 
There's a window above our couch, so I'll tell you what's above our dining-room table instead. My son, Kai Williams, and his partner, Chen Chen, have their own object-design business, and our dining table is an incredible table made by them of these rocks they've split. We're very, very interested in art, and we like to collect work from people whom we've met and we've known. We have a self-portrait by Beverly McIver, whom we met at the American Academy in Rome. There's a drawing by Thomas Nozcowski, which is a very graphic work. We have a piece by El Anatsui that we bought in the '90s, and it was more than we'd spent on anything ever. It was like $30,000. It's an amazing fabriclike piece made from the metal wrapped around liquor bottles.
What's the first job you had in New York?
I worked for Tod Williams. The office was in a penthouse studio in Carnegie Hall. Eventually, we moved the office out and we moved into the space and lived there.
What color are you always drawn to? 
There's a very beautiful moss color, which I always melt towards. I like the fact that it always feels soft and it always feels calm.
But I don't think it's actually a single color. That's sort of a problem with so many materials that are fabricated: They are a single, consistent color. But in life, and for me, the richest materials are never a single color. One thing I once tried to do, which was only partly successful, was design a rug that felt like moss. It was a combination of wool and silk, and the different textiles take color in a different way. They're the same color, but not.
What work of art or artifact are you most surprised you own?
Tod and I have never given each other an actual physical present — we've always given each other a surprise trip on our birthdays. We were in Seattle for one of those trips and rummaging around a very odd store that was two steps above a pawn shop, and we saw this brownish long tubular thing. It looked so beautiful and so old. We picked it up, and the guy in the shop said it was part of a mammoth tusk.
Which New Yorker would you want to hang out with? 
Joseph Mitchell, the guy who wrote Up in the Old Hotel. Living in Carnegie Hall was like being up in the Old Hotel because there were really interesting characters.
What's the last thing you made with your hands?
Whatever it was, it was food, and I don't remember because I ate it.
Is there one thing you own multiple versions of?
My mom died in January, and one of the really sad things, but also really kind of amazing things, was to empty her house. She was a biochemist, so everything was neat and orderly. I came upon these coffee cups that are the perfect size. They're stoneware and by Mikasa. So then, of course, I went on eBay and bought a whole bunch of the same cup; they're different colors inside but black on the outside. I don't want the saucers or sugar thing, just the cup.
What New York City museum do you always go back to?
The Met. It was the first museum we went back to after COVID reopening. There's a sort of comfort and beauty that's sustained in the Renaissance galleries. The colors are so incredible, especially their blue-greens. So there I am back to greens again!
What do you always have next to your computer?
A piece of paper and something to write with. The last thing I took note of was the National Book Award longlist.
Where is the best view of the city?
One that struck me recently was from the edge of the Great Lawn in Central Park. I was walking east to west, and you see the lawn and the trees and then all the supertalls going up. I may or may not like what's happening on the ground, but in the sky, it's amazement.
What building or object do you want to redesign every time you see it?
I would like to remove Hudson Yards. I don't even know what I would replace it with. I just feel really angry because it's a part of the city that turns its back to the city. It's not even the buildings, or size of the buildings — which are humongous — that bother me. It's that back-turning. I actually have refused to enter it, except when I was walking on the High Line. I would like someone to put a blanket down in the middle of Hudson Yards and pull out a peanut-butter-and-jelly sandwich. I guarantee they would not be there for long, because it pretends to be a space for everybody when it is not.
What's one thing you would change about your field? 
The biggest problem and opportunity facing the profession of architecture is diversity. And one of the causes is expensive graduate school with not necessarily any payoff in the end. Leaving school $200,000 in debt, and the prospect of a job that might pay $65,000 a year, is daunting to anybody.
If you could live anywhere in New York City, where would it be?
Where I live right now. I'm really lucky.
What would you hoard if it stopped being produced?
Chickpeas. Don't you have a five-pound bag of legumes laying around somewhere?
What do you do to get out of a creative rut? 
I read a book and take a bath. I usually read two or three books at once, and I only read fiction — I read to go someplace else. I just finished Maggine Shipstead's Great Circle and Septembers of Shiraz.
Where was your first NYC apartment and how much was the rent? 
I lived on Morton Street, in the West Village, with a roommate who went to architecture school with me. The rent was $425 a month, and it was a kitchen, two bedrooms, and a bathroom in a bumpy sort of brownstone tenement building. We were broken into constantly, but we didn't have anything to steal. One night, Tod was over with his kids, and we heard a loud bang in the hallway, and then someone started banging on our door. We opened the door, and this guy falls in. He had been shot in the back, and we dragged him inside and called the police. We thought he was dying. When the ambulance came to take him away, we saw that he had been carrying a hatchet.
Where in the city do you go to be alone? 
My bathtub!
Worst piece of career advice you've ever gotten?
I don't think anyone ever gave me any career advice. I probably never asked.
What have you given away to someone that you wish you could get back?
I don't think I've ever wanted to get anything back. I'm liking emptiness.
What's your favorite NYC restaurant and regular order? 
There's a restaurant named the Leopard, and it's in the Café des Artistes, which is a space that has these amazing murals painted a hundred years ago. It's not because it's the best food but because the people are lovely there and it has a sinful cacio e pepe.
What do you want your obit headline to be?
Gee — I don't know. "She's gone"? I mean, I'm pretty much a believer in You're here and You're not here. And so when you're not here, what difference does it make? And when you're here, you try to make as much difference as you can.