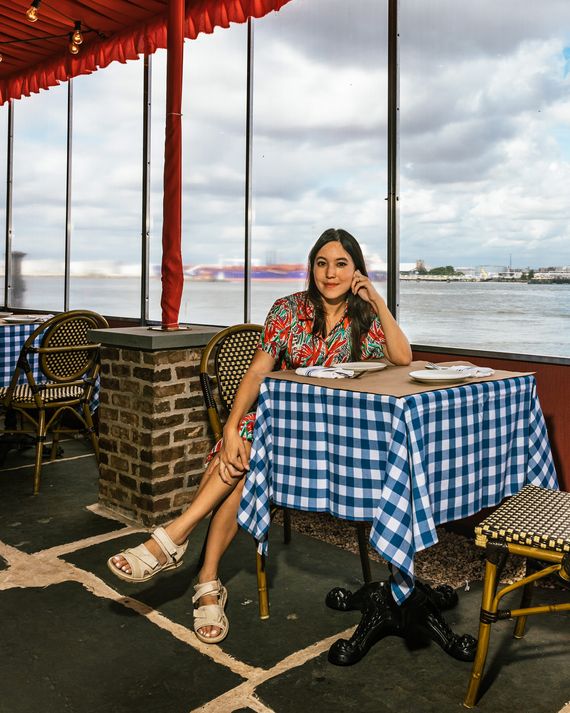 Alexandra Kleeman at the restaurant Blue in Staten Island.
Photo: DeSean McClinton-Holland
In 2014, just before the release of her debut novel, You Too Can Have a Body Like Mine, Alexandra Kleeman moved from Brooklyn to Staten Island. At the time, she was considering leaving the city entirely, hoping to find somewhere more wild and green. But a walk through the Greenbelt — 2,800 acres of contiguous parkland across the center of the island — convinced her and her husband, who grew up in the borough, to stay. They moved into an apartment in a former coffee-storage warehouse in the Tompkinsville neighborhood, close to the ferry, and have been in the same building ever since.
Living so close to the urban north shore of the island also seeped into her new novel. "Our windows look out onto the water," Kleeman says, "but also onto this strip of wreckage … it used to be a whole set of piers, and then it was destroyed by one hurricane after another." She set her latest book, Something New Under the Sun, in a near-future California where a massive drought pushes everyone but the wealthy to drink a synthetic water substitute called WAT-R. "I already knew I was going to write about the environment and climate change in this dystopian way," she says, "but there was something different in writing about it where I could see traces of storms and active sea-level rise right in front of me."
Beyond the coastline view, Tompkinsville has given her a new slant on New York City and more space to observe what's around her. The beaches and museums and pizza parlors, Kleeman says, are a little too remote for many New Yorkers. Because of that, you're often "the only person experiencing them and appreciating them and understanding them." Here are a few of her favorite places, from a boozy-ice-cream parlor to the borough's oldest tree.
200 The Promenade at Lighthouse Point
Right where we live, close to the ferry, there's the Lighthouse Museum; I love a tiny museum. It just costs a few bucks to enter, and there are lots of times when it's free. They used to make lighthouse components, like lenses, on Staten Island and then ship them to other places. You can see all these remnants of lighthouse making. It's a lighthouse museum with no lighthouse.
I learned a lot about the history of Staten Island here. For example, the whole area close to the ferry used to be a quarantine zone before they opened Ellis Island in 1892. So when you were coming to America, you would get shunted to this area whether you were sick or not. And if you weren't sick, you might well get sick, being with all these other sick people. If people died during quarantine, they were buried here in a very haphazard and unmarked way, which is why when they do new construction on Staten Island, they often have to halt it because they find bodies. The quarantine was here until the people who lived on Staten Island revolted and burned down the buildings. So I think our area is definitely haunted for that reason.
1115 Richmond Terrace
I like this restaurant's view. It feels like you're in a Cape Cod or New England setting, but with views of Bayonne, which is super-industrial — tankers, pipes, and boats going past. It just feels cozy and quaint to watch a boat going past, even if that boat is hauling some trash.
South
Beach
(Near
Fort
Wadsworth)
Staten Island has got a lot of things where if they were in Brooklyn or Manhattan, they would be a major tourist spot — including South Beach. The part I like the most starts near Fort Wadsworth; there's a stretch that no one goes to because there's no parking, so you have to walk to it. I'm never there at the exact same time as other people who use it as their own alone space, but I notice traces of them. It's a really fun place to see shellfish and the delicate birds that have legs like threads.
When someone's at even the less isolated sections of South Beach, they really stand out. You notice them. Every time I go there before noon, I see this woman who swims along the coastline, not too far from the shore — almost, like, too close, but so steady, and there's this calming way she does it. I'm like, This is the place where that woman swims.
323 Victory Blvd.
It is the best dosa I've had in the New York City area. The masala dosa is great, full of potato and spices — little traces of cardamom pods, cinnamon bark, coriander. Somehow even when you get it delivered, it stays crispy. Since I'm a vegetarian, it's hard to find something that will soak up a hangover, but this place really does and leaves you feeling great afterwards.
It's small, but it's really cozy. Eating there in the winter, you get to be at a single-person table, hunched over and close to the person that you're talking to, and you're eating curries and dosas and other warm and really filling food. So it's a cozy winter place for me.
70 Van Duzer St.
They make their own ice cream that has liquor in it, which changes the texture a bit so that it's very soft and smooth — and it's got a bite. I can't quantify the exact amounts of alcohol, but it's really fun to have one in the afternoon. You feel satisfied and you also have that "Whoo!" feeling, like, This had real rum in it. They have a White Russian one, and White Russians are already kind of a dessert drink. They also have some regular flavors — sometimes they do an ice cream with basil that comes from the owner's garden. Staten Island is not a farm-to-table place, but there is a lot of stuff growing around, and it ends up feeling like you're in the kitchen of some really generous neighbors who like their liquor.
It's on the bottom level of a house and used to be a residential home. It's got linoleum tile like you would have in a kitchen, and a menu that they write by hand in dry-erase. And you're like, Is it actually legal for them to sell this? I honestly haven't looked into it.
1150 Clove Rd.
It really feels more wild here. The park winds through the woods and goes alongside lakes where they have blue herons and night herons and a lot of wetland birds. It's also home to the oldest organism on Staten Island, which is this tulip tree. I think it's like 300 years old and 100 feet tall or something. I don't know how this organism compares to other ones in New York City, but it's always cool to be in the presence of a plant celebrity.
3 Navy Pier Ct.
They make really great Neapolitan-style pizza and square pizza. But for me, the thing that they have on every single other place — like, in the world — is they have these amazing artichokes. They're marinated really lightly, but they're so tender and addictive.
I always get a red pie with artichokes on it. You can get them as a side on their own, or you can get them fried. You can get them on a white-sauce pizza too. I just got back from Rome where they have a pretty defined artichoke season — you see artichokes everywhere; people are celebrating them. This place also loves artichokes in that way, I think.
668 Bay St.
Lakruwana is the best Sri Lankan brunch in town — in New York City, I think. It's got these big ornate, heavy metal doors that are covered in designs, and I don't think it has a window inside. So it's like you're in this cave of Sri Lankan buffet brunch, and all of the curries and things are there waiting for you in cauldrons. My favorite thing is the eggplant curry, which is eggplant stewed down to its essence with onions.
They have a museum of Sri Lankan history located in the basement of the restaurant that's cordoned off by a velvet rope. It's this thing that the owners' really lovely daughter wanted to do. If she's there on the weekend, she will personally give you a tour through the museum, which has a lot of Sri Lankan art. And there are some swords too.
40 Minthorne St.
I guess there's a long history of beer being brewed on Staten Island. My husband used to go to punk-rock or emo shows in this cave that used to be the beer-storage part of an old brewery; it was built into the side of a hill. When Max Rose was our representative in Congress, we would always see him here. So to have a bar where you can order in a good pizza with small pepperonis, get a big pitcher of locally brewed beer, and see your congressman — that was pretty cool.
Miller's
Launch
at
Pier
7
1/2
15 Murray Hulbert Ave.
We're right next to this thing I love, which is a tugboat parking lot. I like to go here and walk around — we could see it from a former apartment, and it's still close by. The boats have human names. I don't know why, but they have full first and last names. I don't know if they're named after specific people or the people who own them or something, but it's like … just seeing all these boats bobbing there, and one's named, like, Erica Holmes, and it's like, Who is that, and why?