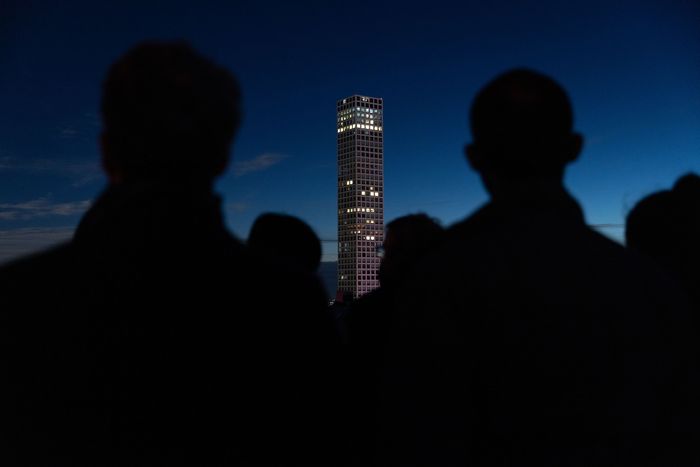 Being Silica
, a performance by Andrés Jaque at Performa 2021.
Photo: Walter-Wlodarczyk
Looking northward from the Top of the Rock, Rockefeller Center's observation deck, the skyline is defined by three supertall pencil towers, from left to right: Central Park Tower, the tallest residential building in the world at 98 stories; 53 West 53rd Street; and 432 Park Avenue. "That's ultraclear glass, that's ultraclear glass, that's ultraclear glass," says the architect Andrés Jaque, pointing at each. He's referring to the material that allows this class of supertall towers to sell their stunning views, the environmental cost of which is the subject of his new performance, Being Silica, which runs through this Sunday as part of this year's Performa Biennial. His piece, a mix of documentary-style interviews, experimental soundscapes, colored lights, and moving architectural models, will be on view at sunrise, and 30 Rock's view, 850 feet in the air, will serve as its spectacular backdrop.
Jaque, who is Spanish-born and New York-based, founded his studio, Office for Political Innovation, in 2003. He's built a practice based on challenging architecture's investment in forms of exploitation through performances, films, installations, and exhibitions. His installation about silica explores it in two of its forms: the low-iron sand that is essential to the production of ultraclear glass, and the cheap, nearly pure quartz sand that is used in the extraction of natural gas, a major energy source for New York City.
As his performance details, without this special glass, the supertalls wouldn't be able to offer the clear-sky views that they do. It's made from a particular sand, mined in Illinois, that leaves it free of the green tint of regular glass. The architect contends that the invisibility of the ultra-clear glass isn't just an aesthetic preference; when the glass is this imperceivable and the view this immersive, residents feel more ownership over the landscape below them. And the less detectable the air pollution, the more desirable and salable that view is. (It's worth noting that in 2011, the Bloomberg administration shifted many city buildings from oil heat to gas, thus improving air quality.)
As condo owners revel in their unsullied vistas, the environmental cost of making them possible lands on others. Jaque includes emotional video testimonials of two Pennsylvania residents, Vera Scroggins and Ray Kemble, who live amid the fracking that supplies America with natural gas, and they talk about the breathing difficulties and water contamination that result. These videos are embedded in approximately three-foot-wide architectural models of their homes, in which Vera is projected as if speaking from her doorway and Ray appears in a window. The videos play as the models move laterally on tracks in front of the audience, disrupting their panoramic views.
Ultraclear glass is not new. The first building to use it was Fallingwater, Frank Lloyd Wright's landmark modernist house in the Pennsylvania woods, which melded architecture and nature in an unprecedented way. As Jaque explains, "Transparency is directly linked to a way of controlling nature, and modernity is really the exploitation of nature." But for many years it was infrequently used; ultraclear glass, which is three times as expensive as regular glass, only took off as a commercial product after the 2008 market crash. "It became so difficult to place money in the markets or in other financial products, so power needed to be packaged in buildings," explains Jaque. "And then because the materiality of these buildings had to be so unique that they could retain value in the long run, they went even farther along this modern dream of ultra-transparency."
Fracking, too, dates to the same era—1947, to be exact—but this industry too didn't start booming until 2008, when low interest rates brought a flood of financing and led many economically strapped regions to look to gas extraction as a route to revival. In the post-crash years, Pennsylvania witnessed a rapid growth in drilling. Because New York State banned fracking in 2014, most of its gas comes from elsewhere; Pennsylvania is now the state's principal source. Whereas many New York City buildings previously burned high-sulfur heating oil, which pollutes where it's burned, natural gas mostly pollutes where it's extracted.
After presenting testimonials about the harmful effects of fracking, Jaque's performance subjects the audience to a rumbling, vibrating soundscape that simulates the seismic experience of fracking. "For eight minutes, I wanted to make it possible for our bodies to feel the violence that is inflicted on the rocks," he said.
The performance is not all doom and gloom. Being Silica also includes audio testimonials from Doug CrowGhost and Simone TwoShields of the Standing Rock Sioux tribe, who speak about building a commitment to preserving the health of the land and water as a gift for future generations. And the performance's finale, titled "Choir of Dawn," re-creates how a dog (specifically the companion of one of the Pennsylvanians interviewed earlier) perceives the early morning. As the Manhattan sky flushes with color, a multichannel symphony re-creating the sounds of animals waking up builds in intensity. "This is the way that things can change," says Jaque. "If you feel the world differently, we are already in a different situation."
"We're in a time where we are realizing that architecture has been complicit in forms of abuse in a very direct way, and now we have the job of undoing it," he added. "For me, rather than building, what's important is being self-reflexive, challenging these structures of power, and providing the possibility to transition to something different."