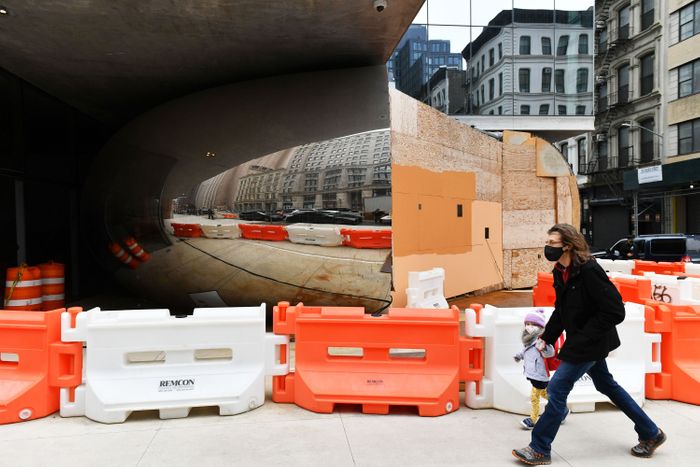 Photo: Erik Pendzich/Shutterstock
For more than a decade, New York has been promised a more diminutive version of Anish Kapoor's sculpture Cloud Gate — or, as it has come to be called, "the Bean" — at the Herzog & de Meuron–designed luxury tower at 56 Leonard Street in Tribeca. It looks sleek, compact, and weightless in early renderings, lodged neatly under the corner of the building. But the reality for the past two years has been quite different: Construction on the sculpture began in late 2019 but stalled in 2020, leaving a half-finished version — one part reflective mirror, one part boarded-up abyss, facing the street.
Making the Bean is, of course, complicated. Fabricating the steel plates, joining mechanisms, and the correct suspension system for the space made the process slow from the beginning, the Tribeca Citizen reported. Then, as COVID hit in early 2020, construction stopped altogether when the U.K.-based crew that exclusively installs Kapoor's sculptures was unable to enter the country. Since then, the stalled sculpture has hulked on the corner garnering an affectionate (or derisive) moniker of its own: the "Half-Bean."
Soon, though, the Half-Bean will become whole. International travel restrictions have loosened, and construction picked up again in late September — which means there's not much time left to see the weird, wonderful Bean-in-progress. I went to visit it on a recent Monday and found it was cordoned off by orange-and-white plastic barriers and partly covered with plastic sheeting and red tape. Its stainless-steel shell had grown significantly, so it was now more like a Seven-Eighths Bean. But for the time being, a gaping hole allows viewers to glimpse its innards: metal support beams, chains, and bolts. The seams in the famously seamless sculpture are on full display. I found myself wishing I could step inside its dark vortex, as I would enter a cave or one of Richard Serra's Torqued Ellipses. The Seven-Eighths Bean does so much more than reflect the exterior world on its own exterior; it tacitly invites one into an interior that seems mysterious and potentially infinite.
There's almost always some serendipity in seeing unfinished artworks, and terminally unfinished ones often inspire a kind of cultish fascination. Unfinished visual art is particularly interesting because we normally experience it in a kind of stasis. To see it otherwise can be an almost shocking experience. This is doubly true for the unfinished Bean in its various states: We have been able to watch, iteratively and in slow motion, as its shell wraps around its void.
Peeking behind the metal veil, we see that this effortless-seeming work is clearly a feat of labor, engineering, and bureaucracy. It made me think of the Sagrada Família, the Antoni Gaudí cathedral in Barcelona that has been under construction for 139 years. I have always thought the Sagrada Família with its scaffolding is much more interesting than a finished version of it could ever be; you can see so clearly how a great artistic vision gets snagged on the realities of nuts and bolts and money troubles and the march of time. All of this inspires more respect, rather than less, for the ongoing attempt to realize such a dream. When the Bean is finished, its form will stitch up its inner workings inside; we will no longer have access to the sense of the artwork as a piece of work made by people manipulating metal in complicated ways for our aesthetic pleasure.
In truth, the prospect of the finished sculpture leaves me cold. This is partly because of where it's sitting, in the shadow of 56 Leonard Street. It's hard to imagine the completed sculpture will have any of the expansiveness of Chicago's Bean when it's squeezed under the corner of a luxury condo tower. There is an appealing openness to the Bean in Chicago — the way it reflects a version of the city's skyline back at you, how it arcs upward in the wide space of Millennium Park and, as its official name suggests, calls to mind a cloud. But at 56 Leonard Street, the sculpture will be oddly of a piece with its surroundings. There's nothing interesting about another piece of sleek stainless steel in the Manhattan cityscape. And what will it reflect from its compressed space but more buildings like the one above it and our own faces looking back at us? Manhattan already functions largely as a mirror; why do we need another?
Let Chicago have the Bean. New York should keep ours perpetually incomplete. You can still get a glimpse of it now — the joy of its strange and inviting and prickly interior.