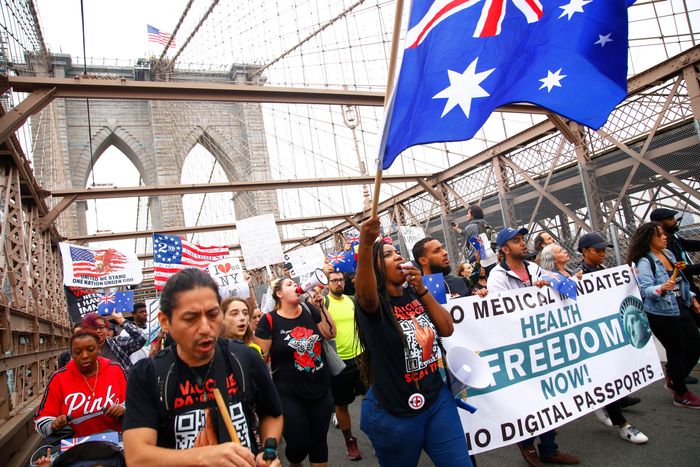 Marchers against mandates and some other things crossing the Brooklyn Bridge.
Photo: Michael M. Santiago/Getty Images
For months now, New York City has quietly been subjected to regular street protests over vaccine mandates. Today's demonstration, which marked the Department of Education's own mandate going into full effect, started at the DOE headquarters in Brooklyn, made its way over the Brooklyn Bridge, and headed uptown.
"Wake the fuck up, New York," one marcher yelled at diners at a restaurant as the march made its way uptown. "Baaaahhh," yelled another.
But the real action came in Union Square, where marchers began to demolish a mobile COVID testing station.
There was, from the video documentation, a slow and minimal police intervention in this conflict, even as the table, chairs, and tent in front of the testing van were thrown to the sidewalk.
Journalist Brendan Gutenschwager followed the march for its entire route. He also documented what looked to be a police officer applauding the marchers.
The march continued on to midtown, passing Grand Central Terminal and arriving at the Australian consulate.
Australia is a target of anti-mandate ire due to its extreme lockdowns, which have not always been successful. Melbourne, supposedly closed down for two months, has just reported a record number of COVID-19 cases.
In New York State, looming deadlines for vaccination have been accompanied by a substantial bump in shots among health-care workers and others. And about 96 percent of New York City teachers have had at least one vaccination shot, with a surge taking place in the past week as the deadline approached.