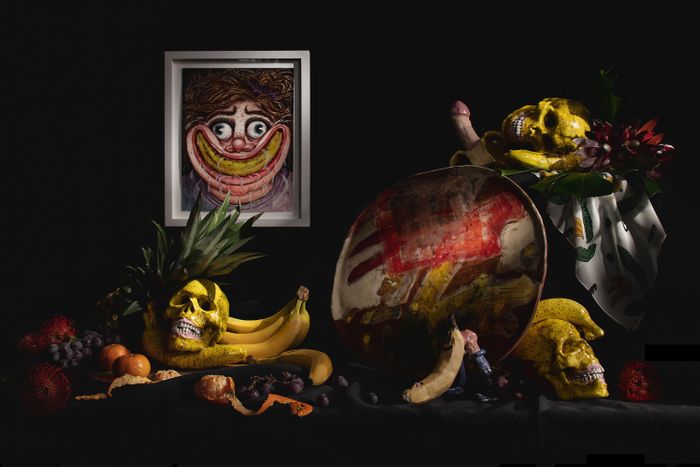 Photo: Joseph Kramm, Courtesy of Fort Makers, New York
Nana Spears and Noah Spencer, who together founded the Orchard Street design gallery Fort Makers, don't always see eye to eye about everything. Take bananas. "I love them because I have an issue with crunch," Spears says. Spencer, however, does not care for the mushy fruit except as an ingredient in smoothies.
Putting their clashing opinions aside, they organized an exhibition called "Bananas." Ubiquitous, nutritious, and fun, bananas are the world's second or third most eaten fruit (it's debatable which seat belongs to apples; tomatoes are top, uh, banana). They are a marker of cultural, colonial, commercial, and bodily exchange and exploitation. Thirty artists and designers peel the fruit at the current Fort Makers show, including the ones below.
Sara French made a sunlike wall clock with the hands circling over a peeled banana. The paper-pulp device is color coded based on the designer's interpretation of the fruit's nutritional value. The orange of the radiating bulges, which total 12 for functionality, signals vitamins C and D while the blue background symbolizes air and water. "Center stage, the banana, for its potassium — giving us the electrolytes to move our muscles, facilitate our nerves, and rid our waste; the clock, a gear for the engine that is us," says French.
Johannah Herr's Dictator Wallpaper is a reminder of the Colombian dictatorship's cruel massacre of striking United Fruit Company workers in 1928. The pattern repeats bunches of bananas along with images of 36 dictators whose oppressive tactics were supported by the U.S. government in the 20th century. "It's a reminder not only for those who wish to live with the work but for all of us who take things for granted that no privilege comes for free, including the banana," says Spencer.
Shino Takeda hates bananas. The ceramicist jumped into the assignment for the challenge of turning her disgust into beauty. Her 12-inch-wide ceramic plates, which she hand-built out of clay with a single coil, feature painted motifs that range from the Japanese word for banana to a gory, blood-drenched depiction of the fruit. "These plates are the result of knowing all the interesting facts about bananas and also absorbing my feelings toward them," she says.
Spencer designed the hand-carved walnut Legs Table and Spears made the hand-painted Green Grass Chair for the gallery's "Goodnight House" show earlier this year. "We are both urged to emphasize the maker's hand with one-off craft objects," they said. Spencer, a woodworker, initially tested different shapes with paper and scissors and transferred those forms onto the table's legs. Each one yields a different curve, from rippled to geometric. Spears's fabric-and-wood chair is painted in neon green, which recalls an unripe banana and completes the visual structure of a tree with the table's trunklike hue.
Romina Gonzales and Jason Bauer's Paradise Wands are handblown glass dildos. Pastel pink, orange, and, of course, yellow evoke "a magical essence," the duo says. The organizers elevated the optic potential by displaying it across a black velvet cloth on Legs Table.
Colin Radcliffe's glazed ceramic Uncut may seem like just a NSFW paperweight, but he insists it has a political point. "The commonality of nontherapeutic circumcision of newborns in the U.S. is rooted in cultural beliefs and health/hygiene stigma," he says. "Peeling a banana does not improve its condition, hygiene, aesthetic, integrity, or spirituality, just as circumcision does not improve that of an infant." So it's a conversation starter.