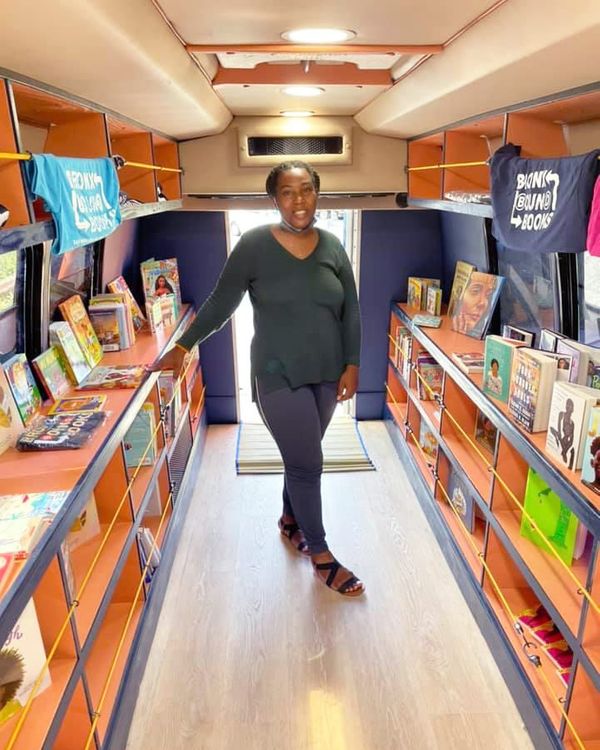 Photo: Courtesy of Bronx Bound Books/Latanya Devaughn
Latanya DeVaughn, a 41-year-old writer from the Bronx, has always dreamed of opening her own bookstore in her home borough, especially after the only independent bookstore, Books in the Hood — where she ran an open mic — closed. The usual forces (high rents, low margins, Amazon) were arrayed against her, although one new bookstore, Lit. Bar, did manage to open on Alexander Avenue in 2019. She realized that she might not actually need a storefront: Could she run a new and used bookshop out of a converted bus, bookmobile-style? A fundraising campaign in 2019 suggested that she could, and $3,600 and a Craigslist deal later, she was the owner of a used shuttle bus, the kind that takes you to the rental-car place at the airport.
The aesthetic goal, she says, was "tiny house meets the Strand Book Store": a homey place selling new and used books where people would want to linger. The seats came out; a folding table behind the driver's seat where people can sit and read went in. A local upholstery shop in the Bronx agreed to do most of the work, including the daunting job of cutting a hole in the roof to install a skylight. As is true of so many recent projects, the pandemic stalled everything. DeVaughn was hoping the van would be ready this past April, then in June, and book donations kept coming in before they could launch. She eventually had to rent four storage units to hold them all.
The van finally made its debut last month, and it is a blast to visit. Bright-orange cube-shaped shelves with blue edges cover the walls. (Those are New York City's official colors and also those of the Bronx flag.) The floor is covered in wood with a wide aisle up the middle. The whole thing is surprisingly roomy: She stocks about 3,000 new and used books altogether. It may actually be easier to squeeze past someone looking for a particular title in the Bronx Bound van than in the stacks at the Strand, and she swears that anyone under six-foot-four can comfortably browse in the bus. "People love the way it smells," DeVaughn says with pride. "One woman said the wood smell makes her feel like she's home."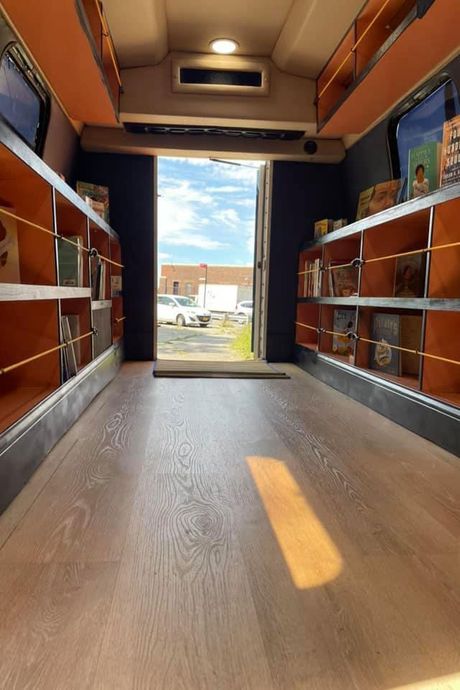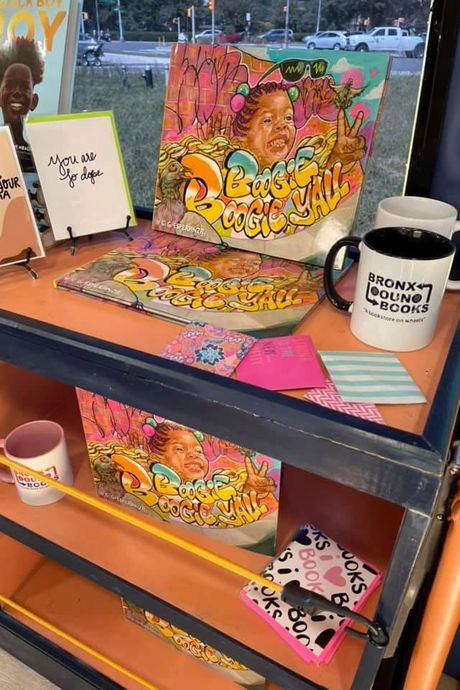 Children's books that feature Black and brown characters on the covers, like I Am Enough, by Grace Byers, and Ruby's Reunion Day Dinner, by Angela Dalton, are prominently displayed. Titles by legendary Black authors like Alice Walker and James Baldwin get featured spots as well. "It's meant to be that way," DeVaughn says, "because I remember going to bookstores and having to sift through books just to find someone that I felt I could resonate with. I want someone from the Bronx to see themselves on display." She parks and sells at the Riverdale Y Sunday Market, the James Baldwin Outdoor Learning Center twice a month, the Bronx Night Market for special events like Juneteenth, and public schools whenever she gets the call. She used to rent a parking spot near her apartment for the overnights, but to cut down expenses, she's now parking it in her aunt's driveway.
A couple of Sundays ago, DeVaughn's bus was parked outside the Riverdale Temple when an elderly Black woman approached her. She was moved, she told DeVaughn, by the array of titles like You Are Your Best Thing, by Tarana Burke and Dr. Brené Brown, and Boogie Boogie, Y'all, by Charles Esperanza. "She said growing up she never saw this," DeVaughn recalls. She says that the experience reminded of her grandmother, a teacher in the Bronx who had been born in Puerto Rico who patiently read leases and prescriptions for neighbors who couldn't. "I realized that seeing that played a really big part in my whole starting Bronx Bound Books. People's lives were dependent on the information she was giving them."