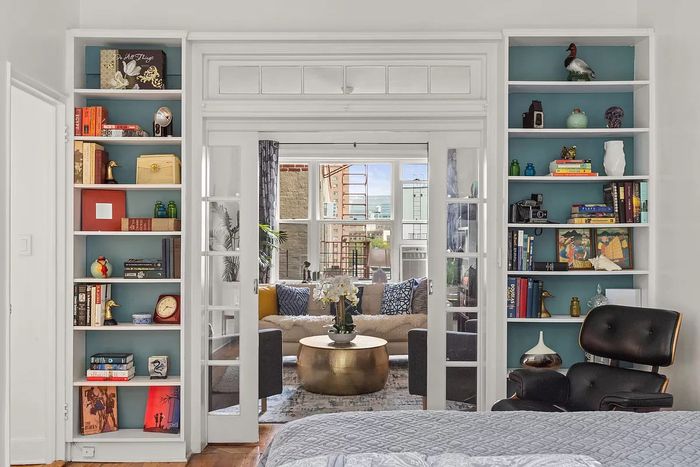 For under $1 million, one can find all sorts of housing configurations: park- and subway-adjacent studios, one-bedrooms hidden in carriage houses or former shoe factories, and even the occasional true two-bedroom. With price drops rampant across Manhattan and vacancies high citywide, we're combing the market for particularly spacious, nicely renovated, or otherwise worth-a-look apartments at various six-digit price points. This week: a Chelsea loft, a Prospect Heights two-bedroom, and more. 
An Updated Chelsea Loft Studio for $550K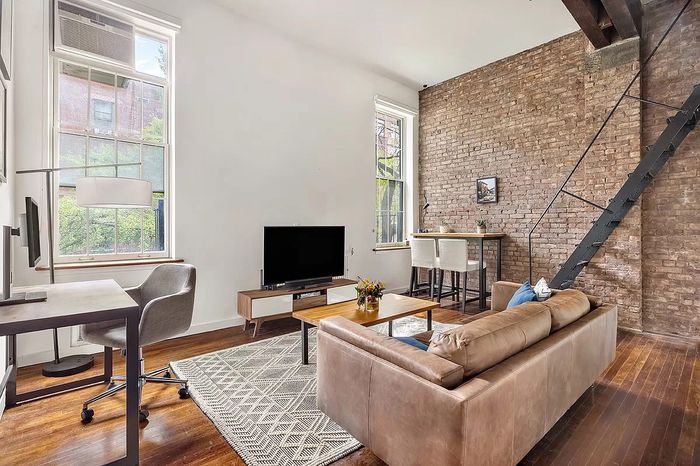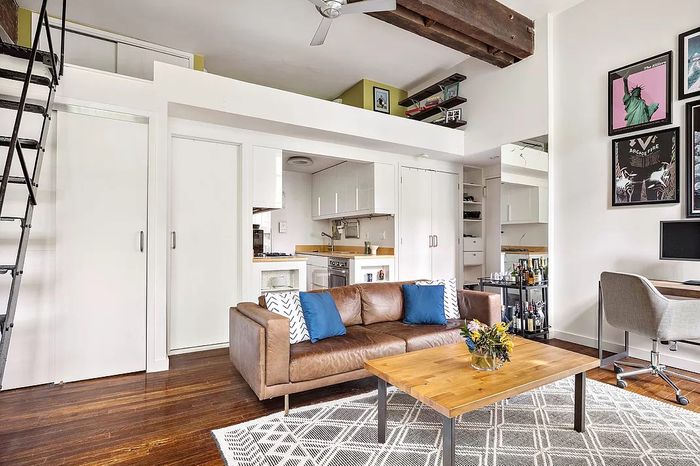 100 West 15th Street Apt. A3 — It's relatively rare to see a loft in Chelsea at this price point (the studio is found in a converted knitting mill, while most other similar units for sale right now are in more traditional low- and mid-rise co-ops). The apartment has 13-foot ceilings, with an open steel staircase (which is admittedly a bit steep — but there are railings) up to a spacious lofted sleeping area that has a closet and a nook for storage. The living area has two huge grid windows overlooking backyard gardens, an exposed-brick wall, and a chunky original wooden beam overhead. In the renovated galley kitchen, there are Liebherr appliances, glossy white cabinets, butcher-block countertops, and some built-in open shelving. There are also two large closets (one is a walk-in). The building sits at the intersection of a quiet, tree-lined block of West 15th Street and Sixth Avenue, and is just a minute from the F train at 14th Street.
A Little Red Two-Bedroom House in Kingsbridge for $750K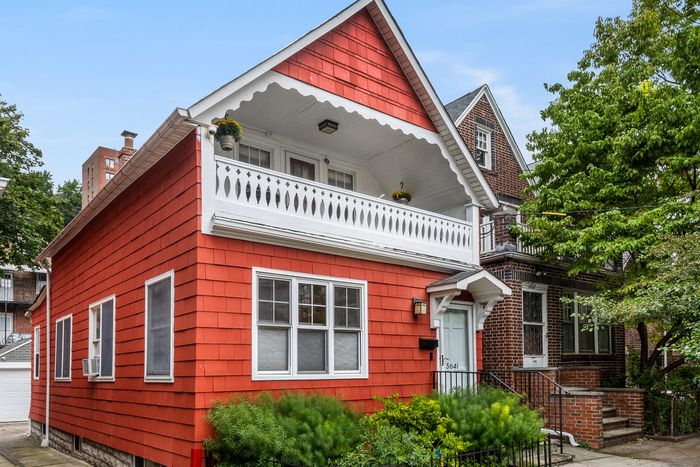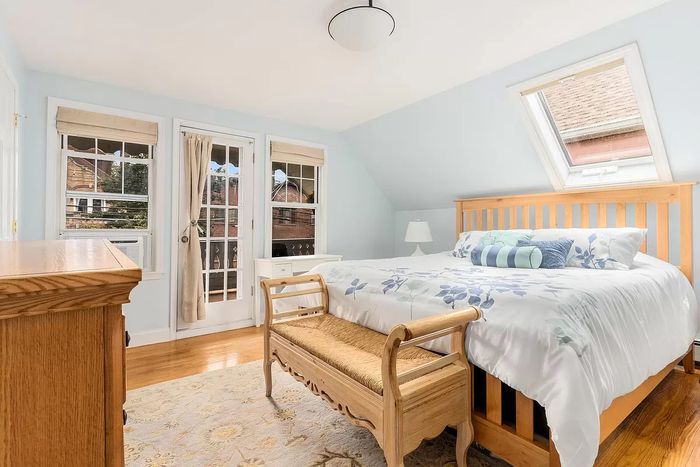 3641 Tibbet Avenue — Of the handful of under-$1 million single-family homes currently for sale in the Riverdale/Kingsbridge area, this one is both the most convenient (it's only three minutes from a 1 train stop and easily walkable to the sprawling Van Cortlandt Park) and the cutest (see: the wavy white trim and decorative railing on the front façade). The 1,436-square-foot house has two bedrooms (each with a skylight and the larger one has a French door out to the covered balcony), one and a half baths, a living room with a built-in window bench and shelves, and a fairly updated kitchen and dining area with views of (and direct access to) the backyard garden. There's also a basement with a laundry room and a one-car detached garage on the property.
A Big Two-Bedroom in Morningside Heights for $799K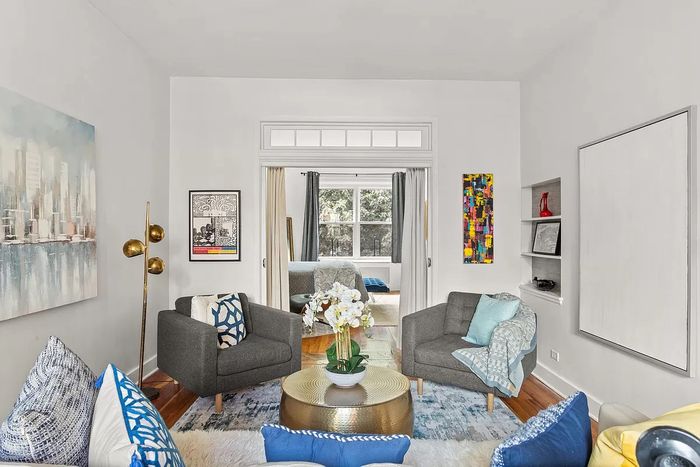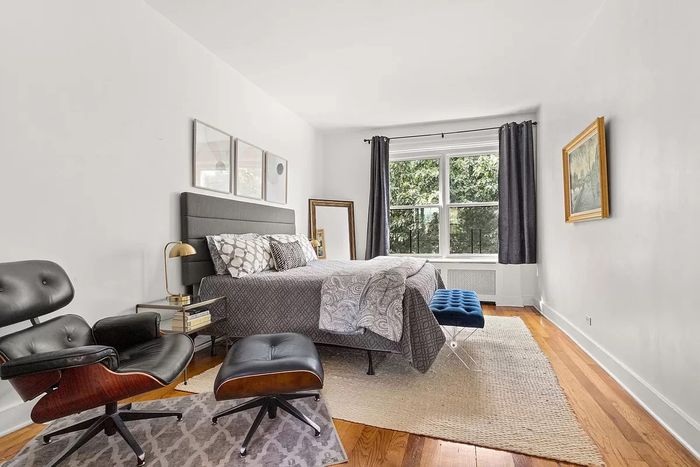 552 Riverside Drive Apt. 6K — Sitting directly across from the northern tip of Riverside Park (it's only a minute walk from the 125th Street 1 train and just below all the new buildings going up on Columbia's Manhattanville campus), this apartment has an unusually wide floor plan and windows on three sides (east, west, and south). The two bedrooms, on either end of the unit, are actually both very spacious (even the smaller one measures approximately 11-by-13 feet and each comes with a walk-in closet). The living room and larger bedroom are separated by French pocket doors with a transom window on top, flanked by built-in bookshelves on the bedroom side. In the middle of the apartment is the L-shaped kitchen, which has two windows, plenty of storage, and a dining nook nearby with a Sputnik-style chandelier.
A Prospect Heights Two-Bedroom With a Private Deck for $850K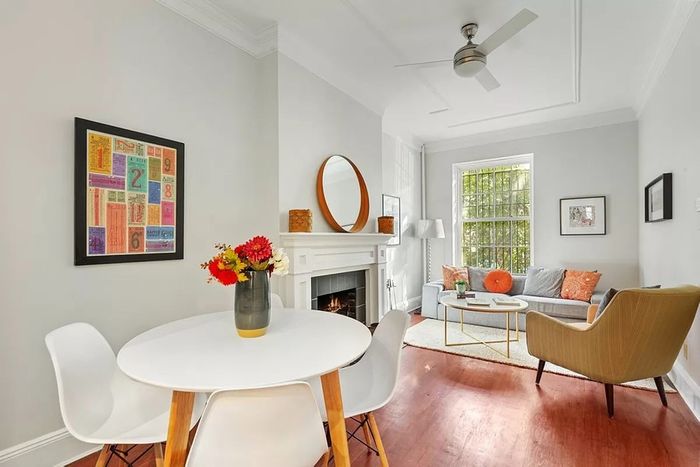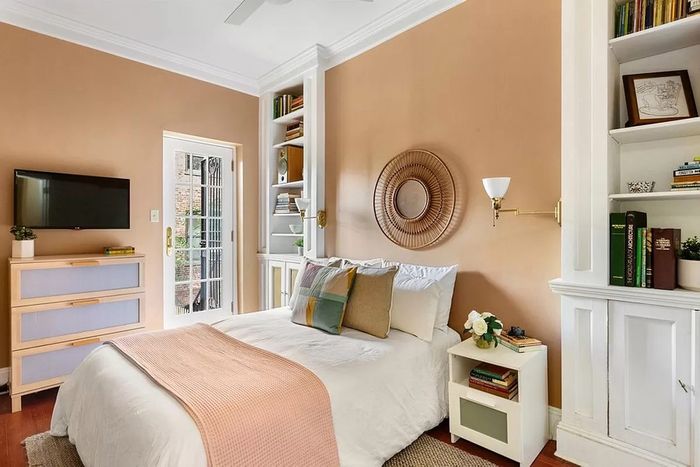 279 Prospect Place Apt. 2 — One of the very cheapest two-bedrooms currently for sale in Prospect Heights, this apartment is on the parlor floor of a brick townhouse (halfway between Vanderbilt Avenue and an Open Street stretch of Underhill Avenue). There are beautiful period details throughout, including crown and ceiling moldings, a wood-burning fireplace, floor-to-ceiling built-in bookshelves, and mirrored French doors concealing a washer/dryer and a pantry. There are also some updates, like recessed lights, white cabinets and black granite countertops in the open kitchen, and a Jacuzzi tub and vertical subway tile in the bathroom. Both bedrooms are at the rear of the unit — the larger of the two has a door out to the lovely 450-square-foot private deck surrounded by wood fencing, trees, and garden beds.