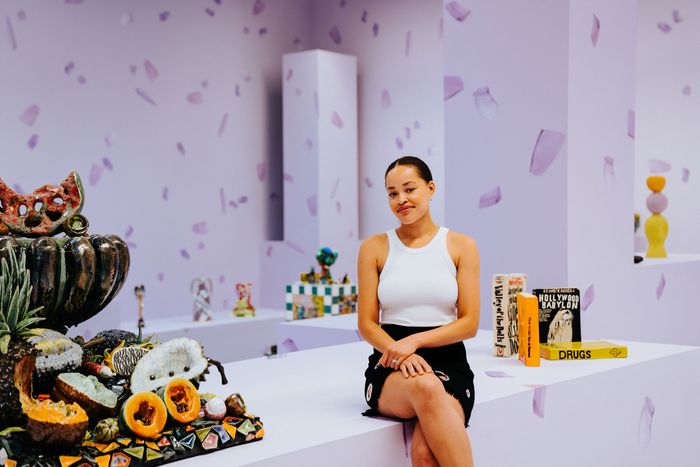 Curator Alia Williams at Jeffrey Deitch gallery.
Photo: Janice Chung
The first piece Alia Williams showed me from the show she curated at Jeffrey Deitch gallery, "Clay Pop," was Genesis Belanger's Good Guy. It didn't look like anything I had ever seen in ceramic: a cowboy hat that looked like it was made of soft felt over a pair of fingers with red nail polish crossed like a pair of legs. It was impeccably executed, an intriguing twist on a medium I thought I knew.
So what is Clay Pop? It's the summation of an idea that Williams had been carrying around in her pocket (her iPhone, to be exact) for two years, taking notes on the different artists working in this ancient, if sometimes relegated to workaday, medium whom she found intriguing.
And Williams herself, whom I'd gotten to know over the past couple of years, I found intriguing. Growing up in Chicago, "I thought I wanted to be an artist, but I decided very quickly and early on that I could imagine doing many other things with my life. I know that a true, serious artist could not have." That realization instilled a calling to support artists in ways she had yet to discover. "I didn't know if that meant working at a museum; I didn't know if it meant making public work, because in Chicago there are so many amazing public-art projects, public sculptures." One in particular captured her imagination: Alexander Calder's Flamingo, located in front of the Kluczynski Federal Building in Chicago. "It blew my mind; I couldn't imagine that this could be considered art, and it made me even more curious to continue learning and be in this world."
After she graduated from the University of Illinois, "I could count on one hand how many people I knew [in the city] when I moved here, but I knew that I had to be here," she tells me. Within two years, she earned her masters in arts and business from the Sotheby's Institute. Then, one Thursday evening in 2017 during the Armory Show, she walked up to the pathbreaking, idiosyncratic art dealer Jeffrey Deitch as he sat in his booth and introduced herself.
She recalls how his 2000 show "The Street Market" and the Vanessa Beecroft show that launched Deitch Projects in 2000 impacted her. "How many times do you walk into a booth at a fair and see someone like Jeffrey Deitch sitting in their booth? Not the VIP night, but, like, a Thursday night!" she recalls. The conversation started, and a few months later, he hired Alia, at first just to do administrative work. Soon her job evolved. "Alia is exceptional," Deitch says. "She has a rare combination of artistic insight, superb management ability, and intuitive social skills. She can become an important museum director or leading gallerist as her career develops."
For "Clay Pop," she compiled a list of dozens of young artists whose work has an outlier spirit. There are 37 in the show. She didn't have a specific checklist of criteria. "It was more of a gut feeling," she says. "I also worked closely with my team and, of course, Jeffrey." Williams wanted the installation to look different, and so she enlisted Charlap Hyman & Herrero, who came up with its enchanting setting.
How did the idea begin?
This is a show that I have been thinking about for a while. I first started noticing younger artists exploring this medium of ceramics maybe two or three years ago. I just thought it was so fascinating that artists of a younger generation were exploring this medium that for a long time was considered dead, to be very frank.
Why do you think so many younger artists are intrigued by ceramics today?
I think that part of it is that many of the artists didn't have a formal education in ceramics, so if you are aren't restrained by these academic pressures or rules—regarding how you build the clay, the firing temperatures of the kiln, what glazes to use, what not to use—you really are approaching it just like any other medium, like a painting, where you are able to be completely free in the forms that you are creating. An artist like Sharif Farrag, for example, started exploring ceramics through his previous drawing practice. He wasn't shackled by traditions of ceramics, either the history of it or exploring traditional forms. He approached it like any medium and just had fun and was able to experiment. Alake [Shilling] did the same thing.
There are 37 artists represented. Did you look at many more?
I actually didn't. I started a list on my phone of artists that I had been excited about maybe two years ago. I wanted to make the show very tight and really focus on the younger generation, or artists who had a dialogue with that younger generation. So most of the artists are young, with the exception of a couple of artists like Sally Saul and Magdalena Suarez Frimkess, or Melvino Garretti, where they are a part of it; I wouldn't even necessarily say that they are part of the older generation of ceramicists, the work has such a youthful spirit. They connect more closely with an artist like Sharif, or an artist like Genesis Belanger, or Brie Ruais, or Woody De Othello, than, like, a Coille Hooven or Peter Voulkos, or any of the older generation.
How did you get Jeffrey himself onboard?
I approached him with the idea of a show of contemporary ceramics. Jeffrey was very encouraging. He said, "Okay, put together a list of artists and images," so I put together a PDF and shared that with him. As I was going through it, he was like, "This is just amazing," and we just kind of went from there.
We booked a date — the original date for the show was going to be June, but COVID has obviously changed so many timelines. The show ended up being pushed to September, which I think was perfect. We have three really beautiful spaces across the U.S. We have the flexibility to be able to do that, and we have the flexibility to do a museum-level show in gallery space with a shorter timeline and a very lean team, and we just hustle and get it done.
Ceramics are having a moment. How do you distinguish this show?
There are ceramics skewed more toward the craft side and skewed toward the design side, but this show is primarily focused on artists making work about themselves, about culture, about politics, about social issues. And using the ceramic medium — that is unheard of. Another surprise is that I expected smaller works — ceramics you think of as small, traditionally — but so many wanted to go as big as they could. I heard, I want to create a six-foot work, a five-foot work. I was surprised at how excited the artists really were to scale and make substantial objects, which is another surprise as you walk into the show. You would expect to see small pieces that you would expect to see in a china cabinet, just more traditional themes you are used to seeing in small vessels and not necessarily expecting to see Diana Yesenia Alvarado's sculpture, or Sharif Farrag's incredibly detailed figure with a portrait inside, and just so much going on from every angle.
Is every piece new?
Most of them. A large majority of the work the artists made for the show.
Katie Stout's playground is definitely new.
The level of enthusiasm she had for "Clay Pop" I have never experienced, and it made me even more excited to work on the show. In a group show, we usually expect one or two pieces from an artist, and Katie very early on told me, "I have a vision; I'm going to make a playground." And the work she made is absolutely astounding. She's just a genius. Again, for someone to see that work and then see Sharif's work and then De Othello and Alake, you wouldn't necessarily connect all these artists and think that all of these works are ceramics, but really I wanted to move beyond the traditional thoughts of ceramics and expand people's minds on what ceramics can do.
There is another show of ceramics at Deitch's Grand Street space around the corner. How are they different?
That was another exciting thing. I worked with Alake Shilling in our grand street gallery … she was actually one of the artists I was originally inspired by to curate "Clay Pop" to focus on the younger generation working in ceramics outside of design and craft. We felt that it would be great to have "Clay Pop" happen at the same time as Alake's show as she was an inspiration for the show and …she also has started to experiment with her ceramic practice through painting. She presented a show at 356 Mission …and only a few years ago I want to say she started experimenting with ceramics.
Tell me about the installation by Charlap Hyman & Herrero. 
I actually became familiar with their work in two ways, one being through Katie Stout. When I did a studio visit with her earlier this year, I told her that I was thinking about the exhibition presentation; I really didn't want someone to walk into the exhibition and see a sea of pedestals with, like, 70 objects on them. That is not particularly engaging; it's very boring, and if I walked into a show like that, I wouldn't be excited about the work. And so she recommended Charlap Hyman & Herrero — they were good friends of hers — and when I went on their website, I was immediately struck by their exhibition design for Cynthia Talmadge's show at 56 Henry a few years ago. I remember going to that show and seeing the exhibition design that looked like this Upper East Side stuffy funeral parlor to match Cynthia's Frank E. Campbell funeral paintings. I was just in awe, and I thought, This is what we need to do.
 I also love that the walls have that pattern made of appliqués by Adam Charlap Hyman's mother, who is an artist.
Yes, yes! They are vinyls that were placed by hand on the walls. I love that trick-of-the-eye moment; because it's all over, it kind of blends into the background. Then, as you get closer, you think, Is this wallpaper? Did someone draw all of these shards?
What surprised you most about the process?
I think I was not expecting so many artist recommendations. I mean, there is only so much art you can see at one time, and as I had more and more conversations with collectors and artists and gallerists and dealers, I was just shocked at how many people had other artists in mind or had seen works that they thought were exciting and were willing to talk to me about it. It made me think, Wow, this is really the right time to have presented this exhibition. Not only the right time, but maybe it was long overdue, because this is a really exciting thing that has been happening for a while that people have been waiting for, and artists have been waiting for, so many artists …
Has the show inspired you to get your hands in clay?
Ohhhh, I would love to. It's such an exciting material. You can approach it on so many different skill levels, and it just looks fun. So yeah, I would. I think ceramics is really for everyone. What is so fascinating about working in this medium: You can only control so much. You can control the level of heat in the kiln, you can control the type of kiln, gas or electric, you can control how long you let the clay dry before you put it in the kiln, the way that the glazes are applied, the type of glaze, whether it is metallic or matte or shiny, but at a certain point, you make the work, you put it in the kiln, and you have no idea how it is going to turn out until many hours later. And I think that to control that or to try and control it, or to become a master at it, makes you almost like a scientist, because you're experimenting with all of these ingredients in order to make a final work, and so many of them are out of your control. To see how the artists have a concept and then translate it, despite this wall in between of what happens in the kiln — it's just really incredibly exciting and shows the mastery of all of these artists.
Where did the name come from?
There were a few iterations, but it came to me pretty early on. I really like when titles are very clear on what is going on in the show, and I thought that it fully summed up what the show was about and what the artists were connecting with. And I just thought it was a great title.
"Clay Pop" is at Jeffrey Deitch, 18 Wooster Street, through October 30.