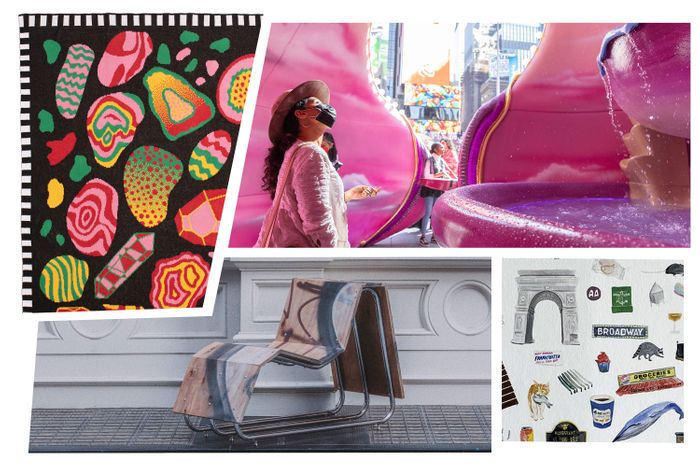 Photo: Clockwise from top left: Courtesy of Tayler Smith, Michael Hull/Courtesy of Times Square Arts, Courtesy Flat Vernacular, Sean Davidson
Every couple of weeks, I'll round up and share the objects, designers, news, and events worth knowing about.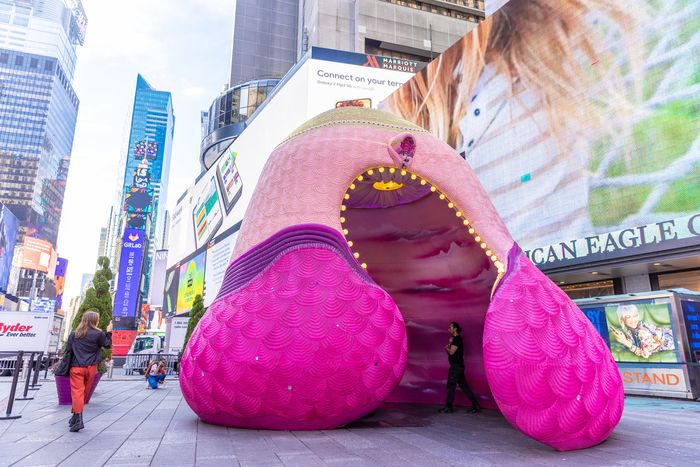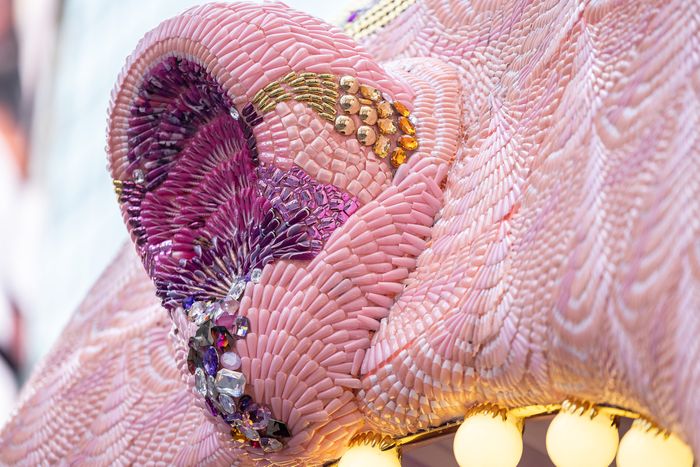 There's an 18-foot-tall sculpture in Times Square covered in 400,000 hot-pink, lavender, and peach acrylic fingernails and shaped rather … yonically. Step inside and you'll find a three-tier fountain gushing with Florida Water, a floral cologne that's said to have healing properties. Pamela Council, the Bronxville-based artist behind the piece, views the sculpture as an offering to survivors and, like the fountains they've made in the past, a symbol of joy and resistance. The sculpture is an extension of Council's exploration of Blaxidermy, their term for a Black-vernacular camp aesthetic that represents things that are skillfully made by hand. The sculpture is intended to be a space where individuals can reflect on their own survival — whatever their personal definition of that might be. Fountain for Survivors is on view through December 8.
A Tribute to Diane Arbus in Central Park
In the 1950s and 1960s, Diane Arbus would regularly bring her Mamiyaflex camera to Central Park and photograph the people she saw. Arbus has returned to Central Park in the form of a new sculpture by Gillian Wearing, supported by the Public Art Fund. The bronze statue depicts the photographer mid-stride, as if she's about to take her next shot, and is installed by the southeast entrance of the park. New York City, and Central Park in particular, has a pretty embarrassing track record when it comes to public monuments to female historical figures. Until last year's unveiling of the Women's Rights Pioneers Monument, there wasn't a statue of an actual female historical figure in the park. This one of Arbus will be installed through August 2022 and is a very welcome addition throughout its all-too-short tenure.
The latest removable wallpaper from Payton Cosell Turner and Brian Kaspr, founders of the wallpaper company Flat Vernacular, began with Cosell Turner's watercolor paintings of New York City symbols. Too Much NYC Stuff is a loving and nostalgic ode to the monuments and mundane things that make New York the city that it is. You'll spot a few icons (the Washington Square Arch, the Staten Island Ferry, the Apollo Theater sign); a few street institutions, like the Mister Softee truck and bodega awnings; items that represent New York City's history (a subway token, a 1980s boom box, a Seneca Village plaque); and objects that are personally significant to Cosell Turner, such as the street cats that hang around a building in her neighborhood and a menu from Lady Mendl's Tea Salon. She tried to include something from every neighborhood to speak to the history and culture of the city itself and hopes to add to it over time. "Whether based in reality or in fiction, most people have their own very specific relationship with New York City," Cosell Turner says. "It's a monumental task to try to capture the universal through the particular, but I tried my level best."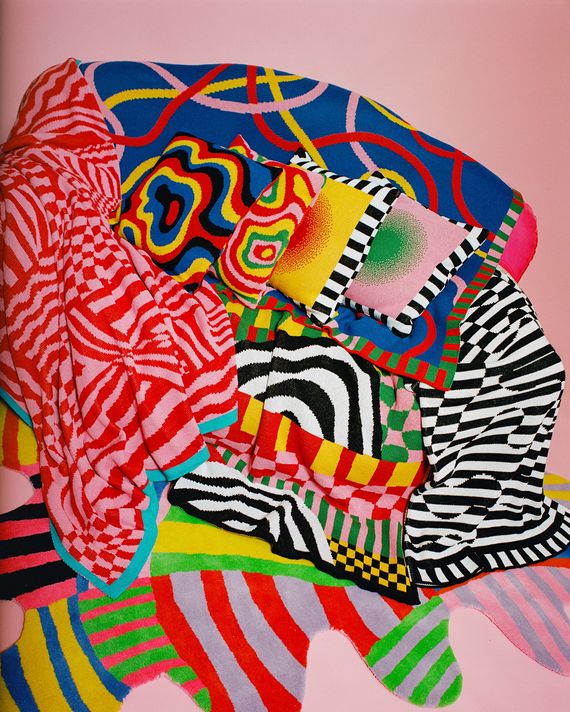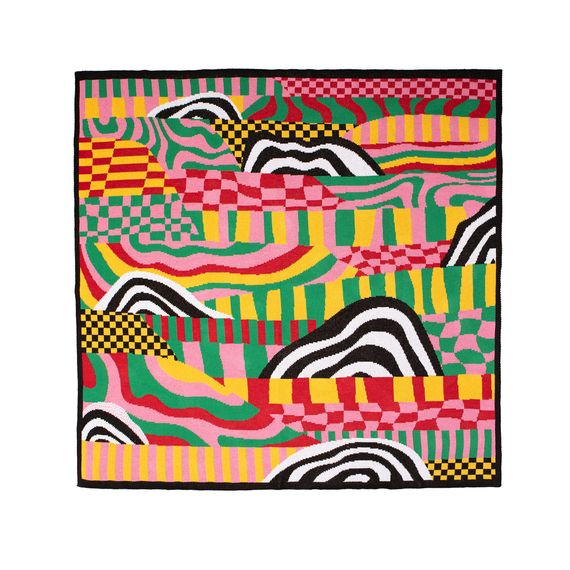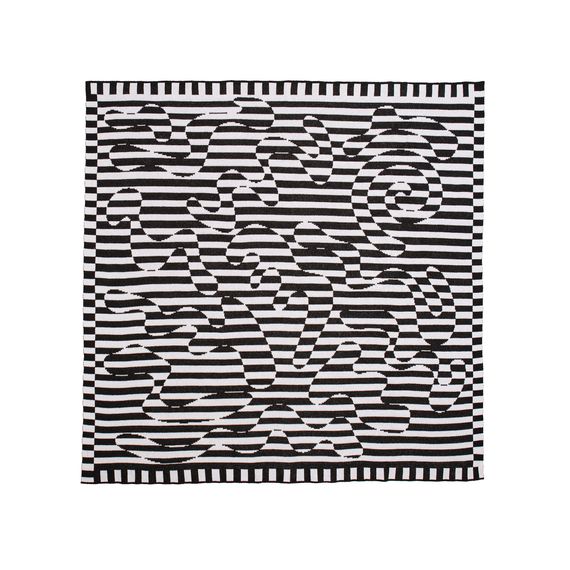 Zoe Schlacter, a multidisciplinary artist and designer, is influenced by the Bauhaus — particularly the textile designers Anni Albers and Gunta Stolzl — not just aesthetically, but philosophically as well. There was no separation between art and craft, which was revolutionary during the early 20th century. Schlacter aspires to do the same now, almost a century later, by working across fine art, fashion, graphic design, sculpture, and home goods and by gleaning from influences as wide as Bauhaus artists to queer craft traditions. On October 28, Schlacter will release their largest home goods collection to date, composed of rugs, throw-pillow cases, blankets, and candles made in collaboration with Piera Bochner. I was particularly smitten by the blankets in the collection (perhaps also because the days are getting chillier), especially their Peaks and Valleys colorway — which looks like cutouts of squiggles, checkerboards, and stripes — and the black-and-white dazzle pattern.
Like many New York City artists and designers, Christopher Al-Jumah was struck by all of the plywood that boarded up storefronts during the 2020 Black Lives Matter uprisings and saw it as a particularly symbolic material. He was able to salvage some of the plywood panels protecting the Tenement Museum's windows and turned them into a sofa, chairs, and coffee table that were part of an exhibition he curated on performative politics and direct action. To Al-Jumah, activism moving into the realm of social media isn't conducive to change. The furniture, meant to be a site for actual conversations about racial justice, is an invitation for more direct dialogue.
The long-awaited second season of the Curbed and Vox Media Podcast Network show Nice Try! has launched. Season one focused on failed utopias and how communities designed their own value systems, rituals, and beliefs all in the service of living a better life. Season two explores where many of those ambitions were channeled: into design at the personal scale. The question of what constitutes a better life is intimately entangled with the history of design and architecture. One of the reasons I'm so excited about this new season is that it explores the history and culture surrounding many of the everyday items that promise to improve our lives in some capacity, whether it's through a good night's sleep or a cleaner bum. Of course, the real stories behind what these items purport to do are much more complicated. The first two episodes are out, and new ones are released each Thursday. (Full disclosure, I'm a producer on the show.) Subscribe on Apple, Spotify, or wherever you listen to podcasts.