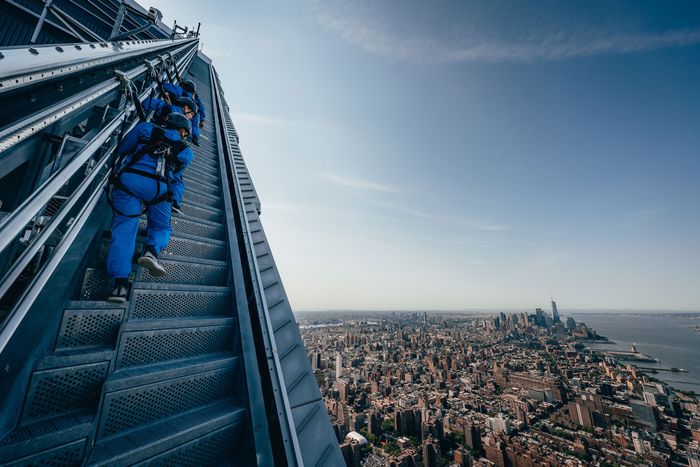 Hudson Yards adds yet another climbing experience.
Photo: Courtesy of Edge
Well, that was fast. The Summit of One Vanderbilt opened just last week — in a blitz of press coverage, mirrored selfies, and LED shimmer — and already it's been upstaged by Edge, the observation deck at 30 Hudson Yards that will allow visitors to climb the outside of the tower's peak. The experience, known as "City Climb," involves strapping into a safety harness for a 161-step trek up an outdoor staircase while you're considering your life choices. At the apex, visitors can lean back in dramatic fashion for a photo op (participants aren't allowed to bring their own cameras but will receive a video and be able to purchase photographs, as at an amusement park) before climbing back down to gulp down a glass of Champagne that is included in the $185 ticket. The Edge is indeed bold — not only in concept and timing but also for introducing a new pricing tier into the observatory game, where general admission runs around $35. There will also be a more traditional observation-deck experience, pitched as a "spectator ticket," for those who want the experience of cheering climbers on without directly experiencing the risk of plunging to their deaths.
Observation decks are a cash machine (as long as there are tourists, at least): When the Empire State Building filed with the Securities and Exchange Commission for an IPO in 2011, the documents revealed that the observation deck made more money than the office space, according to The Wall Street Journal. (During the Depression, when the building was brand-new and barely able to sign tenants, ticket revenues were said to be the only thing that staved off seizure for unpaid property taxes.) Before the pandemic hit, the Empire State Building, 30 Rockefeller Plaza's Top of the Rock, and the One World Trade Center's deck were each drawing between 2 million and 3 million visitors a year. And while those three buildings are all famous in their own rights, for new towers that lack name recognition like One Vanderbilt, developed by SL Green, and 30 Hudson Yards, developed by Related, an observation deck could help confer it. It's also a splashy, glitzy status symbol and a nice opportunity to one-up other developers.
In the past few years, that competition has become an entertaining spectacle all its own, as buildings come up with ever more cheesy (and spectacular) antics to attract visitors and attention — as if looking down at the Manhattan skyline weren't exciting enough. Even the wait for the elevator ride is now an "immersive" part of the "experience" — usually involving some kind of history of the building or the city and plenty of Instagrammable moments. The Empire State Building, for example, has a mock-up of King Kong's hand punching through the wall. The World Trade Center's elevator — branded the SkyPod — "offers a panoramic experience that takes riders through 500 years of New York history." On the way down, it simulates a ride outside the building. There are faux-glass floors with real-time feeds of the street below, and real glass floors, and mirrored floors. It's enough to make a person long for coin-operated binoculars and a spiked fence.
The language being used to sell tickets is also befittingly over the top. "New York's most transformational experience is Summit One Vanderbilt," claims the website, describing the dizzying immersive experience called Air by Kenzo Digital (just remember to avoid skirts, or at least wear bike shorts underneath, to defend against those mirrored floors). Unintentionally flashing one's underwear, of course, now seems downright tame in comparison to the wannabe Spider-Man feat of scaling a skyscraper's skin. "It's an adventure unlike any other in the world and an achievement that you will remember for the rest of your life," Edge's website suggests. (Climbing up and down a 161-step staircase in a harness seems cool, but hardly a lifetime achievement for anyone who's not acrophobic.) Still, it's hard to imagine where observation decks can go from here. An unharnessed climb? A 100-story ride in an open-air elevator? Or maybe the most daring move of all: to make the top floors of a skyscraper into a place where you can experience something that's not an "experience"? The crown of the Chrysler Building is undergoing its own transformation, not into a simulacrum of the most death-defying experience yet, but into a new iteration of the Cloud Club, the Art Deco lunch spot that closed in the late 1970s. Edgy.