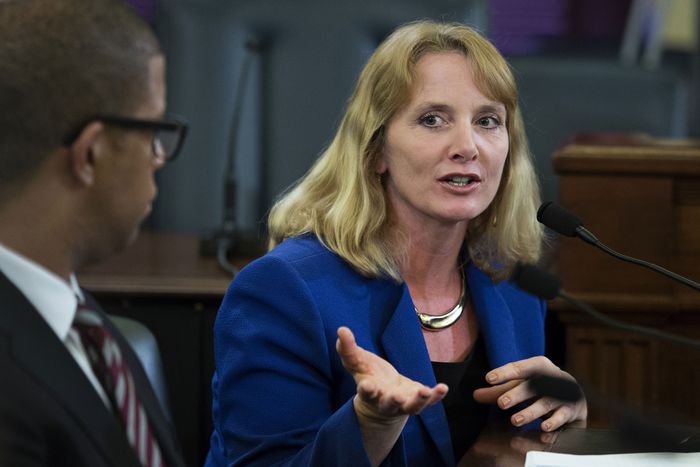 Mary Louise "Missy" Cummings, director of the Humans and Autonomy Lab (HAL) and Duke Robotics at Duke University, speaks during a Senate Committee hearing on self-driving cars in Washington, D.C.
Photo: Drew Angerer/Bloomberg via Getty Images
Those who speak out against Elon Musk have come to expect the online pile-ons from Tesla fans. Twitter accounts with $TSLA in the bio are known for launching vicious attacks against anyone who dares criticize the Supreme Leader with a fervor that's matched only by cryptocurrency boosters (and there's likely quite a bit of overlap). If you cover Musk topics, as I have for over a decade, you learn to liberally apply mutes and blocks for the worst accounts, and tune out the insistent chorus of derision. But this week, Tesla fanboys succeeded in bullying a public official off a social media platform. Highly respected auto industry safety expert Missy Cummings was named a top federal transportation advisor on Tuesday — and by Friday she had deleted her Twitter account.
Cummings, who was one of the Navy's first woman fighter pilots and has spoken out frequently about the discrimination she faced in the military, runs the Humans and Autonomy Laboratory at Duke University, where she has been studying autonomous vehicles for longer than Tesla has been around. As a robotics engineer, she has become well-known as an authoritative voice calling for stronger regulation of autonomous vehicle deployment, and has criticized the approaches taken by many companies, not just Tesla. She, like many experts, singles out the danger of Tesla's "self-driving" mode — first named "Autopilot" and now "Full Self Driving" (both of which are legally untrue) — in which self-driving software developed by Tesla is being beta-tested by untrained human drivers on public roads without any governmental oversight.
Cummings's role as senior advisor for the National Highway Traffic Safety Administration is one of many big moves being made by Transportation Secretary Pete Buttigieg as part of his mandate to make safety his top priority. Under acting head Steven Cliff, an appointee of Joe Biden's awaiting confirmation who has served since February, NHTSA has already opened an investigation into previous crashes involving Autopilot, a sea change for a department that transportation safety advocates claimed had historically been too soft on regulating autonomous vehicles, particularly under former Transportation Secretary Elaine Chao and the Trump administration (which, it should be noted, was quite cozy with Musk).
On Tuesday, after the U.S. Department of Transportation confirmed Cummings's new role, Musk condemned the announcement on Twitter, saying "her track record is extremely biased against Tesla." Musk's followers promptly began regurgitating comments made by Cummings about Autopilot — including one tweet, based on her own research, where she calls the system "unreliable and unsafe" — and began to threaten her and USDOT. One anti-Cummings tweet, which has since been deleted, read: "If they try and take Autopilot away from us we will riot so hard January 6 will look like a day at Disneyland." (The account later posted an apology, saying it was a joke.) Buttigieg responded to Musk's tweet on Wednesday at an event outside the White House. "He's welcome to call me if he's concerned," he said. "We are responsible for making sure that every vehicle on the road is safe." But Buttigieg's statement only seemed to embolden the Twitter mob, which quickly devolved into misogynistic attacks and threats of violence. Many of the most egregiously abusive comments might very well be coming from bot accounts, but the intended effect had been achieved. By Friday morning, Cummings's Twitter account had been deactivated.
As a woman transportation reporter who has been viciously trolled by Tesla fans for my stories — including, I'm sure, this one — this is a frighteningly familiar tale. Of course, there's no accountability from Musk or his own companies, which have notoriously dissolved their public relations departments, and Musk himself has attacked and blocked several prominent journalists on Twitter, including Bloomberg's Dana Hull, who first reported on the tirade against Cummings. USDOT, to its credit, is standing by Cummings and stepping above the fray. "We are delighted to welcome Dr. Cummings to our team and look forward to leveraging her experience and leadership in safety and autonomous technologies," a spokesperson told me. And at least one senior federal transportation official pledged public support for Cummings on Twitter today. This morning, National Transportation Safety Board chair Jennifer Homendy posted an "anthem of strength" for her fellow safety advocates: a video of Tom Petty & the Heartbreakers singing "I Won't Back Down."