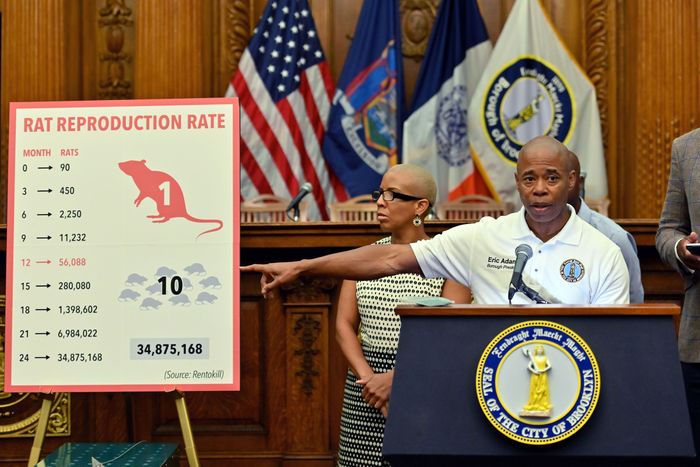 Photo: Angela Weiss/AFP via Getty Images
New Yorkers have plenty of reasons to be skeptical of Eric Adams as mayor. A year after mass protests calling to defund the police, we're set to elect a cop to lead the city. He seems to play fast and loose with the facts, hangs out with questionable people, and thinks the hundreds of former Iowans living in Brooklyn (myself included) are to blame for gentrification. He may not even live here! But still, he's going to win. And if there's one issue Mayor Adams will be able to unite New Yorkers around, it's killing rats.
Even as the rat situation went from bad to worse to Black Death during the pandemic, he was the only candidate to talk rodents during the primary race, and he has continued to do so since. Just this week, during an interview on the Power 105.1 FM radio show "The Breakfast Club," Adams reiterated that there's an "amazing rat-trap device" he would expand for use throughout the city.
That device is the infamous rat bucket Adams demonstrated at his 2019 "rat summit" at Brooklyn Borough Hall. His silver bullet for the city's rodent problem is a bucket-shaped trap that lures in rodents with the scent of food, then drowns them in a vinegary solution. "A dozen reporters were gathered around Mr. Adams when he gleefully displayed a plastic bin containing blobs of rat floating around in a mouse-gray stew," the New York Times reported. "It was a ghastly spectacle and the odor was stomach-churning." Adams clearly loved the grossed-out responses: "Sometimes you need to see for yourselves to get the shock effect," he said.
It seems to have worked, at least when it comes to establishing his image as the ruthless Pied Piper of Brooklyn. "I liked how Eric Adams went after rats like Cruella de Vil," Cat Marnell told New York ahead of the primary; she ranked him fourth on her ballot. If we have to have him as mayor, the feeling seems to be, maybe he can at least take care of this.
But if Adams really wants to be New York's hero, he will need to tackle an even bigger problem: New York will never be able to trap its way out of its rat infestation as long as we keep piling bags of trash on the streets. One 60-pound bag, so easy to gnaw open, is enough to feed 60,000 rats. If we're going to have a cop as mayor, maybe he can at least clean up the streets — eliminating not crime but garbage — and rid us of our rat problem once and for all.