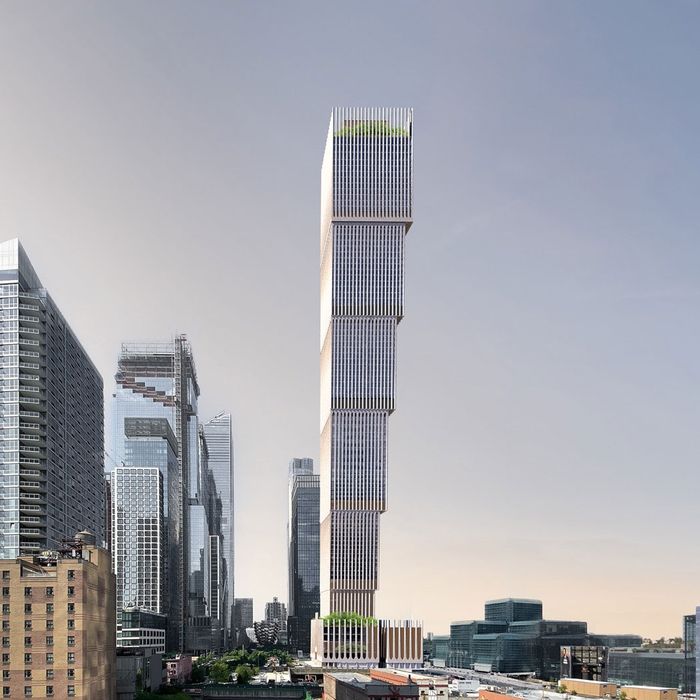 The cantilevered "Affirmation Tower" designed by David Adjaye.
Photo: Peebles Corporation
In 1908, Howard University professor Kelly Miller — one of the most accomplished Black intellectuals of his day — observed that "the city Negro grows up in shade." "As one walks along the streets of our great cities and views the massive buildings and sky-seeking structures," Miller continued, "he finds no status for the Negro above the cellar floor." Miller's assertion would soon be echoed by NAACP co-founder Mary Ovington, who noted in 1911 that there were few, if any, Black elevator operators in tall office buildings, department stores, and hotels, sites where they might be in close proximity to white women. And in the preface to his 1955 book, Notes of a Native Son, James Baldwin included the Empire State Building on a list of Western masterworks he came to realize were "not really my creations, they did not contain my history; I might search in them in vain forever for any reflection of myself."
But what if the shade thrown by a skyscraper was contoured by a Black architect and financed by a Black developer? Might Baldwin have been able to see his reflection in an American skyscraper constructed by a Black-led firm? This is the central provocation of a skyscraper proposal helmed by a majority-Black team of lenders, developers, builders, and architects. Spearheaded by developer Don Peebles, the group includes the construction firm McKissack & McKissack, which is minority- and woman-owned; Exact Capital, a Black-owned development firm; and architect David Adjaye. The 1,633-foot-tall skyscraper they envision, to be built a block away from Hudson Yards, would become one of the tallest skyscrapers in the Western Hemisphere.
Peebles heralds "Affirmation Tower," as the project is called, as "emblematic of true equity in development," touting the structure's potential to serve as "a symbol for all who visit New York, cementing in brick and mortar that New York is serious about economic inclusion." In even more bombastic terms, Rev. Dr. Charles Curtis Sr., a pastor at Mount Olivet Baptist Church, states that it will send "a statement across the globe that architects, developers, engineers, and financial professionals of color are now full participants in this great miracle of global capitalism called New York City."
Of course there are other, more pragmatic claims as well: a promise to hire 30,000 New Yorkers over six years, earn over $5 billion in tax revenue over 30 years, and give 35 percent of its contracts to people of color. But almost all the project's quoted supporters underscore its potential to serve as a "statement," an "emblem," and a "symbol" of inclusion. The heralding of any luxury skyscraper as a vehicle for equity is hard to swallow. As we find ourselves on the cusp of Eric Adams's embrace of a wealth-centric New York City, it is difficult to imagine how this building could substantially benefit any one beyond its investors, builders, and tenants. That promise of equity conflicts with the reality that Black homeowners in the city continue to pay more than white residents when purchasing a home, financing home repairs, or paying for contractors, and tenants living in majority-Black zip codes in New York City are more than three times as likely to be evicted as tenants in white-majority zip codes.
But it is unfair to single this particular project out for what is true of every other luxury project before it. This bid deserves no more skepticism than any other megastructure designed for the wealthy in Manhattan, Abu Dhabi, or Shanghai. This project is important, both symbolically and materially — just not necessarily in the grandiloquent ways its boosters insist. In a world where Donald Trump remains the most known archetype of a successful real-estate developer, the emergence of a majority-Black development, construction, and finance team is worth contextualizing. Discrimination has been the North Star of realtors and developers since the emergence of their first professional organizations in the early 20th century, when practitioners and scholars in professional journals touted the superior capacity of Anglo-Saxons over all other races to care for and maintain property. Realtors eventually passed codes to uphold discrimination that spanned from 1924 to 1950, while the practice continued unofficially for decades. The state, meanwhile, actively crushed Black-owned banks from the Freedman's Bureau forward, while subsidizing suburban housing developments that pledged to keep Black residents out.
This skyscraper project is, in fact, continuous with the vibrant history of Black development, construction, and architecture preceding it, which includes the all-Black towns birthed after Reconstruction; the success of the Afro-American Realty company in the early 20th-century, helmed by Philip Payton; and the Soul City housing development of the 1970s in North Carolina. The hyperbole of its promotion, which suggests that awarding a project to accomplished Black capitalists and professionals constitutes a giant leap toward equity and inclusion writ large, makes it harder to appreciate these more compelling, if finer-grained, arguments for the project's significance.
When we turn to Adjaye's proposed design for this structure, it suggests a canny awareness of its context and symbolism, as is the case with much of his work. Composed as a widening set of stacked rectangles — an effect that becomes more or less visible depending upon your vantage point — the structure's counterintuitive geometry demonstrates the cold, hard numbers of real-estate valuation with each widening, cantilevered block upward. Unlike the earthy, stacked ziggurat of his William Street tower in the Financial District, or the monumental trapezoids composing the National Museum of African American History & Culture in the nation's capital, the white stone-like material used in the Hudson Yards proposal makes the building seem weightless. A structure that seems like it should topple over yet stands firm as one of the tallest buildings in the world echoes the radicality of the project's own inversion of development's racial norms, while also declaring its commitment to maximal profits by dedicating as much space as is structurally possible to its priciest top floors.
So while the assemblage of Black wealth and talent for this bid is historically significant, it is not because these skills and resources are new. Rather, this project mostly reaffirms the profitability of multiculturalism — showcasing how symbolic and aesthetic gestures of inclusion can serve any number of bottom lines. We need only look at a set of towering images in another part of Manhattan — the banners featuring Jay-Z, Beyoncé, a Basquiat painting, and an enormous diamond currently draped over the Tiffany Building on Fifth Avenue — which similarly testify to the miracle of global capitalism, now with a new Black sheen.
In early reporting about the skyscraper, Curtis Sr. sounds like Kelly Miller in 1908 and James Baldwin in 1955. "Unfortunately, for most of New York's history," Curtis says, "African Americans and people of color have been rendered as mere economic tourists who gaze upward at one of the greatest skylines in the world with the intrinsic knowledge they will never be able to participate in what really makes New York unique." But this claim of disconnection has never quite been true. From the Black elevator operators who did come to work in skyscrapers across the city to the Black men who made the mortar for the skyscrapers in New York and helped cast its steel in Pennsylvania, and from the ways black skin and the structure of race shaped the original debates about skyscrapers' cladding in the late-19th and early-20th century to architect Louis Sullivan's description of a skyscraper he abhorred as having "squalled of miscegenation," the skyscraper has always been shaped by Black life, if not always for it. For the latter, we might instead look to projects that have only yet been dreamed: W.E.B. Du Bois's early speculative fiction punctuated by perception-shifting towers; June Jordan and Buckminster Fuller's "Skyrise for Harlem" project from 1965; and Walter J. Hood's recent work, "Black Towers/Black Power," a plan for ten skyscrapers based on the Black Panthers' Ten-Point Program. In these works, we find Black skyscrapers that seek to be more than emblems of equity, but attempt to move us all closer to the real thing.