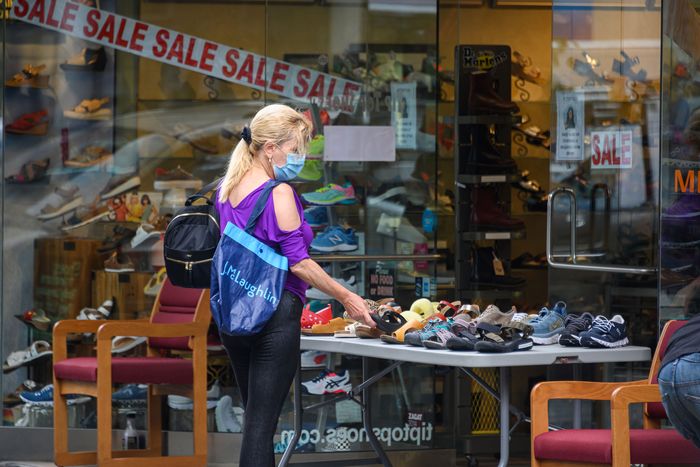 On the Upper West Side, retial rents held steady during the pandemic.
Photo: Noam Galai/Getty Images
After months of hearing about how the pandemic had laid waste to New York's retail landscape, leaving shuttered storefronts and desperate landlords, Marvis Burns thought that he'd have no trouble finding a larger space on 125th Street. He and his wife, Violet Santana, are the founders of My Wellness Solutions, a holistic health center with locations in the Bronx and Harlem — his Harlem lease was up, he was in an older building with maintenance issues, and he needed more space. But when he started looking this spring, rents had hardly budged from pre-pandemic levels. In fact, the lease terms were worse, because most stipulated that, in the event of future pandemic-related closures, even mandatory shutdowns, he would be responsible for the full rent. Even so, Burns was close to signing a lease for a space on 125th Street when the landlord threw him over in favor of a national retailer willing to pay more. "I stupidly assumed it would be easier. If anything, it's been harder," he said.
Though retail asking rents plummeted in swanky shopping strips like Fifth (between 42nd and 49th) and Madison Avenues (rents fell about 25 percent in those districts between spring 2019 and spring 2021, according to the Real Estate Board of New York) — and in tourist areas like Times Square and Soho (in the latter, they dropped 37 percent between spring 2020 and spring 2021) — it was a different story in many of the city's neighborhood shopping corridors, where the majority of the city's smaller businesses are located. The retail asking rents on Cobble Hill's Smith Street, for example, were $83 per square foot the summer before the pandemic. Now they're $89 — a slight increase. On the Upper West Side on Broadway between 72nd and 86th Streets, rents fell about 10 percent in the first months of the pandemic, to an average asking rent of $239 per square foot according to REBNY, and as of this spring were holding steady at $240. Though the numbers fluctuate slightly by season and shopping corridor, the overall story is the same: Despite the closures and the changed nature of the city — despite everything — it costs about as much to rent a store in most neighborhoods as ever.
Even before the pandemic, commercial leases in the highest-priced areas had, broadly speaking, peaked in price at the end of 2015 and begun to drift downward; in most other neighborhoods, they were continuing to rise, albeit slowly. (The difference was that rents for Fifth and Madison Avenue flagships didn't correlate to the stores' profits; they were for advertising purposes, and advertising changed.) Then the world changed in early 2020 — but those trends held more or less true, after a brief shudder. "Rents came down for, like, a month or two, and then everyone started trying to make up for what they lost," said Paula Segal, an attorney with TakeRoot Justice, which offers legal services to small commercial businesses through the city's Department of Small Business Services. "Landlords are demanding increases on renewals. I haven't seen anyone who is signing a lease for less in 2021 than in 2019. There might be some concession in the first year or two, but then it's a giant jump." Segal is currently working with a Lower East Side restaurant that for years has been paying $1,500 per month for a 750-square-foot space. The restaurateurs have offered to pay double that amount. But the landlord will only accept $3,000 for the first year, then jump to $6,500 for the next and then, a few years out, to $8,500. "That kind of escalation will put them out of business," Segal said. "We represent a lot of small businesses — watch-repair shops, small manufacturing spaces, Tibetan restaurants — and this is a story that's endemic. At the end of the day, it's standard operating procedure in this town [to ask for a big increase at renewal], whether the landlord is an HDFC or Thor Equities."
Short-term deals and flexible lease terms that many landlords started offering during the pandemic have allowed some small businesses to move into neighborhoods or retail spaces they wouldn't have been able to afford before. But the areas where rents came down the most are still out of reach for most small businesses: Fifth Avenue, for example, had asking rents of $3,000 per square foot this spring — meaning that a modest store of 1,000 square feet would be in for up to $3 million a year. Those short-term leases often favor the landlord, too, because they float up with the market quickly instead of locking in a rate. The tenant might benefit from that flexibility, too, but there are significant costs to building out a space.
"Many neighborhood retail corridors have thrived during the pandemic and are busier than ever," said Jeffrey Roseman, vice-chairman at Newmark. "Whereas the Upper East Side and Upper West Side traditionally didn't do large lunch and breakfast business, with people working from home, those places were packed. We saw quick-service restaurants clamoring to get into those neighborhoods." A Newmark report found that vacancy rates actually fell on the Upper West Side's Amsterdam Avenue and the Upper East Side's Second Avenue during the pandemic.
Given that neighborhood businesses fared much better than those in midtown, it's not surprising rents would reflect that, said Tim King, founder and managing partner of SVN-CPEX. "In Brooklyn, some corridors like downtown Brooklyn suffered, but overall the neighborhoods were much more resilient. Tenants were expecting deals, thinking, 'The world ended; I should be paying half-rent,'" he said. "The owners are thinking, 'But the world woke up.'"
There was, brokers say, a very brief period during the government-mandated shutdown when retail rents did plunge in neighborhood corridors. "I saw rents as cheap as $50 to $75 per square foot on the Lower East Side," said Frank Gonzalez, the founder of Loisaida Realty; before the pandemic, rents in the neighborhood were $150 to $175 per square foot. "But there was always a contingency of one to two years," he adds, and they bounced nearly all the way back as soon as vaccination began. "The problem is that most businesses still aren't making the kind of money they did before. After the vaccine, life didn't really go back to normal."
Michelle Guo, who owns Michelle's Cleaners on Avenue C, is caught in the middle of all these market forces. She's in the middle of a lease, and her landlord, a co-op, waived one month of rent during the shutdown. She also received a onetime $1,000 paycheck-protection loan and a $5,000 grant. But those breaks were hardly enough to offset more than a year of slow business. Her customers have rallied to keep her afloat — they seem to be dragging tailoring projects out of the depths of their closets — but people don't need dry cleaning when they're not going anywhere. Roughly one-third of New York's small businesses are expected to close by the end of the pandemic, according to the Partnership for New York City.
And even businesses that experienced pandemic booms said that high rents made it hard to expand without moving to less desirable areas. William Hough, the owner of BikefixNYC, a bicycle shop on 2nd Street just off Houston, was hoping to find a larger space nearby. Although there were a lot of vacancies, he said, many landlords left them empty and opted to do renovations instead, hoping for a full-fare tenant instead of a discount one. Hough eventually found a good deal — a 1,000-square-foot store with a basement for $5,500 a month, up from the $4,100 a month he was paying for about 700 square feet. But it's on 6th Street between First and Second Avenues, a location with considerably less foot (or bicycle) traffic.
A commercial rent-regulation bill that was introduced by City Councilmember Stephen Levin almost two years ago could be one way to help offset the relentlessness of rising retail rents in areas like the Lower East Side. The bill, which the City Council recently held a hearing on, would create a group, similar to the residential Rent Guidelines Board, to determine rent increases on storefronts and offices under 10,000 square feet (as well as smaller manufacturing spaces). The idea is that, with rent increases capped, landlords would be encouraged to rent to and renew leases with small businesses rather than snubbing them in the hopes of landing a better-paying chain. Levin has argued that the bill is even more necessary now, since the pandemic has led to so many more closures. (The city's storefront registry shows that Manhattan vacancies hit 12.2 percent in June 2020, an increase of 22 percent from six months earlier.) REBNY claims it would do just the opposite — encouraging landlords to pass over small businesses, especially new ones, in favor of retailers "that are proven and can pay," leading to more vacancies in the interim.
If the bill passes, it would likely have far-reaching impacts on New York's retail landscape — which the pandemic, at least so far, seems not to have changed in any fundamental way. There are more pop-ups, yes, and some new lease structures that might stick around, but retail landlords seem convinced that while there might be a few blips here and there, at the end of the day, the city only ever gets more expensive. Businesses, like everyone else in New York, will find a way to pay up, or someone with deeper pockets will come along and move in instead. That doesn't surprise Vito DiTomaso, who's owned businesses on the Lower East Side for over 20 years. He opened his first, Luca Lounge, on Avenue B in 1997, paying $3,000 a month for a pair of neighboring storefronts. In 2014, he opened the Roost, a café and bar, in one of the two storefronts. The rent is nearly $15,000 a month. "Rents dropping? That was never a realistic reality," DiTomaso said. Rents only ever go in one direction, in his experience, and that's up. "There was a dream for one second," he admitted. "During the pandemic, the landlord worked with us for a short amount of time — they took a percentage. But the second the governor said, 'You can let people back in,' it went right back up."