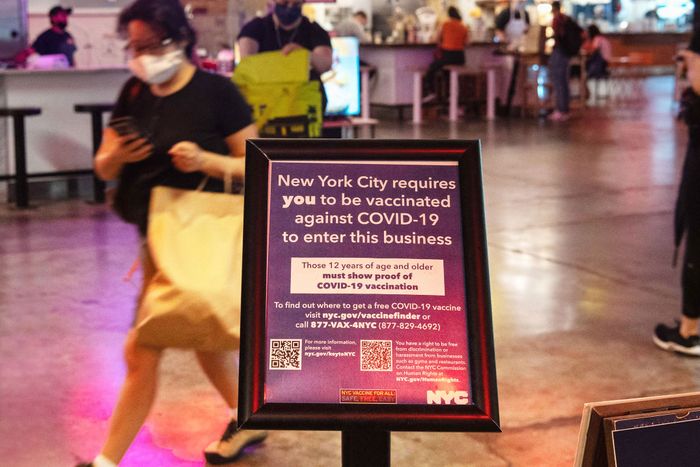 Photo: Angela Weiss/AFP via Getty Images
From the moment the city's vaccine mandate took effect last month, New Yorkers have been looking for ways around it. The vaccine-resistant (and teens wanting to get into bars) fueled the market for counterfeit CDC cards, while some anti-vaxxers have taken to slugging, even stabbing, the hostesses and security guards who have become vaxx bouncers. And now a new website is crowdsourcing a list of venues across the country that aren't asking for proof of vaccination in defiance of local mandates. Or as the site states in minuscule font across the top of the main page, "We help you find businesses that don't discriminate." The website, the name of which Curbed is withholding, was created on August 23, just a few weeks before the city began enforcing its mandate, and runs an Instagram account under the same name that features what it calls "businesses for freedom."
New York State dominates the directory with 55 businesses listed along with eight others at the bottom of the list that have been grayed out with the label "NOW DISCRIMINATING." The five boroughs, Queens in particular, feature prominently. The list includes some surprises, like Purity Diner — located in highly vaccinated Park Slope — which delivered free meals to health-care workers through its Frontline Fund last year. A worker who answered the diner's phone said they are in fact checking proof of vaccination. Likewise, in Astoria, another neighborhood with a high vaccination rate, Avenue Cafe, a popular Mediterranean restaurant, is in the directory. But a hostess with the eatery told Curbed that it is checking the vaccine status of diners. Less surprising are places like boutique fitness studio Pilates by Sylvia, located in midtown, which declares on its own website, "​​We respect everyone's medical privacy, and each client's decision, and will not ask for proof of vaccination." The Pilates studio did not immediately return requests for comment.
It's perhaps not a shock that a site that runs on user submissions may not be vetting the tips it receives; it's also possible that the mandate enforcement at any business depends largely on who is working the door that day. By all appearances, the site is a small operation; the crowdfunding page linked on the website describes the founders as "two New York business owners who refuse to give in to forced medical mandates." The owner of the directory did not respond to emails for comment. Beyond its registry, the site also asks for submissions of "movements in your state," but the only "movements" the website links to are Instagram accounts for New York State Against Mandates and the New York Freedom Rally, both of which have vocally opposed city and state vaccine mandates and have a combined 19,000 followers.
On the related Instagram account (which the website directs visitors to), followers are more vocal. Under the posts — like the one featuring a sign at Korner Pizza in Kensington, which states, "WE DO NOT DISCRIMINATE AGAINST ANY CUSTOMER BASED ON SEX, GENDER, RACE, CREED, AGE, VACCINATED OR UNVACCINATED" — commenters offer praise ("That's amazing! I really don't want to be eating around or getting too close to the vaccinated"), and featured businesses sometimes leave notes of appreciation ("Thank you so much for the support!! 🇺🇸🇺🇸🇺🇸" in the case of Korner Pizza).
A representative for Mayor Bill de Blasio's office said it was "odd and disappointing that some people are crowd-sourcing ways to make New York City less safe from COVID-19." But the mayor's office did not share whether it had specific plans to investigate the businesses on the list, only that it is keeping an eye on the directory — a tepid enforcement response; just 15 businesses have actually been fined for flouting the city's vaccine mandate after more than 31,000 inspections.