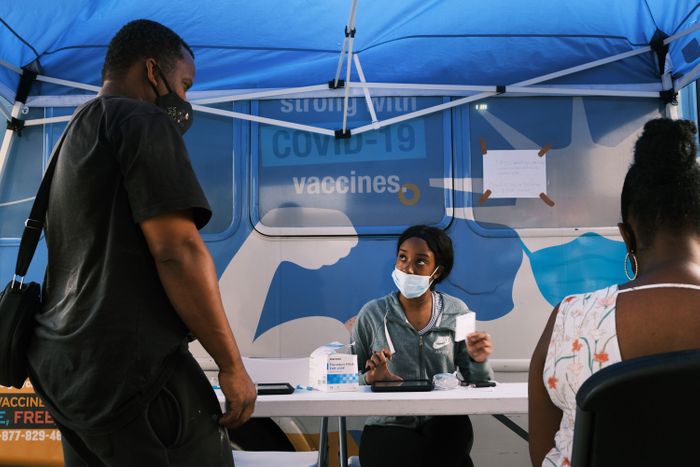 Photo: Spencer Platt/Getty Images
The Landmarks Preservation Commission caught flak this year for allowing the Grand Prospect Hall to be demolished and the McGraw-Hill Building's lobby to be ripped out, and that parking lot in a historic district by the Seaport is probably going to become a big fat tower. But it managed, at least, to chalk up one big recent win: It's the only city department whose employees, some 90 of them, are 100 percent vaccinated.
That's one bit of news from this week's department-by-department breakdown of vaccination rates published by Gothamist on the occasion of Mayor Bill de Blasio's announcement that all city staff must be vaccinated by the end of the month or lose their paychecks; 83 percent had received at least one shot as of last week, up from only 65 percent in early September. For all the talk of noncompliant cops (69 percent vaxxed) and firefighters (59 percent), the numbers are a little less bad than you might expect, and they continue to creep up, perhaps nudged along by an earlier mandate. The other blue-ribbon good-citizen departments? The Mayor's Office of Management and Budget at 94 percent and the departments of Cultural Affairs and City Planning at 93 percent each.
At the other end of the spectrum, the real stronghold of vaccine resistance is the Department of Correction, at just 50 percent. Because staff shortages are contributing to the crisis at Rikers Island and the city can't fire more people without making things worse, uniformed correction officers are being given a little extra time — until December 1 — to get their shots. If there's a surprising turn on the list, it's probably the FDNY's medical bureau, where EMTs and other ambulance staff are counted. Surely they, being in regular frontline contact with sick people, immunocompromised people, and medical professionals, aren't full of anti-vaxx talk? But no: They're at just 60 percent jabbed.
Still, the agencies with low vaccination rates are very much the exception. More than 80 or 90 percent of workers have been vaccinated in many departments. And the holdouts, should they finally decide to get with the program, have an extra incentive: a $500 bonus for getting their first shot at a city-run vaccination site.