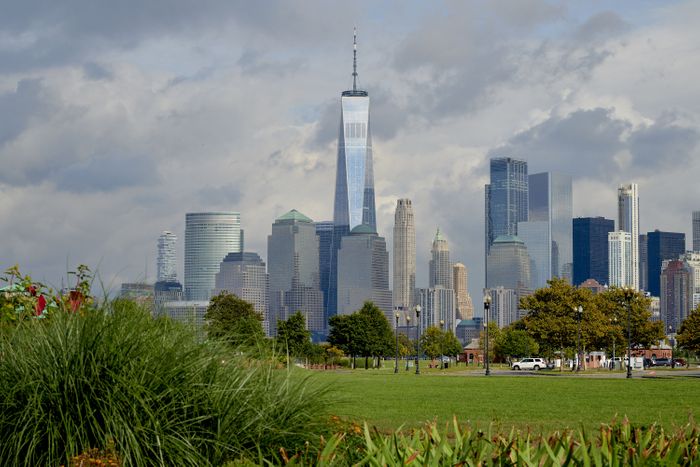 Photo: Gabby Jones/Bloomberg via Getty Images
New York is doing its best California impression at the polls by putting five meaty ballot measures in front of voters this November, on issues ranging from redistricting to how civil courts function. One of them, which proposes a 15-word amendment to the state constitution, might be the most important issue on the ballot. That's Proposal 2, which would add the following amendment to the state constitution: "Each person shall have a right to clean air and water, and a healthful environment." Seems pretty reasonable, and the measure actually has a high chance of passing.
But what can it actually do? Activists like Environmental Advocates New York say these simple words would allow communities affected by polluting companies and factories to fight for their rights in court. Critics worry about a flood of frivolous lawsuits. But we aren't completely in the dark on what it might accomplish: Both Pennsylvania and Montana put the right to clean air and water on par with freedom of speech or religion in their constitutions in the early 1970s.
In 1971, Pennsylvania voters overwhelmingly passed a constitutional amendment to give residents the right to a healthy environment and preserve the "scenic, historic, and esthetic" value of the land. Two years after the vote, residents in Wilkes-Barre argued that plans to widen a road violated these rights because it would eat into a half-acre of public parkland. The State Supreme Court disagreed and instituted the Payne test, a new standard for the amendment that essentially kneecapped it. That test meant that if a company or group behind the project in question followed state regulations, took steps to reduce environmental harm, and provided benefits that outweighed the impact on the environment (ah, that objective measuring stick), the proposal was fine. It wasn't until 2013 — 42 years later — that activists finally used the amendment for what it was designed for, and successfully blocked part of a law that would have expanded fracking across the state. The Payne test was then overturned in a 2017 case.
It's a similar story in Montana. The state added environmental rights — using wording similar to New York's proposal — to its constitution in 1972. But a pair of court rulings quickly diminished its effect by deciding that it was the local government's right to approve new development and mining and waste-treatment operations. But the environmental amendment was revived in 1999, when activists won a case against a mining company that contaminated two rivers with arsenic. Last year, advocates won another major victory against a mining survey that built on that win. It may have taken 50 years, but both states are now expected to see more cases that use these amendments to oppose environmentally damaging projects.
Now, the climate is changing, and there is a sense of urgency regarding the environment that didn't exist 50 years ago. In New York, the constitutional amendment was inspired by EANY's work with Hoosick Falls, a small village near Vermont that wanted local factories to stop contaminating its drinking water with a cancer-causing chemical, and their work with Albany's state-designated environmental-justice communities that opposed the construction of a new crude-oil transfer hub there. "When those communities asked us to help them fight these issues, they also asked the question: Why isn't the government acting on this? Don't we have a right to drink water that's not going to make us sick? Don't we have a right to breathe air that's not going to cut our lives short?" said Peter Iwanowicz, the executive director of EANY. "Legally, there is no right. This fixes that."