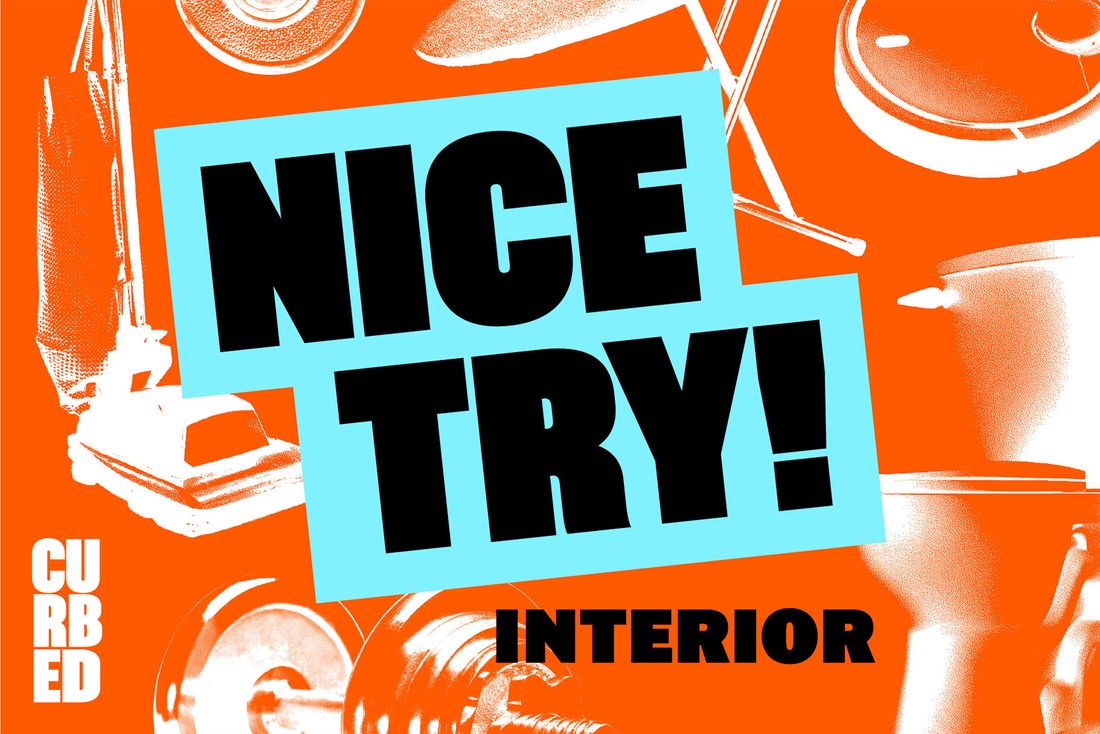 Photo-Illustration: Curbed
Season one of Curbed's Nice Try! podcast investigated failed utopias — attempts to imagine new and better ways of life through polyamorous communes like Oneida and modernist cities like Chandigarh. For season two, host Avery Trufelman heads inside the home, interrogating how individuals channel utopian ambitions through the lifestyle technologies and home goods that determine the ways we clean, cook, exercise, and sleep in order to lead better lives. But the problems these objects are designed to solve, and the way they solve them, promote a distinctly American ideal that prioritizes personal betterment over improving society as a whole.
Episode 1: The Doorbell
Our foray into the private utopia of home starts with the doorbell. It's a device that has transformed from an annoying buzzer to a portal to the public sphere, thanks to Marie Van Brittan Brown's 1969 patent for a closed-circuit television home security system that could surveil the outside, to the video doorbells of today. The episode features historian Ruth Schwartz Cowan, the author of A Social History of American Technology; Dolores Hayden, professor emerita of architecture and American studies at Yale and author of The Grand Domestic Revolution: A History of Feminist Designs for American Homes, Neighborhoods, and Cities; Robert Dobrin, curator of the Doorbell Museum; Josh Roth, the chief technology officer of Ring; Chaz Arnett, an associate professor of law at the University of Maryland; and Shontavia Johnson, an intellectual property lawyer and Clemson University's associate vice-president for entrepreneurship and innovation.
Episode 2: The Vacuum
Over the past 120 years, the vacuum cleaner has morphed from a horse-drawn machine that rumbled down city streets to a stealthy robot that autonomously trawls our floors. And with each new design, achieving a clean house is supposed to become more efficient, more effective, and even, perhaps, more delightful. The canister vacuum, for example, reveals the fruits of our labor — all that seemingly invisible dust oh-so-satisfyingly contained before our very eyes. A stick vacuum's performance-engine styling impresses power, despite its compact size. But running parallel to the innovation narrative lies a story about domestic labor: Who exactly does the dirty work of house cleaning, how do we value it, and what problems do these machines solve?
Episode two of Nice Try! Interior explores what might happen if we had a radically different understanding of housework, charted through the vacuum's journey from a public utility to a private good. Featuring interviews with Ai-jen Poo, director of the National Domestic Workers Alliance; Brian Wasicki, owner of the Central Vacuum Service; historian Ruth Cowan; historian Dolores Hayden; vacuum-cleaner collector Tom Gasko; Helen Greiner and Colin Angle, two co-founders of iRobot; and Verenice Perez, a professional house cleaner.
Episode 3: The Crock-Pot
Countertop kitchen appliances — cookers that range from slow to fast — promise healthier, easier, better ways to feed the body. These gadgets of convenience have raised the standards for how much variety and excitement one can reasonably expect from a meal. But what do we do with the time we've saved?
Episode three of Nice Try! Interior heads into the kitchen and explores the anxiety-absolving promise of home-cooking equipment and how these inventions embody a battleground over what and how we eat. Featuring interviews with Paula Johnson, a curator of food history at the Smithsonian National Museum of American History; Lenore Naxon, the daughter of engineer Irving Naxon; Ashley Fetters Maloy, features reporter for the Washington Post; author Melissa Clark; historian Ruth Schwartz Cowan; chef and author Chandra Ram; Sharon Franke, a professional kitchen-equipment tester and director of Good Housekeeping's Kitchen Appliances and Technology Lab; and author Menachem Kaiser.
Episode 4: The Weight
Fitness trends come and go. But the weight, about as low-tech and simple as it gets, is an anchor in the shifting tides of culture. As workout equipment has become canonized within the realm of home appliances, this heavy metal object aids in our dual — and sometimes conflicting — pursuit of athletics and aesthetics.
Episode four ventures into the home gym through interviews with Katie Rose Hejtmanek, an Olympic weight lifter and a professor of culture and anthropology at Brooklyn College; Natalia Mehlman Petrzela, a historian of physical fitness and a professor at the New School; Jan Dellinger, a historian at York Barbell; John Fair, the author of Muscletown USA: Bob Hoffman and the Manly Culture of York Barbell; Maillard Howell, a co-founder of Dean CrossFit; and author Torrey Peters. Special thanks to Justice Williams, executive director of Fitness4AllBodies, and Ilya Parker, the founder of Decolonizing Fitness.
Episode 5: The Mattress
Since industrialization, we have developed a convoluted set of cultural rules and etiquette around sleep — which often run counter to our actual biological needs for sleep. Enter the mattress: a lightning rod for sleep performance and a tool for modern self-improvement that is as mysterious and necessary as sleep itself.
Episode five dives into the sleep conundrum through interviews with Leonard Degraaf, an archivist at Edison National State Park; Shelley Huff, the CEO of Tuft and Needle and COO of Serta Simmons Bedding; Joanne Chen, a senior staff writer at Wirecutter; Dr. Meir Kryger, a sleep-disorder expert and professor of medicine; Dr. Giardin Jean-Louis, a professor of psychiatry, neurology, and public health; Matthew Wolf-Meyer, a medical anthropologist and the author of The Slumbering Masses: Sleep, Medicine, and Modern American Life; and Benjamin Reiss, a professor at Emory University and the author of Wild Nights: How Taming Sleep Created Our Restless World.
Episode 6: The Bidet
The bathroom is our most private room in our private homes, devoted to our most private business. And the American bathroom has long contained a stable trinity of fixtures: the toilet, the bath, and the sink. But is there room for another? This week, Nice Try! answers the riddle of the western bathroom and explores our modern attitudes toward cleanliness. It's all wrapped up in the mystery of why Americans cannot seem to fully embrace the bidet.
Episode six features interviews with journalists Sasha von Oldershausen and Chelsea Wald; Peter Ward, the author of The Clean Body: A Modern History; Miki Agrawal, the founder of Tushy; Bill Streng, the president of corporate strategy at Toto USA; and Michael Roth, the president of Wesleyan University and author of Psycho-Analysis as History: Negation and Freedom in Freud. Special thanks to Paolo Diego Spadaro, Jonathan Zenti, Zoë Lillian, and Jon Lillian.
Episode 7: The Keeper
In this season of Nice Try!, we've explored the utopia of the home and how the goods we welcome inside bring us closer to a better life — whatever the definition of better might be. The pursuit of a perfect life has led to products that mediate between our homes and neighborhoods, cook delicious food, help us sleep soundly, and make us squeaky clean. There's a sense of optimization and value tucked within all these items from the doorbell to the mattress to the bidet. But there's a limit to what design in the name of rationality, efficiency, and optimization can achieve.
The season finale of Nice Try! Interior is a love story sparked by a vintage typewriter. Host Avery Trufelman explores how design can enchant us, how it can make us fall in love, and how those two attributes hold a crucial key in the journey to utopia. This episode features interviews with Jason Scott, an archivist and software curator at the Internet Archive; Jay Schweitzer, proprietor of Gramercy Typewriter; Marcin Wichary, a designer and author of Shift Happens, the forthcoming book on the history of keyboards; Dori Tunstall, a design anthropologist and dean of the design faculty at the Ontario College of Art and Design University in Toronto. With special thanks to Shannon Mattern, an anthropologist and New School professor whose writing about maintenance and care inspired much of the episode.
Episodes are available on Apple Podcasts, Spotify, Google Podcasts, and Stitcher.
Credits
Nice Try! Interior is a collective effort from:
Avery Trufelman, host
Megan Cunnane, our senior producer
Diana Budds and Sarah Burke, our associate producers
Fact checking by Serena Solin
Lisa Pollak is our editorial consultant
Our Engineer is Alex Higgins
Our theme song is by Greg Pliska. With additional scoring by Alex Higgins and Avery Trufelman
The visuals are by Shineil Persad and Eleni Agapis
Our showrunner is Art Chung
Our executive producers are Nishat Kurwa and Kelsey Keith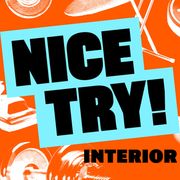 Nice Try! Interior
Subscribe on: