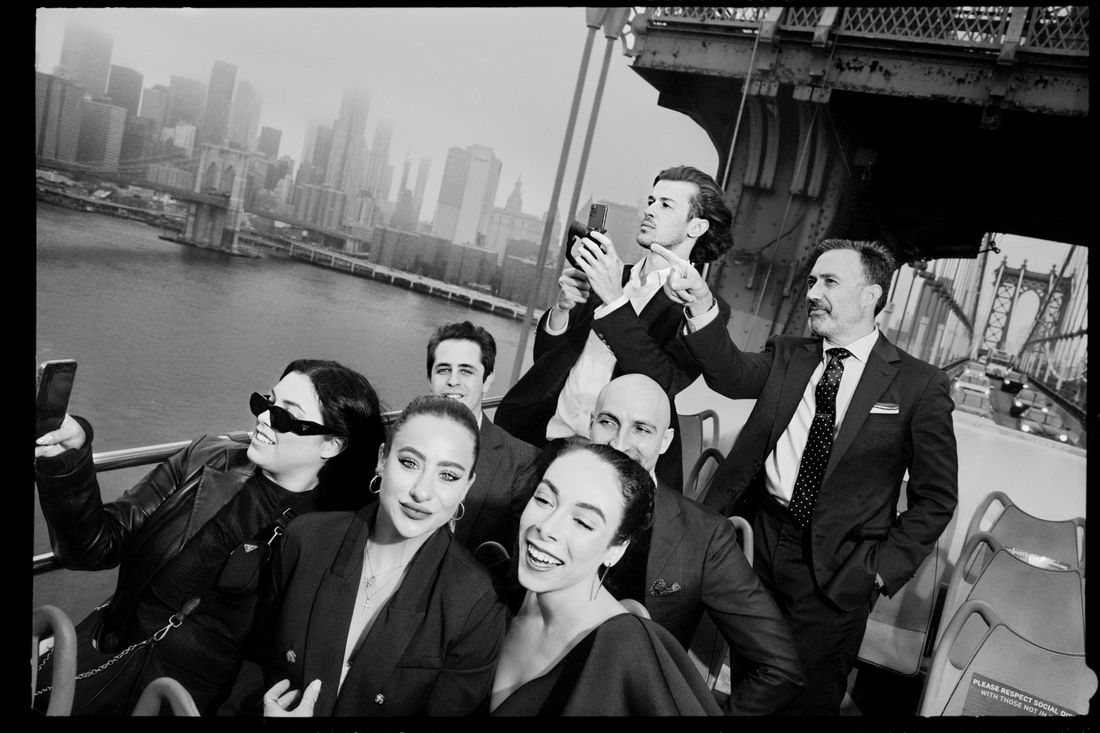 Clockwise from middle left:
Justin Diamond, Evan Rugen, Randy Baruh, Alexander Zakharin, Madison Sutton, Christina Kremidas, and Sonia Alamond.
Photo: Alexei Hay
Madison Sutton had been a real-estate agent for only about six months when the city shut down. Hardly anyone was looking for Manhattan apartments, and Sutton, now 25, was surviving off a trickle of leads. Less than a year later, after she started posting apartment tours on TikTok, she was getting so many inquiries — up to 500 a day — that she ended up hiring two agents to help her field them. "I was doing 25,000 to 30,000 steps per day. I had to start wearing knee braces because I was going to so many walk-ups," said Sutton, who now has almost 95,000 followers. Her posts vary from apartment tours and day-in-the-life videos to comedic takes on the Murray Hill dating scene. (If he can't commit to a full wall in his apartment, he can't commit to you.)
It turns out that TikTok, famous for teenagers sharing viral dances, is also pretty good for renting out apartments. And even, sometimes, selling them. "My principal broker was like, 'They are a bunch of young kids. Are they going to buy?'" said Alexander Zakharin, an agent with Avenues Real Estate who recently sold an apartment to a woman in her early 20s who found him on TikTok. "The family might be buying, but it's the person on TikTok who will be choosing."
Though the run-of-the-mill rentals that account for a lot of this city hardly seem like eye candy — it's not easy to make a cheaply renovated Bushwick three-bedroom look like fun — it turns out that New York real estate is always a good show, whether it's a $7 million condo in Tribeca or a nondescript Park Slope two-bedroom. "People love apartment tours," said Christina Kremidas, an agent with Douglas Elliman. Some viewers just want to follow the New York market, others are planning to move, and, of course, still others like to hate-watch. "People are infatuated with the fact that an apartment can cost $25 million and not even be bigger than 2,000 square feet. That blows people's minds. It's almost shock value," she said.
Like Sutton, many of New York's TikTok agents started posting during the pandemic, when in-person showings were banned and the city's real-estate and job markets were at their nadir. The biggest spent the past year perfecting their posting styles and building follower counts, then rode the market rebound this spring. Some have their own styles and specialties — Justin Diamond, an agent with Elegran, likes to focus on New York city history, explaining, "I'm a big New York City nerd. I love old bars, old hotels" — but everyone generally alternates between apartment or house tours and what they call "educational" content: neighborhood walks, tips on renting and buying, day-in-the-life videos.
Though many TikTok real-estate accounts are run by up-and-comers, some established brokers have also embraced the platform. Randy Baruh, 51, an associate broker at Corcoran, thought of TikTok as something his 9-year-old used until his social media manager persuaded him to post a tour of a $50 million apartment at Museum Tower. "It has 5 million views. I was getting 1,000 follows a day," said Baruh, a former theater director.
Some sellers are a little startled by the format, he admitted, specifically the trending songs that help a post go viral. One seller wanted him to use music that was "more sedate." "I said, 'I don't choose the music. We're going to go with whatever is trending.' It could be the fanciest townhouse on the Upper East, and the music might be the most trap hip-hop song." The days when the upper echelon of Manhattan real estate was dominated by whisper listings and co-op boards who cared about the right social references are all but gone. "With a phone, anyone can have their own Million Dollar Listing," said Baruh. "I don't need a TV show — I already have 90,000 viewers."
Occasionally, sellers aren't prepared for quite that many views — or opinions — of their apartments. Kremidas had to take down one post that went viral after the owners balked at all the attention. "Which is kind of ironic, because that's the point," she said. "But it can be hard for people to see the harsh comments we see every day." (Kremidas said that viewers make fun of her Brooklyn accent; anytime she says there's laundry in an apartment, at least one person will write L-A-W-N-D-R-Y in the comments.) Brokers and sellers don't have to tolerate that kind of feedback on StreetEasy — in part because, Zacharin explained, "on StreetEasy, people would just come to see the apartment. But on TikTok, they are coming to see you."