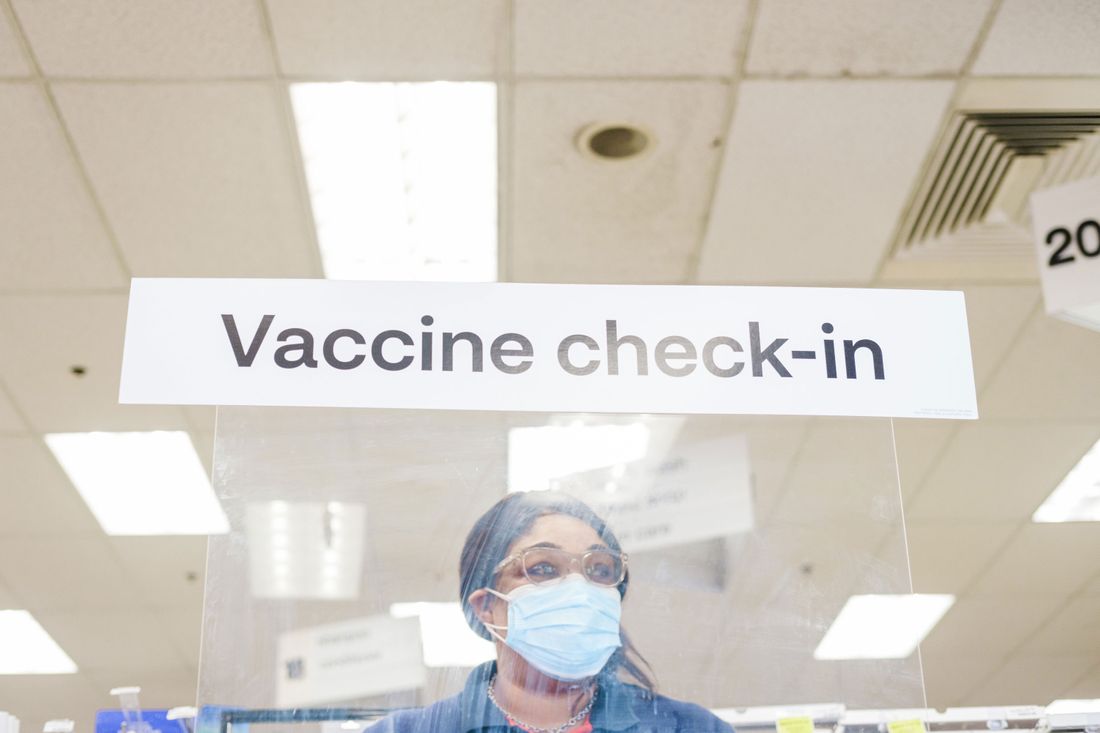 Photo: Gabriela Bhaskar/Bloomberg via Getty Images
The city's COVID-19 vaccine mandate goes into effect at 5 p.m. on Friday, and the prospect of losing paychecks has finally pushed some holdouts to drag themselves to clinics and pharmacies. City agencies that had some of the lowest vaccination rates have seen them inch up: As of Wednesday 74 percent of the city's cops are vaccinated (up from 69 percent) and 68 percent of the fire department's overall staff has received the shot (up from 60). But the mood couldn't be more different among these reluctant patients than the jubilation of the spring. Here's what pharmacists saw this week.
Mena, pharmacist in northeast Staten Island
After the city announced its mandate, things picked up. That $500 incentive is pushing people in, too. But nobody is thrilled that they're being forced to get it. Today, I had one man who works for the city argue with me for like half an hour that he doesn't need to get the vaccine because he's young — like his mid-40s — and he already had COVID, his family had COVID. He did eventually get it, though. But I've had a lot of people walk out and not get the vaccine. Basically, they come to complain a little and then storm out — or hope that I'll give them a card without actually giving them a vaccine. That's happened about five times in the past few weeks. The first person who did this was a man who had a couple of hundreds poking out of the breast pocket of his shirt. He was talking to me, saying, "Oh, I want to get the vaccine," and then he was pointing at the money. But I didn't understand because no one has ever asked me that before, and I didn't think that anyone would. I was absolutely shocked when I realized what he was trying to say. I said absolutely not. After that, some other people came in and hinted at it, offering me money, saying things like, "We'll take care of you," or "How much do you want?"
Chris, pharmacist in Bay Ridge, Brooklyn
Many people are coming in crying. A lot of them. People are devastated. It's mostly city workers, and a couple from private businesses that also mandate the vaccine now. Their job is on the line. They say they're doing it because they have a family to feed, but they're not happy. I had a mother and daughter come in — the daughter had to get vaccinated for work, and she was in tears the whole time and her mother was holding her hand. It's horrible, but what can you do? I don't dig; I don't ask any questions. I don't want to open any can of worms or cause somebody to change their mind. I try to comfort them. Nobody's never not taken it.
Larisa, pharmacist in New Dorp, Staten Island
In the last three or four weeks, it's been really busy; I would say about ten people a day. Almost nobody else was coming in before; maybe one or two a day. And it's because they're desperate: They tell me they're getting vaccinated because they work for the city, work for hospitals, they want to live their lives. They can't really do that now without the vaccine. They have no choice. But they still don't want it. People are having nervous breakdowns when they come in. People are crying, they're so nervous. One person covered their head with a jacket not to see the vaccine while they were getting it. I had to calm them down and be a psychiatrist. I tell them, I did it, my husband did it, my mother-in-law did it, my whole family did it, and we're all fine. I tell them to take aspirin for a few days if they're afraid of blood clots. Sometimes that helps.
Luis, pharmacist in Sheepshead Bay
It's like a revolving door: I give one person a shot, and then another one comes in right behind them. People are getting boosters, too. Somber is how I'd describe the mood. People have just resigned themselves to it. This one guy I know — it's years now that he's been coming here, we're friendly, always chitchat. He came in the other day and said he needed the vaccine and was really freaked out about it. I was kind of surprised. He said he believes in the right to choice, but he can't afford to lose his job. When I gave it to him, he turned away and screwed his eyes shut. He was so tense. I was just trying to get him to relax. You'd think I'm giving him a lethal injection. But that was it — all those months of refusing, and it was over in a second. It's not my job to convince anyone, but before he left, I did say this really could be good for him and his family and his community. He just looked at me and walked out the door.