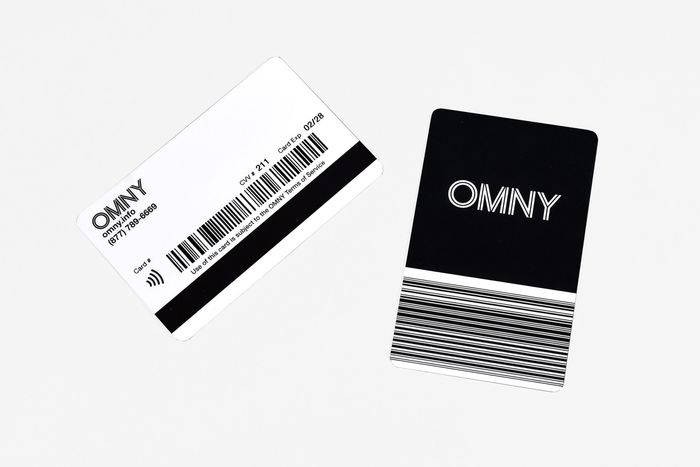 Photo: Courtesy of the MTA
OMNY, the MTA's contactless system that is beginning to replace the MetroCard and will finally retire the swipe, is mostly built around an app that charges your debit or credit card. One in six fares is now paid that way. New York City, though, contains multitudes, and a significant proportion of transit users don't live by smartphone. Some are tech-resistant, some just prefer paying cash, some want a backup for when their phone battery dies, and a good number — the MTA has said it's 11 to 14 percent of riders — don't have bank accounts. Those riders need a non-app way to buy a fare, and hence the arrival of the OMNY card, which you can see for the first time in the photo above. It goes on sale today. Probably.
That "maybe" is owed to the fact that it's not being sold in transit stations yet, because that requires new vending machines that will appear a few months from now. Till then, the OMNY card will roll out alongside the Target and Amazon and Red Lobster gift cards at chain drugstores like CVS and Duane Reade, as well as in the bodegas, dollar stores, and other neighborhood places that already sell MetroCards. (You'll be able to reload the card with cash at those retailers, too.) It was shipped to those outlets a few days ago, and from there we wait till some manager says "hey, unpack that crate and get everything out on the floor." Sarah Meyer, the MTA's chief customer officer, says she's been making rounds through her local chain drugstores multiple times a day, looking for the first drop.
JP Chan, the MTA creative director behind the design — which is being revealed to the general public for the first time in the image above — says that he and Meyer took pains to make it feel a little bit like a premium object, less like a government benefits card and more "like an American Express black card." That meant dealing neatly with, as he describes it, "a lot of 'business' — things that are required to be on the card to make it sellable, usable at the reader, usable at the forthcoming vending machines." There are two barcodes, for purchasing and encoding, and the one on the front of the card has been rather cleverly disguised as a design element, one that mimics the railroad-tracks motif of the OMNY logo. Meyer adds that, despite everyone's New York inclinations, the cards couldn't be all matte black, "because they get lost in handbags. So having it white and a little glossy was important to us as well." (Did she throw it in her own bag to do impromptu user testing? Meyer gives a little smile: "I did.") Eventually, it'll also be produced in other colors to indicate separate fare classes: the student card, the senior-citizen card, the MTA employee card, and so forth. There will also be commemorative designs and such, the way there were with the MetroCard.
It's good for seven years, a big improvement on the 18-month expiration of a MetroCard. And it is likely to be, Chan remarks in passing, "the last piece of physical media that the MTA will ever issue," winding down the run that began with the 15-cent token in 1953. What is still unknown, of course, is just how many riders will choose the card instead of, or in addition to, the app. "We've printed millions, but we don't know," admits Meyer. "It's all new to us."