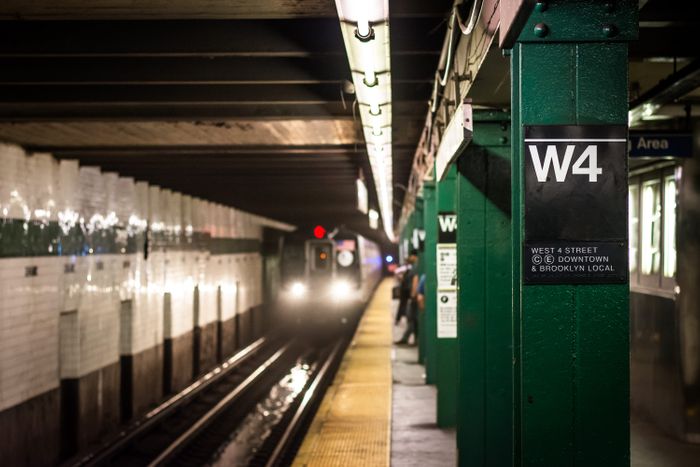 Photo: Jon Bilous/Getty Images/iStockphoto
The Baby Keem song "Vent" plays in the background of a TikTok video posted on September 8: "Have you ever been punched in your motherfuckin' face?" In the clip, 27-year-old Kaelee Boussarie aggressively walks toward the camera, her body superimposed over the West 4th Street subway platform. The text over the clip reads, "pov: you're me getting off the train at west 4 and trying to avoid this lady." Boussarie swings her fist at the camera and the screen goes black, then cuts to a close-up of her swollen face, two Band-Aids over the bridge of her nose. "This lady" refers to the woman who randomly punched Boussarie in the face at the West 4th station in July. The first video racked up more than 181,900 likes, garnered 1,519 comments, and kicked off the legend of the "West 4 Puncher," described by Boussarie only as a five-foot-four white woman.
Other TikTokers were quick to detail more supposed encounters with the puncher in the comments, saying the woman randomly and routinely attacks riders at that station. Some said they had spotted her in Washington Square Park, and others said some of the people she had hit punched her back. "Btw, she goes for girls who wear glasses, not sure why," one user wrote. "I also think her name is Beth because after she punched my friend, she said 'Beth do.'" One even posted a picture of herself wearing a pair of brass knuckles.
Boussarie did talk with a police officer immediately after her incident, though she didn't end up filing a report. But a booth agent and a security guard at the station denied there has been a string of random attacks. They hadn't heard about the West 4th Puncher at all. While Boussarie was certainly hit, it seems the West 4th Puncher might not actually exist.
Online, the story continues to snowball. There are now nearly 80 TikToks of people walking around the West 4th Street station ready to fight off a random attack. Kyle Ronkin, a 22-year-old grad student, made one of the first, posted just two days after Boussarie's video. "Getting my tote bag ready to defend myself against the West 4th Street Subway puncher," the text reads as he walks down the platform swinging his bag. Ronkin's video now has over 429,000 likes and comments like "she's la llorona but for drunk nyc freshmen on their way to wash for the third time this week."
Allyse Francis, a 28-year-old freelance photographer, posted a video about how the Puncher "looks like every other bitch," but she was shocked by some of the other stories swirling online. "There's a rumor where she was teaming up with a guy who is, like, up in Harlem who's punching people in the face," Francis said. "Yeah — no. The story has spiraled." Still, even if she thinks the West 4th Puncher is more meme than threat, Francis said she wouldn't mind knowing a little bit more about what actually happened. After all, West 4th is one of her stops.
Boussarie disabled the comments on her video two days after it went viral — the same day the Puncher TikToks started appearing. "People were like, What does she look like? Let's go after her!" she said. "And that was never my intention with the video, so it kind of scared me." She seems torn on the question of whether her attacker is a repeat offender, though she said the way her attacker hit her so quickly and walked off felt almost routine. At one point during an interview, she referred to the Puncher as a "mythical creature."
Now Boussarie has no control over what her video started. TikTokers keep watching her video and posting their own Puncher clips. They include people who don't even live in the city — or in the United States. As one Twitter user wrote, referring to the site's "For You" page, "i live in argentina and somehow my entire fyp is the west 4th subway puncher."