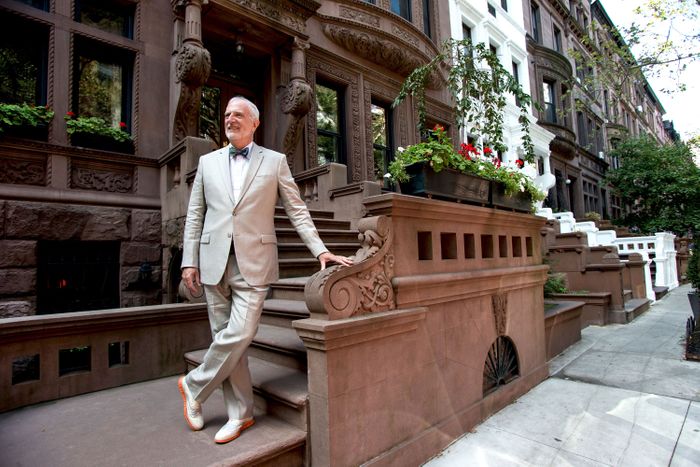 Frederick Peters sold Warburg, the last midsize firm of its kind, to Coldwell Banker.
Photo: Warburg Realty
Not so long ago, if you wanted to buy a nice prewar apartment in one of the better buildings on Fifth or Park, Central Park West, or Riverside Drive, you'd ask around for names and someone in your social circle would refer you to Alice Mason, Stribling, Edward Lee Cave, Warburg, or one of the dozen or so other exclusive independent brokerages that handled sales in all the best buildings in Manhattan. Before the big corporate firms, before Compass, before the Fredrik Eklunds and the Ryan Serhants and the TikTok stars, Manhattan's high-end market was a genteel, insular world dominated by that array of small outfits, some of whom were solo operators whose chief M.O. was the dinner party.
But Alice Mason and Edward Lee Cave shut down their respective firms in 2009, Stribling sold to Compass in 2019, and earlier this month Frederick Peters, the chief executive of Warburg, announced that his firm would soon be Coldwell Banker Warburg. With 120 agents, it was the last independent local company of its size, and as such had been for many years a prime acquisition target for a company like Realogy, which owns not only Coldwell Banker but also Corcoran and Sotheby's. At this point, all the Manhattan firms are behemoths — Douglas Elliman, Compass, Brown Harris Stevens — along with a few holdout boutiques, with well under 100 agents (most with less than 50, and some with less than 10). Fox Residential, Jed Garfield, Adam Modlin, Kleier Residential, Donna Olshan, Sloane Square and a handful of others remain. Real estate still has characters, but the slice of the high-end market controlled by their small, bespoke firms has very much dwindled. A highly experienced team, a spectacular network, and relatively low overhead is still a winning formula, but it's no longer the kind of business where knowledge of a particular Rosario Candela floor plan is considered proprietary information.
"The world has changed, and we have entered in the last five or six years a very different and far more capital-intensive marketplace," said Peters, who has been described as "one of the last in the generation of gentleman brokers." He became a real-estate agent in 1980, remaining in his music theory Ph.D. program at City University. "I thought I could do both. Then real estate ate my life." In 1991, Peters bought the Manhattan branch of Albert B. Ashforth, the more-than-hundred-year-old brokerage where he'd been a manager and renamed it Ashforth Warburg (Warburg was his grandmother's maiden name). Eventually he dropped the Ashforth.
The decision to sell, said Peters, who will remain at the helm of the new firm, was not financial, although it had become increasingly difficult to stay competitive as a midsize firm. "Like anyone who is a decent agency, we've had a fabulous year. But that doesn't mean I was ever going to have the kind of capital that was going to allow my agents to compete with the big boys. I can't substantially upgrade my website every year. I can't respond to market trends by tweaking it so you have more of a seller focus on the site, which is one of the things that Coldwell Banker is doing," he said. "It's a different business."
These days, putting a video tour and a 3-D walk-through of an apartment listing up on StreetEasy is, arguably, a better way to make a sale than throwing a dinner party for 60 — a technique used to great success by Alice Mason, the legendary broker who managed to get people who were not in the Social Register into social buildings. (She got Marilyn Monroe two different apartments.) That said, the dinner party was a lot more fun and still has its fans, among them A. Laurance "Larry" Kaiser IV, formerly of Key-Ventures, now of Berkshire Hathaway (he sold the small firm he'd founded with his stepmother a few years ago), who has been in the business since 1968. "Being as I am the old man of real estate, people ask me, 'How did you get your customers? Those big sales?' I say, 'Have a dinner party, invite some lovely people, have wonderful conversation, accept the bills,'" Kaiser advised. Still, he conceded, times had changed. "Just reading the society columns and going to deb parties is not going to get you far."
When Diane Ramirez, the co-founder of Halstead, started working as a broker in the late 1970s, the brokerages were niche, and so were the buyers. "Everyone had a sphere of influence. Stribling — I mean this in the most complimentary way — was very much Upper East Side ladies, and what they were selling was where they lived. I was also an Upper East Side lady. I two small children at the time, and everyone I showed to was looking for family apartments," she said. Ramirez left Brown Harris Stevens in July, a year after Halstead merged into Brown Harris Stevens. She, like Kaiser, is now at Berkshire Hathaway New York Properties, as chief strategy officer.
Back then, they say, a client's interest was typically much more proscribed. They'd ask for something in the 70s between Fifth and Madison, and that was it. "Then they started saying, 'I'll go east or west.' Then it was uptown or downtown. Then it was, 'I'll go anywhere'," she recalled. At which point, the specialized, hyperspecific knowledge that many brokers had spent years building came to be much less relevant. No broker could know everything about all the buildings in the city, but then, they don't really need to anymore. "Now you can just go on the computer and pull up a floor plan. In the past, you just had the index card," said Ramirez. "You really got to know every building. I can still walk around the Upper East Side and tell you what the buildings are and where the A line is and where the B line is."
Of course, the real estate itself also changed. For more than a decade, the top tier of the market has been dominated by condos, which weren't even an option for buyers until 1965, when the St. Tropez opened in Lenox Hill. (Before that, buyers who couldn't get past a stuffy co-op board, like Richard Nixon, opted for townhouses.) Unlike co-ops, which were clubby and Wasp-y and disliked any form of advertising — River House famously forbid brokers from using its name in listings — condo buildings would admit anyone who had the money. They don't require the same level of broker expertise — no board packages — and unlike many co-ops, they also allow financing. Co-broking, in which the seller's and buyer's agents split the commission, also played a big role in breaking up the exclusive, parochial Manhattan market. Until the 1990s, listings were closely guarded secrets — brokers would tip doormen to try to find out what might be coming on the market — and the broker who brought the buyer took the full commission. Halstead once used distinctive London taxis to take clients to listings, and Ramirez said they'd always have the drivers park around the corner or down the street to throw off their competitors. Real estate didn't only become a different business; it became a bigger business.
Barbara Fox, who runs Fox Residential, a firm with 35 agents, said that when she started in the business there were maybe 1,000 people selling real estate in all the boroughs. "It was very intimate, and there was more camaraderie. Now there are 12,000 to 13,000. The business is very automated, very online. A lot of brokers really rely on their customers' finding their own appealing apartments."
In the past, national firms that wanted to get into the New York market went the route of Coldwell and acquired New York firms, but they made sure to keep the New York names attached. "New Yorkers really feel comfortable with New York brands and they are somewhat suspicious of other brands," said Peters. Keeping the Warburg name is important to him. "I did not want to become part of Compass or Elliman or the Corcoran Group. I did not want the Warburg name, which I believe stands for something, to sink beneath the waves without a ripple." When Reology acquired Corcoran in 2001, there was speculation that the company "had lost all its cachet in the city … and jokes were rampant both inside and outside Corcoran that the gold jackets — a Century 21 trademark — would be arriving any day." But the Corcoran name ultimately carried the day, even outlasting the blazers. Compass took a different route: poaching agents from other firms and amassing enough of an arsenal of top-tier agents that having a new name didn't matter. It's a tactic that has proven successful, though expensive, and it has earned them no end of enmity.
There will, of course, always be brokers who prefer not to be under a larger firm, who serve niches distinctive (and small) enough to go it alone. And some personalities still strike out. Like Serhant, who left Nestseekers to open his own brokerage, Serhant., which will cater to his niche (presumably plutocrats who enjoy reality TV). "There's something to be said for being your own boss and not having to account for anyone but yourself," Fox said. "I've been made a lot of offers over the years, and I've chosen to remain independent."
"Of course," she continued, "I completely and totally understood why Fred sold to Coldwell, and it was for all the right reasons. It's more tools for his agents that a bigger firm can provide and that a firm like Coldwell already has in place."
"Am I sad? Of course," said Peters. "But I'm an old fart and I think old farts are always sad about the way things have changed. That said, it is what it is and you change or you die. And I'm not ready to die. So change was my option."