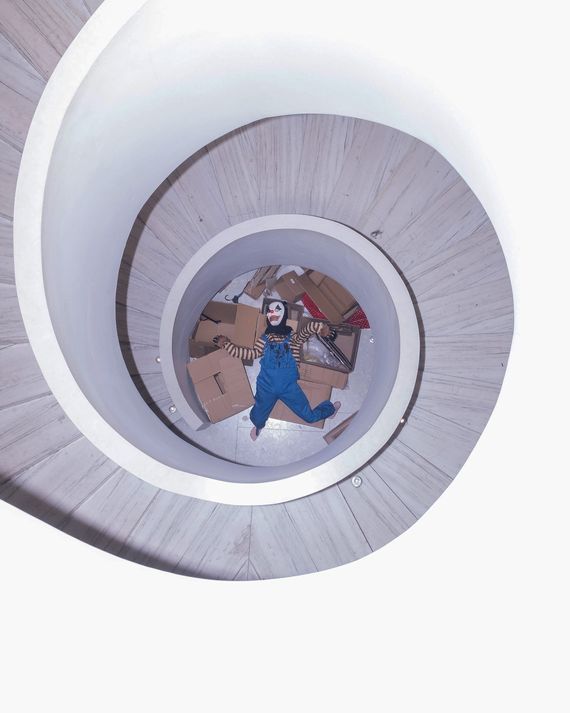 This article was featured in One Great Story, New York's reading recommendation newsletter. Sign up here to get it nightly.
For a year and a half after the death of Barneys, the fabled department store's Seventh Avenue location sat empty, spooking passersby who remembered its glory days and its gruesome demise. Then, in August, a literal Grim Reaper logo appeared in the window, a sign not of death but (after a fashion) retail resurrection: Spirit Halloween was moving in. A space that had once been occupied by the most sophisticated department store on earth, a place known for being avant-garde (Andy Warhol shopped there) and extremely expensive, would soon be selling polyester Cleopatra costumes, Michael Myers masks, and six-foot-tall animatronic killer clowns.
The sight was jarring but not actually surprising. In a retail landscape littered with death and haunted by the specter of Amazon, Spirit Halloween has thrived. This year, the company opened 1,410 seasonal stores — more than ever — and thanks to the retail apocalypse, it had its pick of locations. In New York City, there are more than ten Spirits. The list of sites on the company website reads like an obituary section: the former Barneys, the former J&R Music, the former Topshop, and former Men's Warehouses, Toys "R" Uses, and Planet Fitnesses. The orange Spirit Halloween banner is now so ubiquitous it has become a meme synonymous with impending doom and reuse, Photoshopped over the White House and the Facebook sign. The artist Danielle Baskin printed a banner and unfurled it in front of Google's San Francisco offices as a commentary on empty tech campuses. It has even served as a pro-labor symbol. Last year comedian Nick Lutsko made a mock theme song for Spirit Halloween that went viral ("Jeff Bezos murdered Barnes & Noble, Jeff Bezos murdered Sears, Jeff Bezos murdered Toys 'R' Us, but Spirit Halloween is here.") Spirit responded by sending Lutsko some money and commissioning more theme songs. Spirit is the joke, and Spirit is in on the joke.
The company can afford to laugh. It's anticipating its best year ever. Halloween spending is projected to climb to $10 billion in 2021, up $2 billion from last year, according to the National Retail Federation, and Spirit Halloween is by far the biggest Halloween retailer. There are, of course, supply-chain issues and worker shortages — and fans report empty shelves at some Spirit stores — but a few days ago, the Spirit in the former Barneys was fully stocked and had what seemed like an excessive number of employees milling about. At the center of the space, you could see, behind the black metal display racks and a scrim of some kind, the expensive remnants of its predecessor — the signature spiral staircase, lots of polished white marble and white lights, all of it coldly celestial. The section of the floor used by Spirit Halloween, by contrast, was packed and lively. An older man in a KN95 mask pawed through Halloween T-shirts, a woman pushed a stroller piled high with decorations, and two employees scanned racks looking for child-size mummy costumes. There were families, couples, young men, old women, and college students in crop tops. Shoppers were laughing and jumping back in mock horror from the elaborate animatronic displays of hatchet-wielding clowns. It took a while to pinpoint the mood, so foreign did it feel after a year of tense grocery-store visits and dreary Amazon searches: People were having fun.
In the early 1980s, long before Amazon warehouses and big-box stores came to dominate the suburban landscape, most people did their shopping at malls and small shopping centers — like the one where Joe Marver had a women's clothing store, Spirit Women's Discount Apparel, in Castro Valley, California. Every October, Marver noticed the crowds that would descend on the dance shop across the street, which stocked Halloween costumes. "People would be lined up two, three blocks down the street," he says. When the dance shop went out of business, Marver decided to jump in, stocking his store with wigs, costumes, and masks the following fall. "It worked like a charm," he says. The next year, he leased an empty space at a mall for two months, and things took off from there. Part of the cleverness of Marver's business model was that he cornered a market that largely hadn't existed before: Halloween had once been a largely handmade holiday, but by the 1980s, the demand for premade decorations and costumes was growing, and not just for children. Marver said he tried Christmas pop-ups for a few years, but they just didn't work. "Everyone does Christmas," he says, "even gas stations."
By the late '90s, there were almost 60 Spirit Halloween pop-ups opening each year around the country, and bigger companies started circling. At a trade show, Marver met an executive from Spencer Gifts, the mall chain known for lava lamps and vaguely naughty gag gifts like no-tear toilet paper. Spencer's, then owned by Universal Studios, had started stocking Halloween merchandise for adults and was interested in acquiring Spirit. The company flew Marver out to its headquarters near Atlantic City. He says he wasn't really interested in selling, so he threw out a high number. When Spencer's balked, he walked away. A year later, Spencer's called back, and it bought Spirit in 1999, keeping Marver on as an employee and a consultant for a while. Now 78, Marver operates a hotel in Twisp, Washington. The lobby is, of course, decorated for Halloween at the moment, albeit "in a nice family-friendly way — not scary," he says.
"Spencer's, they were involved in fart machines and this other garbage," says Marver, explaining why the company wanted to buy him out. "I had ideas. I had developed a lot of new costumes. And I had deals with brokers around the country. We'd fill in for the empty retail spaces, and I'd pay extra commissions under the table. The brokers would get their normal commission and they're only giving the space to you for two months. It might cost us $100,000 to get a location, but we'd sell $1 million worth of merchandise."
A few years later, Spencer's/Spirit Halloween was sold off to a restructuring shop that brought in Steven Silverstein, the president of the big-box retailer Linens 'N Things, as CEO. When Silverstein got hired, Spencer's was the dominant concept and Spirit was dormant for much of the year — "now they're pretty much neck and neck," according to Silverstein, although the company, which is private and does not disclose its earnings, won't get more specific than that. "That first year, my jaw dropped," Silverstein says. "I had seen the power of a big-box specialty concept at Linens — the endless assortment, the consumer enthusiasm — and I saw that same enthusiasm at Spirit." After that first year, he adds, the company went from a "temporary concept" to a year-round endeavor that builds up to a spectacular early-fall reveal with elaborate in-store displays and a vast array of costumes running the gamut from silly (pickles) to sexy (bad nuns) to classic scary (vampires, ghosts, skeletons). Even within the categories, there's a range of choices: One can, for example, be a cute, scary, or sexy werewolf. "I really appreciated the market potential — no one had done this in pop-up form before," Silverstein says. "You have other pop-up concepts, but they're Hickory Farms and H&R Block." The company now has hundreds of full-time, year-round staff members who handle everything from leasing space to hiring more than 25,000 seasonal employees.
Spirit doesn't discuss its real-estate strategy, but the market has been very much in its favor these past few years. Retail was struggling even before the pandemic accelerated the shift to online shopping, and during the past two years, retail vacancies have soared, making for an even more favorable leasing environment. Although temporary stores once carried a stigma, with landlords fearing they might scare off traditional tenants, that hasn't been the case for decades. In a 2012 interview with Kimko Realty's blog podcast, Spirit said it spent months negotiating deals and that one of the biggest challenges was finding new spaces every year because landlords preferred to sign long-term tenants. But these days, many landlords, especially in Manhattan, where the pandemic caused rents to plummet, prefer short-term leases so they can fill spaces without locking in low rates for a decade — which may help explain how Spirit was able to score prime real estate, like Barneys and the old Topshop space in Soho, in areas where rents run around $300 per square foot. The fact that the company occupies dead retail spaces is at the heart of its viral appeal, but Silverstein says he sees this as a positive thing. "We are not body snatchers. We are bringing life, we are creating an experience," he explains. Thomai Serdari, a professor of marketing at NYU, says she sees it that way too. "It's good to bring traffic to these neighborhoods, rather than having the stores locked up."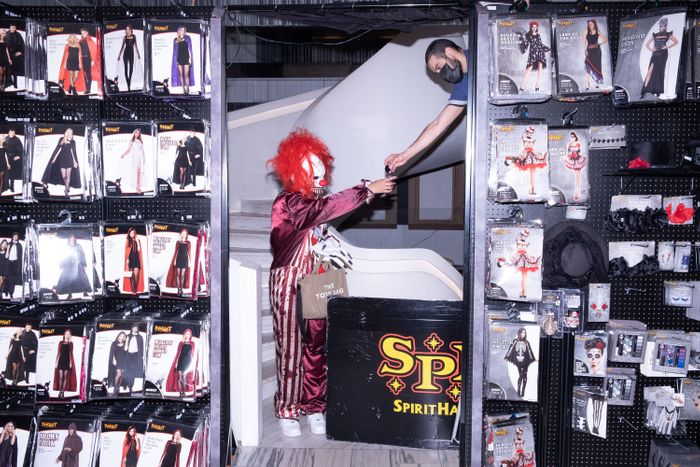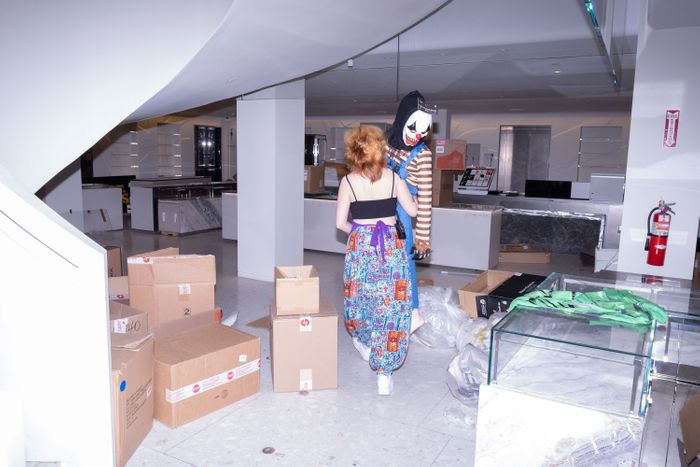 Although all of the stores get set up in about ten days, they are by no means thrown together. The layouts are carefully designed to keep customers from feeling overwhelmed and are organized by product and costume types. Throughout the stores, detailed animatronic displays follow a different theme every year — 2021's is "the Halloween factory," a decrepit industrial plant populated by ghouls and evil scarecrows, with pumpkin heads on conveyor belts — that also happens to make for perfect Instagram backdrops. "Spirit is experiential retail. Fans are going to interact with the scenes. Just like any service business, you have to put on a show," says Silverstein. Serdari says brands that are successful these days tend to be like Spirit, having both vibrant virtual communities and engaging in-person experiences: "People like the element of surprise, especially with something like a Halloween costume. You could order online, but if you go with your friends, you'll have fun and you'll find other things."
That may also be because the merchandise is mostly unique to this store. The company designs and develops 80 to 90 percent of the products it sells, according to Kym Sarkos, the executive vice-president and general-merchandise manager for marketing and product development. Licensing deals allow it to make and sell costumes from popular films like Hocus Pocus and Beetlejuice, and Spirit tries to tap into the Zeitgeist — which this year translated to a number of comfort-food-themed costumes like the now sold-out Flamin' Hot Cheetos bag. (Spirit also developed brand partnerships with White Castle and Dunkin'.) "We're trying to find what products will have an emotional connection," Sarkos says.
At the same time Spirit Halloween and its imitators were growing, so too was the popularity of the holiday itself. (Or was it the other way around, with all these retailers getting people into the spooky holiday spirit?). Halloween, which at one point was domesticated into a children's holiday, has since transformed back into "an everyone holiday," says Regina Hansen, a Boston University lecturer who studies horror and popular culture. Lately, "the social-media aspect has also increased interest," says Katherine Cullen, the senior director of industry and consumer insights at the National Retail Federation. "People are sharing their costumes, getting ideas from social media, getting more elaborate." Even pets get dressed up.
And though there were pandemic concerns in 2020 — Party City opened 91 percent fewer Halloween pop-ups last year than the year before — Halloween spending barely fell at all, according to Cullen. That is owed in part to a big surge in spending on decorations like Home Depot's instantly sold-out 12-foot skeleton. Marver says that last year he received a lot of calls from his old friends in the business asking if he thought they should open: "I said, 'Are you kidding me? People have given up so much for COVID. They're not going to give up this.'"
It's not just the holiday that's increasingly popular; Spirit itself has developed and nurtured a cult following. The store's superfans, known as Haunters, obsessively discuss its animatronic creatures (many of which are six feet tall or more, sell for hundreds of dollars, and are sold with full-scale backstories attached) on Wiki pages and post videos of their visits and product reviews on YouTube, all of which drive sales and foot traffic. It's not uncommon for people to visit the neighborhood Spirit multiple times during the holiday season or to go to different local stores to compare displays and products. When the store hosted a grand opening this July for its flagship in Egg Harbor, New Jersey, people traveled from around the country and camped out to be first to see the new products and displays. On the store's Facebook fan site, one Haunter shared photos of his in-store marriage proposal.
Jonathan Perry, a bank vice-president in his late 30s who lives just outside Dallas, started shopping at Spirit in his early 20s. At first, it was just a place to pick up a costume for a party, then he started noticing the scenes staged around the stores. "There'd be a creepy train theme or a creepy hotel theme. It pulled you in," says Perry, who now runs a clown-themed haunted house for trick-or-treaters, with more than 50 Spirit animatronics and 13 actors, out of his two-car garage. "I travel a lot for work. After work, most businessmen want to let loose and go to the bar. I look at Facebook Marketplace and the other apps to find people selling their old Halloween animatronics."
Griffin Miller, a 13-year-old who lives near Binghamton, New York, was too afraid to go inside when he first visited a Spirit Halloween store as a 5-year-old. But after the operator befriended him and his parents, he quickly grew to love it, especially the animatronics. He now collects them — his latest acquisition is a seven-foot werewolf, which joined a cast of characters in his bedroom that includes a six-foot skeleton, two vampires, a clown in a body bag that hangs from the ceiling, skulls, a Spirit Halloween banner, and horror-movie posters. The collection is so large it has expanded to the basement with sometimes unintentionally terrifying results; not long ago, the family forgot to warn a plumber about the six-foot-tall Michael Myers down there.
Daniel Jude Miller, Griffin's dad, says he always thought his son's love for the store was uncommon — when Griffin was younger, they would sometimes hang out there for hours. But last year, Daniel stepped in briefly to manage their local Spirit as a favor to their friend and found that, like Griffin, other kids also visited every day and stayed for hours. "They will make animatronics go off like 100 times. It's also basically a giant costume shop: There are cowboy hats; they'll have sword fights. Anything that's not in a bag they will put on and walk around with," he says. It was, in other words, a playful space. Something Barneys surely would have appreciated.