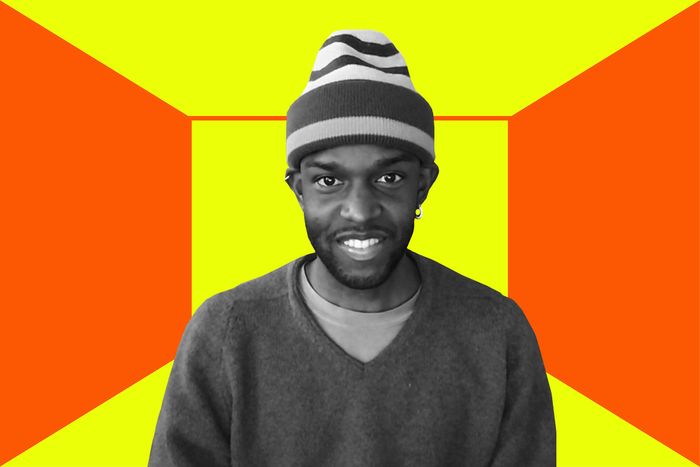 Photo-Illustration: Curbed; Photo: Emmanuel Olunkwa
New York's "21 Questions" column is back with an eye on creative New Yorkers. Emmanuel Olunkwa was recently named the new editor of the architecture magazine PIN-UP. The cross-disciplinary artist also co-founded the online art journal November, edited Pioneer Works's Broadcast publication, and makes furniture.
Name: Emmanuel Olunkwa
Age: 27
Neighborhood: Bed-Stuy
Occupation: Designer, writer, and Editor of PIN-UP.
What's hanging above your couch?
There's nothing really above my sofa, but behind it are a pair of French doors that lead to my workspace. I am really into feng shui and this probably breaks all of the rules of feng shui.
What's the first job you had in New York? 
I worked as an assistant to the fashion designer Rachel Antonoff. I cold emailed them when I was still living in Los Angeles and they liked my work and told me to call them if I ever moved to New York. A year later, I told them I was moving on August 14. They said to come in on August 15. I walked from the East Village to the Garment District for my interview and started working that same day.
What color are you always drawn to? 
Chartreuse. It's so many things. It's an architectural term. It's the color of algae. It's a feeling. It's yellow-green, and I love living in that in-betweenness.
What art or artifact are you most surprised you own?
I have works of art by Jordan Wolfson and Aria Dean. I traded a set of tables and chairs with them and it feels like we now have a bond through these objects. It's less about the artworks themselves — I never really thought that I would own something that's received as "capital-A art" and produced for an institutional context. Art, to me, was always something represented, like owning a postcard of the Mona Lisa.
Which New Yorker would you want to hang out with?
Toni Morrison. She understood what it means to be both a witness and a participant in storytelling.
What's the last thing you made with your hands?
The pagination pages of PIN-UP. We still print out the pages and pin them to the wall to see the flow of the magazine, so it was taking the scissors out and cutting the pages.
Is there one thing you own multiple versions of?
I have multiple copies of books that I like. I heavily annotate my books; they are like markers of a time to me. I'll go back to a book to "read" that version of myself, or will buy the same book again and compare notes. Bad New Days by Hal Foster is one of those books.
What New York City museum do you always go back to?
MoMA, because it fully encapsulates a changing city. It's forward-thinking and constantly trying to meet the moment. Its architecture mimics that ideology. So many architects have touched MoMA.
What do you always have next to your computer? 
Post-It notes and pens. It's not a notebook so you don't have to commit to writing on the page.
Where is the best view of the city?
It's the J train, crossing the Williamsburg Bridge from Brooklyn to Manhattan. You're in transit and you're experiencing this perspective of both these places and you get to witness these worlds unfolding. You have to give yourself over to the moment.
What building or object do you want to redesign every time you see it?
New York City windows, because you can't clean them, whereas in Europe you can completely open them from the side. There's something so liberating about being able to fully clean both sides of the windows, which is just inconceivable in the United States.
What's one thing you would change about your field? 
There's the same problem across all the fields, which is this conversation about representation, expectation, and permission. I'd like to create more space for accidents and surprises. Success can be alienating because you're not necessarily sure about why something works. Oftentimes it's something you just stumble over. The worst thing to do is try to work from a place of recreating an energy.
If you could live anywhere in New York City, where would it be?
The San Remo, with a view overlooking Central Park because I like people-watching. I recently interviewed the filmmaker John Akomfrah and he talked about visiting Max Roach's apartment when he was around my age. I'm actually unsure of exactly where Roach lived, but it overlooked Central Park and that vantage point is something John had never known. And I was thinking: Architecture is so specific and so important because there are so many vantage points and views of the city that certain people never know.
What would you hoard, if it stopped being produced?
I would probably hoard music or catalogues of different types of sounds. It's the most dynamic thing you can own and hoard that's ephemeral.
What do you do to get out of a creative rut?
When I was younger and felt unresolved, my mom would always tell me to take a shower. I am able to sort through things and reflect in the shower because I'm not having to make any decisions. Bathing is such a spiritual practice and I feel rebirthed each time.
Where was your first NYC apartment and how much was the rent?
It was a $1,600 studio on East 6th Street between First Avenue and Second Avenue, above Souen. It was a special apartment since it framed the backyard. All of the yards on the block sort of met each other and it was a green oasis all summer.
Where in the city do you go to be alone?
Museums. Because I'm someone who is often lost in thought, it's really nice to go to a museum and disappear into the art and the architecture of the space.
Worst piece of career advice you've ever gotten.
To be patient. I think patience comes with experience. And I think if you don't feel like you're getting what you need at the moment, it's important to find someone who will satisfy that urge. Standing in one place didn't work for me. I wouldn't be where I'm at if I didn't find people who could resolve these questions that I was asking myself.
What have you given away to someone that you wish you could get back? 
I don't actually want anything back.
What's your favorite NYC restaurant and regular order?
Probably Lovely Day and I usually get pad Thai or green curry.
Descriptive phrase you want on your obit headline?
"He's still here in various forms and places." For me it's like, what does it mean to be dead? I was thinking about Sylvère Lotringer's recent passing. He brought French critical theory to New York's art scene in the '80s. It's really crazy to think about how people shift places and thoughts. Even though his physical body is no longer here, his energy still permeates the city and lives on.