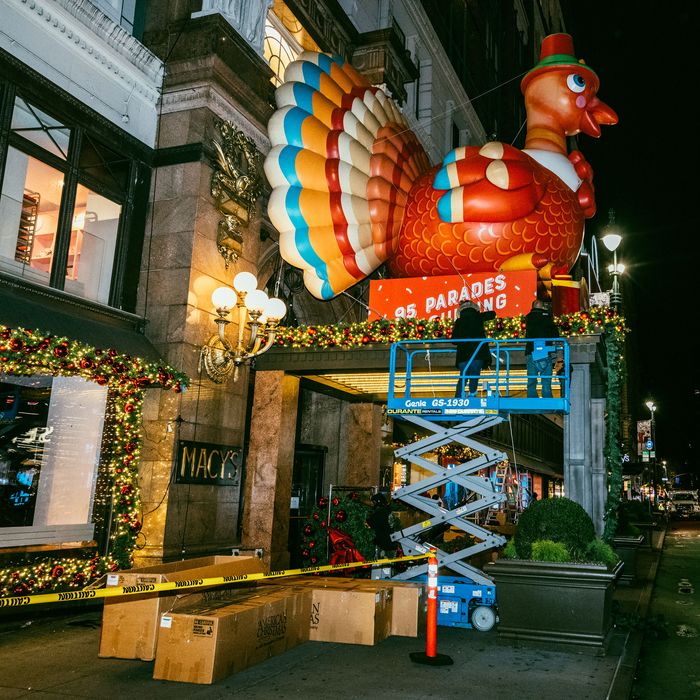 Mid-installation at Macy's in Herald Square before the Thanksgiving Day Parade
Photo: DeSean McClinton-Holland
On the Sunday before Thanksgiving, Michael Marino, a bearded 28-year-old wearing a backward baseball cap that read "American Christmas," was intently pacing the Bloomberg rotunda in midtown. This is the third year Marino has directed the installation of the company's 40-foot-high Christmas tree, and he and his team were in fierce competition with themselves. It looked like they were winning.
"The first year we did this job, it took us 18 hours. Last year, we got it down to 15," Marino said. He looked at his crew of decorators assembling the half-finished tree. "And this year, we're trying to beat that time again. Ideally, like ten hours. I would be the happiest person on the planet," he added with a smile.
Five people hung from the bare steel frame of the tree, attaching metal stars. Two men on boom lifts were carefully fitting the first of 556 individual fake-evergreen branches into the scaffold, while beneath them, several people were sculpting all the flattened branches that came out of long cardboard boxes. Twenty people in all — installers, they're often called — were clustered in the rotunda, and if they finished early, they would get to head home by 8 p.m. to catch a few more hours of sleep. In the meantime, other crews would work through the night.
This is the busy season for American Christmas, the company arguably responsible for New York City's biggest, most memorable displays of holiday cheer. Its teams have decorated Radio City Music Hall, the New York Stock Exchange, Rockefeller Center, the Empire State Building, Saks Fifth Avenue, Moynihan Train Hall, and the Cartier store, along with hundreds of less famous lobbies and stone façades all over town. Throw a snowball in the city, and you will probably hit a building they have draped in garlands and lights.
The teams also keep incredibly grueling work schedules during the holiday season. Night and day turn inside out as crews of American Christmas employees crisscross the city, sometimes working consecutive overnight shifts that can stretch beyond 12 hours each. The weekends before and after Thanksgiving are their busiest. From Friday night until the Monday morning before Thanksgiving, roughly 80 people completed about 50 installations in New York City alone. In total, they'll install over 20 million lights, 20,000 feet of garland, and over a thousand trees this season.
Earlier in the week, Marino had spent three nights decorating La Guardia Airport's new terminal with approximately 2,000 feet of garland and 200 illuminated snowflakes. "And then a few small trees, like an 18-foot tree, two twelves, a nine, and two sevens," he said.
"An 18-foot tree is a small tree?"
"Compared to this? Yes."
American Christmas benefits from an unofficial keeping-up-with-the-Joneses dynamic among the commercial properties in the city. "If you look down Sixth and one year somebody gets a bigger display," Marino said, "the next year somebody two blocks down wants something bigger too." The Bloomberg tree is 40 feet tall. Last year, Fox's tree was 30 feet. This year, it will be 50. "And their tree is actually triple lit," Marino explained. "They have red, white, and blue lights on it."
As the sun went down in midtown, the crew formed a kind of arboreal assembly line, passing the branches to the workers scrambling up the frame. At the top, it had taken them five or ten minutes per branch. Now, closer to the bottom, it was taking ten-to-15 seconds. Two decorators in lifts slowly made their way down the tree, shaping it until it was just right. They lit the last section and and laid pine cuttings over the platform, filling the rotunda with the scent of a real tree. In the end, Marino was pleased. They had finished in 12 and a half hours. The next day, he would fly to Miami to do it all over again.
American Christmas Decorating began in 1968 when a floral designer named Marvin Schwam realized that the same building managers who bought his artificial plants would buy again if he sold Christmas designs. "We're Jewish," his son Fred, who took over the company in 1988, said, laughing. "There was no prior relationship with Christmas whatsoever." Under Fred, the company doubled down on the business of Christmas and grew steadily. In 1997, it began doing the Christmas tree at Radio City Music Hall. By the aughts, it was decorating buildings across New York City and the country.
After nearly three decades, Fred sold the company to an international lighting and Christmas-decoration firm based in the Austrian Alps. In 2018, Dan Casterella became CEO. A New Yorker, Casterella joined the company in 2003 as a seasonal employee in the warehouse but had been putting up Christmas decorations since high school, when he began decorating houses in his neighborhood for extra money.
His first time on an American Christmas job was a Thanksgiving in the early aughts, at the Beaux-Arts Helmsley Building on Park Avenue. "I remember being on the 20-foot ladder installing garlands on the arches," he recalled. "I haven't had Thanksgiving off since that day." When we spoke, he had not slept a full night in days. The office staff spends most of the year planning for these few madcap weeks in the field. "We work all year for these eight weeks," Casterella told me.
Last year, those eight weeks were hard in a different way. During the height of COVID, as tourists and office workers alike avoided city centers around the country, the demand for elaborate Christmas décor took a hit. I first spoke to Casterella in October 2020 when he had just returned from a solo drive across the South and Midwest to meet with other Christmas companies and clients and look for new ideas to shore up his business. Out of that trip came one plan to become a wholesaler of Christmas decorations and another to open a shop in Mount Vernon, called Christmas in America. Both helped carry the company through the pandemic, but the work of decorating the city remains the core of the business. "That's our playground," he said. "That's our theater."
At Macy's in Herald Square, around 8:30 p.m., another team was unloading a truck packed with garlands to dress the building for the Thanksgiving Day Parade. Olivia Riordan, the supervisor, is fiercely protective of the close-knit company. At first, she took me for a spy.
"I was like, Who is this guy in my face trying to poach our jobs," she said, laughing, as the team began prepping the window frames for the garlands and wreaths.
She crouched on the back of the truck bed in a tan jacket and directed the crew, her hair pulled back behind her ears. She pointed out a whale-size turkey wearing a Pilgrim hat mounted to the roof of the Macy's entrance.
"Everything on the east side of the turkey is east; everything on the west side of the turkey is west," she instructed her team. "We need, obviously, pedestrian pathways, and we need our own pathways, too." Riordan knelt to tie the laces of her co-supervisor Nathan Stern's boot. He had cut his hand on a job earlier that season and was wearing a cast.
Macy's has been hosting the parade since 1924, years before Thanksgiving was even kept on its modern schedule. Last year, the company held a truncated parade without a live audience. So much else may have changed, but this year, the design is classic — red and green colors; ornaments and lights.
"When do you see this?" Riordan raised her eyes at the garlands being strung on the wall. "All it is is red and warm-white lights, and it's so magical."
A little before midnight, Kent Fritzel and his crew were looking down at an imposing lighting console. They had reached the tail end of a year of planning and eight weeks of installation for the Saks Fifth Avenue display, and opening night was the next evening.
This job is among American Christmas's most ambitious, and most famous — an eight-story-high animated multimedia light show set to music, containing 700,019 points of light, 250,000 crystals, and nearly 20 miles of cable. Designing it has been Fritzel's central preoccupation for a year. Designing for Christmas in general has been his passion since 1994, when he took a job as a seasonal installer for the company after moving to the city to audition for Broadway.
Fritzel became American Christmas's third full-time employee, working with Fred Schwam. Now he is the vice-president of creative and project management. He has spent more time than most people on the planet thinking about what makes a good Christmas decoration.
"For example, the giant candy canes at 1271 Sixth Avenue," he said, referring to a job another crew had completed before dawn on Sunday morning. "We've all seen a candy cane, but the simplicity of that one item larger than life and arranged in a very artful way in an environment of New York City is jarring. It takes you out of the mundane everyday experience."
We walked back to the front of the building, where two crew members were testing the lights. A crowd had formed across the street to sneak a glimpse of a show that is such a closely guarded secret that even employees at American Christmas didn't yet know its particulars. A few feet from us, the lights blazed on. I staggered slightly from the glare, and then they dimmed in a gradient of different colors.
"Okay, guys, let's take lunch," Alex Gurevich shouted out the window to the crew setting up the trees on the Lexington Hotel's awning. It was just past 1 a.m. When I closed my eyes, I could see small points of light everywhere. I felt on the verge of a Nutcracker-level hallucination.
The crew dispersed to dollar-slice stores and halal trucks. They had been decorating the hotel for hours, draping garlands from the mezzanine, building a 12-foot Christmas tree, and filling out the awning.
The Lexington is an old client, but last year there were no decorations. The hotel shut down during COVID. "Every single year before Thanksgiving, we would always put up decorations. You know, just to have that feel of the holidays," the front-desk clerk Marci Alonzo told me early in the morning.
During the shutdown, she was at home with her kids. But earlier on Sunday, back at the hotel, she had noticed Gurevich snooping around. She thought he was a guest who'd lost something, until the truck began to unload.
"The next thing I knew he was the one prepping for the decoration, and we saw huge boxes coming in, like, 'Oh my God, there's Christmas trees!' It was like we're being kids again," she said.
Gurevich's crew finished work on the site at 4:30 a.m. Just before five, I left the hotel and walked back toward Macy's. I had been out with American Christmas off and on for 30 hours. It was raining, and the street was shining. At Herald Square, the Macy's crew was hanging the last few decorations. The warm lights and red ornaments set against the green garland glowed softly on an empty 34th Street. On Thursday, it will be the backdrop for the famous parade, and later that day, across the city, crews from American Christmas will be working the Thanksgiving shift. At lunchtime, they'll flip over one of their long cardboard boxes and lay out a tablecloth. They'll order in turkey and mashed potatoes and pick up sodas at Rite Aid. And then this company that works so hard on the public celebration of one big holiday will privately ring in another on the streets and in the lobbies of New York City: an American Christmas Thanksgiving.