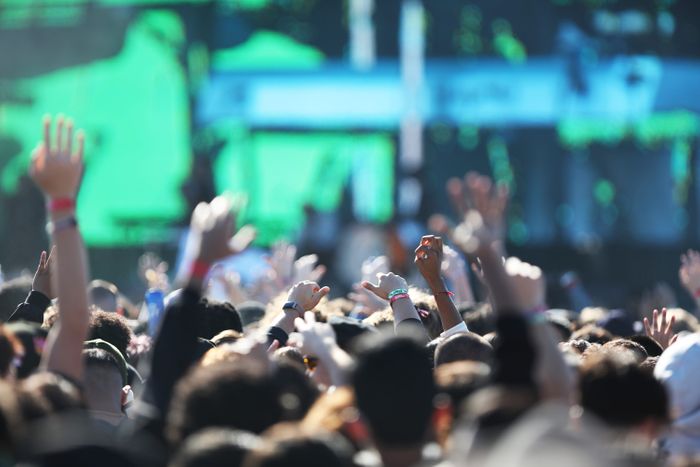 Crowd management is key, but no one has more power than the artist onstage.
Photo: Omar Vega/FilmMagic
Yesterday, 22-year-old Bharti Shahani became the ninth person to die after a crowd surged toward the stage at the Astroworld music festival in Houston, Texas, one week ago. Dozens of people remain hospitalized in what initially appeared to be a freak accident but has since been reframed as a convergence of cascading failures. Planning documents did not include a strategy for crushing or panicking crowds. The promoter, Live Nation, has a history of labor issues, including OSHA violations, all of which left the venue severely understaffed. The venue, NRG Park, was known for using insufficient barricades that had been toppled in other performances. The festival itself was notorious for injuries — three people were trampled and hospitalized at Astroworld in 2019 — prompting Houston's police chief to meet with headliner Travis Scott before this year's show to express concerns about managing the 50,000 ticketed fans. And even after ambulances made their way through the crowd, sirens roaring; as asphyxiated fans were being lifted out of the venue on backboards; as the crowd pleaded with Scott and other crew to stop the show, his performance continued.
Keeping people in enormous venues safe is a combination of designing a space's pedestrian flow and monitoring the crowd's dynamics — priorities that may have been pushed aside in Astroworld's planning. The biggest issue is keeping the crowd divided into sections and ensuring that each section allows enough space for people to stay on their feet, says Keith Still, a crowd-science expert who consults with organizers on large events. Still spent ten years working with the Saudi government to prevent fatalities during what might be the largest gathering on earth, the hajj, when 2 million pilgrims make their way to several sites across Mecca and Mina. In the early 2000s, a series of deadly stampedes on the narrow Jamarat Bridge killed hundreds of people there, year after year.​ A new structure was built in 2006, and now the bridge is essentially a gargantuan parking garage for pedestrians: a nine-level structure of ramps and escalators that can accommodate 300,000 people per hour. The complex also has two helipads for airlift emergencies, and it's outfitted with misters, air-conditioned pockets, and shade structures that are essential for avoiding exposure and exhaustion from the desert heat. And, perhaps most essentially, pilgrims are now issued timed tickets to avoid overcrowding. Although the predictable paths of an annual pilgrimage seem somewhat easier to plan for than a raucous concert, the principles are similar, says Still, particularly when you are able to analyze the history of the performer and the venue: "You still need to match the design to an understanding of the size of the crowd and to accommodate demand, which inadvertently creates pressure points."
That might require a deeper examination of the changing tastes of festival attendees. Music festivals have long marketed themselves as counterculture utopias, except now the allure comes not from TV coverage or documentaries but the images generated by the crowd itself, says Gina Arnold, a professor at the University of San Francisco and author of Half a Million Strong: Crowds and Power From Woodstock to Coachella. "Young people are still thinking of attending festivals as important," she says. "Now, however, what they care about is not so much the music but showing that they were there." Some experts have blamed the Astroworld tragedy on the yearning to return to public life after a year of pandemic lockdowns; the urge to get up close and get it all uploaded to TikTok. But festivals have always attracted a very particular crowd, says Arnold, as they're generally attended by people who have already accepted a certain level of risk. "These are 50,000 people who are risk-takers," she says. "You wouldn't buy a ticket, especially during a pandemic, if you weren't okay with risk." To Astroworld's attendees, Arnold says, the potential for chaos, behavior that Scott had encouraged in previous shows, is actually extremely good marketing. But the balance between spectacle and safety is also making festivals more precarious to produce, says Arnold. This has driven many artists toward residencies, where they can camp out in a single venue for weeks or even years at a time. "This way they can control what's going on and not be moving around," she says. "It's very expensive to build a new stage every night." For fans who are more risk averse, this results in a better concertgoing experience for them, too.
The itinerant nature of festivals, their general-admission space often managed with temporary scaffolding and no assigned seating, can also make them more dangerous in comparison to permanent venues, where we've nearly perfected crowd control. "If you look at the evolution of stadiums, we clearly know what works," says Still. "It goes back to the Colosseum, which is almost identical in design to what we use today." But the biggest difference is that buildings have codes and inspectors, says Still, and festivals have only a set of best practices. Right now, safety guidelines vary among cities, and even within cities' individual departments. Texas is aiming to craft new statewide laws that may include creating a new live-events department, echoing the way European festival safety was dramatically overhauled after nine people were killed in 2000 at a Pearl Jam show during Denmark's Roskilde Festival. As Danish concert safety expert Morten Thanning Vendelø tells Texas Monthly, large venues now hire an independent contractor that monitors crowd counts using video feeds and is authorized to end the show by pressing a button that cuts the amps and illuminates the house lights.
Every concert tragedy prompts contemplation within the industry, and some trigger widespread changes, says Eddie Williamson, a longtime production assistant who toured with Ozzfest for nearly a decade during its heyday. After the 2017 suicide bombing that killed 23 people at an Ariana Grande concert in Manchester, England, Williamson says there was a noticeable uptick in security measures at venues. What's most likely to happen now, he suggests, is that certain acts or promoters with reputations for unsafe shows could stop receiving insurance underwriting and thus become unbookable. "I think there will be a different mindset," he says, "and they might have second thoughts." There's already a petition to get promoter Goldenvoice to drop Scott from next year's Coachella lineup.
Williamson's attention to crowd dynamics comes from experiencing real fear as a fan during a riot at a Guns N' Roses show in St. Louis in 1991, when Axl Rose kicked Williamson's friend in the head. "I do know what it feels like to be in a crowd, struggling to find your footing," he says. "It's scary and frightening, and it all turns on a moment's notice." But there's one consistent way to prevent this from happening across every performance regardless of musical genre or fan base. "When the lights go down, everyone rushes the stage. It's a given," he says. "But the artist has the crowd in the palm of his or her hand." It's the person onstage who sets the tone, and if they've made the safety of fans a priority, it really matters. "That's just the culture," he says. "It always starts at the top, from the artists onstage."
Soon after the Astroworld tragedy, clips began circulating on social media that showed various artists, including Adele, Dave Grohl, and Playboi Carti, stopping their performances to make sure audience members who looked distressed got necessary help. Not only is this more standard than not, says Williamson, it's also been the case throughout the history of live music. He points to the Grateful Dead's "Take a Step Back," which was regularly included in the band's set list, imploring the crowd to give each other breathing room before the next song. Sometimes these pleas even end up on the live recordings. In 1994, Slayer's Tom Araya stood in front of 15,000 fans at L.A. Memorial Sports Arena as the band played its Decade of Aggression album. Toward the end of "The Antichrist," you can hear him address the crowd: "Listen, you guys in the front here, keep an eye on each other, all right? If you see someone going down, help them out, all right? That's what you're here to do — help each other out."