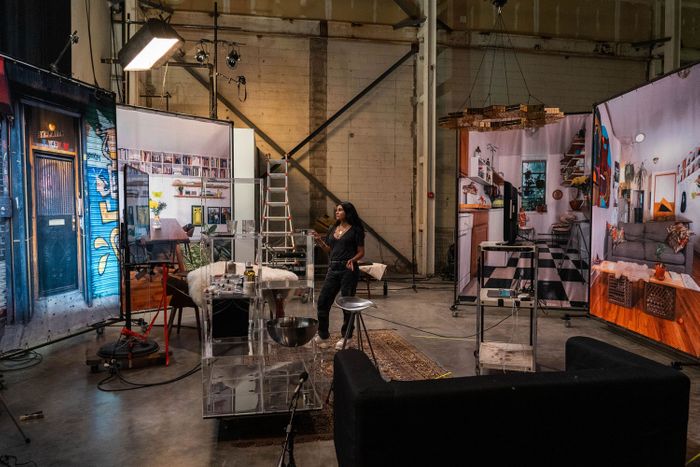 Baseera Khan, 'By Faith,' September 11, 2020. Set view, The Kitchen at Queenslab.
Photo: Ariana Sarwari
In a Lower East Side gallery several years ago, Baseera Khan washed their face in black chalk dust and climbed a wall implanted with holds cast from their own body — an ankle, a knee, a bent elbow filled with gold chains and hair. This ritual performance was part of IAMUSLIMA, their first solo show at Participant Inc., which explored representation, self-censorship, and assimilation as a Muslim American, a femme, and an immigrant. Since then, Khan's conceptual practice has continued to use performance, fashion, installations, textiles, and sound to deal with concealment, state violence, surveillance, and the pitfalls of identity politics. On October 1, they opened their first major solo exhibition at the Brooklyn Museum, "I Am an Archive," as the winner of the UOVO prize for emerging Brooklyn artists. Along with work from the past five years, they are presenting new photography and sculpture, including photographs inspired by the museum's Islamic-art collection and a series of Day-Glo chandelier sculptures that reference Khan's family's collection of textiles.
Last fall, they filmed a treatment for a television series, By Faith, based on intimate conversations with friends such as artists Vaginal Davis and Munira Lokhwandala in a reconfigurable set that mirrored their own apartment. The show collapsed the boundaries between the isolated domestic life of the early-pandemic era with the (sometimes) socially rich online one. The rehearsals and recordings of the show were livestreamed by the Chelsea art space the Kitchen, and Khan is currently fundraising to film a pilot. The backdrops from the show, which were large-scale images of rooms in their home, also took on new forms in another show. Curbed caught up with Khan in their kitchen after they had returned from a residence at Lux Art Institute, where they prepared pieces for their Brooklyn Museum show.
By Baseera Khan, as told to Drew Zeiba
When the Kitchen asked me to move into the Queenslab location for a residency, there was so much space. I had been a little bit fatigued by materials and objects. So I proposed creating a TV show about me living in this house during COVID that I've been at for ten years. I wanted to do some weird, strange show that was a little bit like a Fassbender film meets Pee-wee's Playhouse.
The show is called By Faith because there's a sign that says that on the door to my apartment. About 14 years before I moved in, there was a spiritualist who lived here, and that was his business. The fact that my house already has a title was just one of those dumb things that are always around where you're like, Oh, why do I need to be conceptual when this life that I'm living is already impregnated with concepts?
I have fever dreams, and a lot of the work I make is through these fever dreams. And when I had COVID, I was having all of these miragelike people coming to me from my life that were like, "Oh, let's paint," or "Let's cook together, let's read a book together." I decided to make six episodes of me hanging out with my friends. Sometimes we're on my bed. Sometimes we're working at a dinner table. But because we're dreaming, you never really know where you are.
For the set of my home at the Kitchen, I initially wanted it to be in the round, and I wanted the cameras to be nested inside the stage. But then I started to work with the team, and they helped me make some creative moves. We decided we needed moving rooms. We pushed all of the project back into the back of the space in an amphitheater-style way. We had everything on wheels, so we were moving the screens back and forth.
For the series at the Miles McEnery show, "Light," now on display in Houston at "In Place of an Index," I took those backdrops down and attached them to a bust, like the kind you see at a tailor's shop. I made my own batting on a microphone stand that protrudes from the wall, and I used a selfie ring light to hang the textile on that structure. The selfie light made sense, since we're always in front of screens now. Even the most banal corporate dude who doesn't take showers has a selfie light because his company requires it. Some of that has to do with surveillance, but the other part is just about aesthetics, about companies wanting a unified appearance. I had started doing all these performances where I had to actually get my own selfie-light kit. And so I thought, since I had all this around me, Why don't I incorporate that back into this sculpture, whose genesis was actually a TV show with lighting and microphones and all that stuff? They still look like backdrops — they're grommetted, and the poly material signals it's a theater material but also a corporate backdrop.
I was sick with COVID when I was coming up with the TV show. I was in bed most of the time with my computer and my sketchpad and texts, and all kinds of food and all kinds of things. A lot of the shots in the Kitchen video were on the bed. I started to see these patterns I was making with my own body under the blankets. There are all these different patterns crystalized in the ways that I flipped the certain sectors onto the wall for the sculptures. It almost looks like you're in bed and restless and then you stop still for a second. I thought it was interesting to collapse the architecture and the interior. I'm not thinking about interior design but accumulation. My house as beautiful accumulation, the apartment and the accumulation collapsed over this formation of my body.