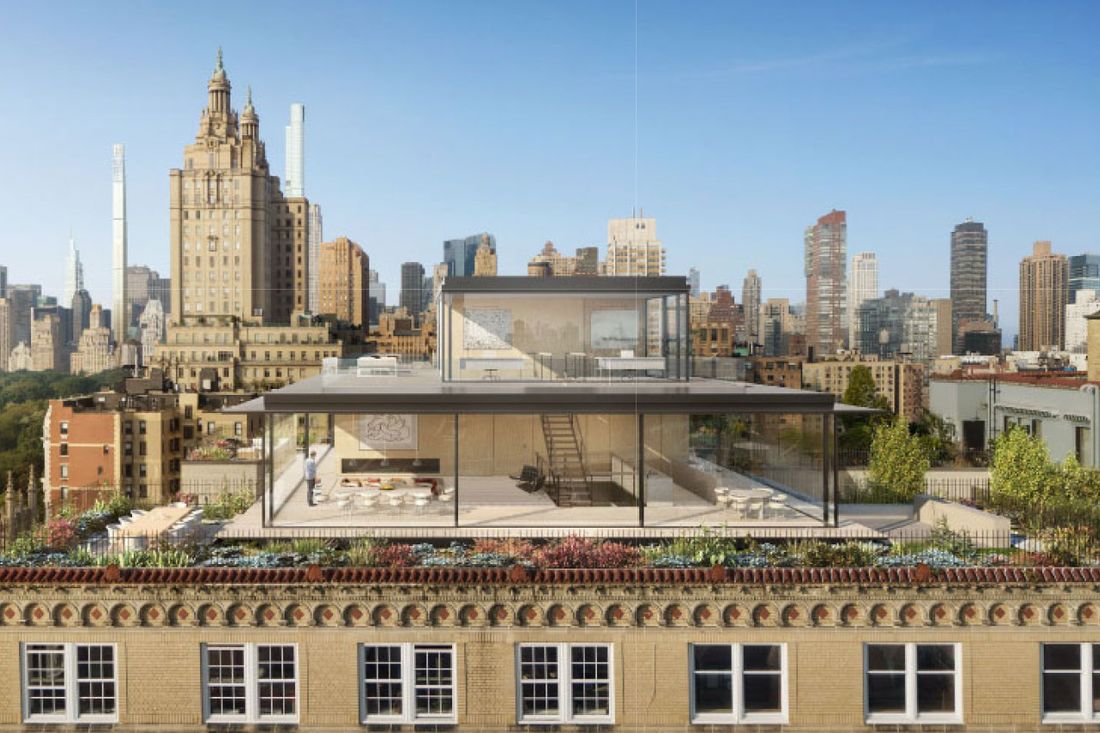 The proposed Norman Foster penthouse.
Art: Foster + Partners
For a little over a decade, the billionaire hedge-fund manager Bill Ackman lived in a duplex apartment at the Beresford whose windows looked south, toward 6–16 West 77th Street. Perched on the roof of that 1927 apartment building was a relatively undistinguished structure — a pink stucco penthouse — that nevertheless commanded some of the most spectacular sight lines in Manhattan. Seventeen flights up, there were open city views to the south, plus low-rise museum campuses on two sides: the American Museum of Natural History to the north and the New-York Historical Society to the east, with Central Park just beyond. In 2018, Ackman and his fiancée, Neri Oxman, a scientist and designer who ran the Mediated Matter group at MIT (you may also know her as Brad Pitt's onetime crush), were looking for a new home when the penthouse went on the market. "This pink thing appeared, almost magically," Ackman told me.
The pink thing was the crown of an unusual structure cobbled together many years ago by the feminist writer Nancy Friday — a four-apartment conglomeration that measured about 3,000 square feet above the roofline and about 2,000 square feet below. Penthouse is now a watered-down term, with many new buildings designating numerous penthouses on anything from their top two-to-ten floors. What Ackman had his eye on was the real article — a potential palace atop a classic prewar co-op adjacent to Central Park. He and Oxman bought the four Friday apartments in November 2018 for a total of $22.5 million.
It was a curiously diminutive price for an investor whose firm notched a $2.6 billion profit on a single trade last year. But despite its views, the property was by all accounts a fixer-upper. Friday had lived there for some 40 years before she died in 2017. Photos from the listing, which describe it as a "unique opportunity for someone to create one of the most spectacular apartments in NYC," show somewhat dowdy rooms with Doric columns, too-prominent vents in the ceilings, and sliding glass doors straight out of a suburban ranch house. The four apartments had never even been conjoined internally. Ackman considered the construction materials "literally the cheapest." In his mind, there was no question that he had to raze and rebuild.
The design Ackman and Oxman settled on could not be any further from pink stucco: a two-level modernist glass box designed by Norman Foster, possibly the world's most famous architect, who is celebrated for his modern interventions on historic buildings, such as Hearst Tower and Berlin's Reichstag. None of those structures, however, is in the tightly controlled Upper West Side Historic District — and the Ackman project has now become one of the city's most contentious preservation disputes, pitting a billionaire against mere millionaires.
West 77th Street is an enclave of masonry and brick, far from the glassy high-rises and needlelike towers on the edge of Central Park South. For years, the local community and the Landmarks Preservation Commission have stamped out attempts to impinge on that aesthetic. The New-York Historical Society's 2006 plan to build a glass tower in its backyard, for instance, was soundly defeated — in part with the help of residents at 6–16 West 77th. That's why it came as a shock to many in the building that Ackman's glass penthouse sailed through Community Board 7's preservation committee in October, won the approval of the community board itself earlier this month, and, next week, is headed to the Landmarks Commission for final consideration.
"It looks like a Malibu house or a waterfront restaurant pavilion," Mary Breasted, who has lived in the building for 13 years, told me. "Many of us renovated our units when we moved in, and we were told that when you replace the windows they have to be exactly like the windows that were there. Exactly like the old windows — that's an example of how precisely they have disciplined us to adhere to a preservation standard." Breasted and others say they jumped through the Landmarks Commission's hoops gladly, knowing it was part of the privilege of living in a protected historic neighborhood. Now they are dismayed that the fussy rules that apply to them — the conventionally wealthy — do not seem to apply to the stratospherically wealthy, like Ackman, who can hire a starchitect like Foster and marshal teams of experts to wax in plummy British accents about how the black steel frame of the glass box references the superstructure of the Upper West Side's rooftop water towers.
"By no means is this a building of people who are poor, but the difference in wealth between us and Mr. Ackman is astronomical," said one resident. The people who live in 6–16 West 77th own their own firms or helm the New York offices of companies you've probably never heard of; they own second homes in New Hampshire or Connecticut, not $23 million Hamptons estates.
There is a second penthouse unit at 6–16 West 77th, on the west side of the roof, that belongs to Ernie Von Simson, a management consultant. Ackman has said if it ever comes up for sale, he'd like to buy and renovate it, too, into a matching glass box. Several owners I spoke with said such a purchase might push Ackman over the number of shares residents are allowed to own in the building, but they said they feared the rules would be changed to accommodate his desires. "I kind of feel like he's taking over the building," said one. "It's disturbing."
Another resident told me she was somewhat puzzled by Ackman's desire for something new, given that the existing structure had its charms. "In the real-estate listing, you can see the center penthouse looking out on the city, and it looks very nifty," she said. "I don't see why he can't just renovate what's there. He could put in new windows, spruce it up." It was a sweet thought — but she had clearly not clocked the new realities, financial and psychological, of ultrahigh-end Manhattan real estate.
Billionaires don't spruce.
Ackman, an activist investor who runs Pershing Square Capital Management, is famously competitive. Several residents told me they believe the members of the co-op board have been too cowed by his wealth to stop the plan — and have been hoping Community Board 7 and the Landmarks Commission will deny the proposal so they won't have to. According to the residents, Ackman told the board he had already spent $3 million on the building project, which they interpreted as a veiled threat that they had better not try to derail it.
When I called Ackman, he told me he has actually spent $6.1 million. He maintains that he and Oxman had the board's support for new construction before buying the property; he also noted that the building is the legal entity that has to submit a Landmarks application, which it did. This would seem to imply an endorsement of the project. (Members of the board told me it would be inappropriate for them to comment.)
There are several residents of 6–16 West 77th who have spoken out in favor of the glass penthouse, painting its opponents as fuddy-duddies. "It's absolutely crystal clear to me that this would be a massive improvement to this building, and it would be an improvement to the neighborhood," resident David Schnadig told the community board. The pink penthouse was "an eyesore," he said, and "what you have heard in response was a very small group of very vocal people that doesn't like change. There are many supporters in the building."
There are also some prominent supporters outside the building, among them the architecture critic Paul Goldberger, who lives in the Beresford and has spoken glowingly of the Foster design at two public meetings. "I think it has the possibility of being one of the most notable works of residential architecture in more than a generation," he gushed. "The discourse between the young and the old is what gives the urban fabric its life." Goldberger, who wrote a book on Foster a few years ago, said if the penthouse had been designed earlier, "I absolutely would have included it." It was a misconception, he added, that the only way to add to a historic building and respect its architecture is to imitate the original structure. "Foster has been showing us for some time that there is an alternative and that a light modern structure can be deferential and respectful of historic context as much as anything that mimics older architecture." Besides, he said, "the existing penthouse is not distinguished, and neither is it wholly original."
Among the project's other local supporters are the board of the Beresford and the New-York Historical Society, whose president, Louise Mirrer, spoke in favor at the recent community-board hearing. "The applicant approached us immediately to talk about this project," she said, praising Ackman's neighborliness. "There are high marks to be given to this project and the applicant." Opponents in the building point out that Ackman and Oxman are major N-YHS donors — $1 million so far, with a pledge for $20 million more — and have offered to share their construction crane with the society when an eight-story annex goes up in its backyard this summer.
So lavish has some of the praise for the penthouse been that one could almost mistake it for a great civic institution. Irwin Cohen, the Chelsea Market developer, even compared it to the High Line. Its founders, he suggested at a community-board meeting, "created something that doesn't exist anywhere else in the world, and I feel that with the cooperation of CB7, we can accomplish something like that on the Upper West Side." Sean Khorsandi, the executive director of Landmark West, a preservation nonprofit that opposes the project, noted that a billionaire's penthouse is hardly a public institution. "I'm not in favor of someone completely obliterating original material for a vanity project," he said. "Our standards for alteration are 'Is it original, can it be restored, and can you see it from the street?'" All three are true of the pink penthouse, he said. "There's a way to live above it all but not dominate it. I love Norman Foster, and I have no doubt it will be beautiful. It's a seductive design. But he bought in a designated landmark district."
Which raises a good point: Why hire one of the best architects in the world to build a glass box on top of a prewar building when there are glass boxes with amazing views all over the city — glass boxes many other billionaires happily call home? Ackman even owns one such apartment, a 13,500-square-foot duplex penthouse at One57, known as the Winter Garden, with deity-tier views of Central Park. Ackman has previously said he and a group of investors bought the $91 million property for "fun" — not to live in. "We like prewar," he said of his and Oxman's affinity for 6–16 West 77th. "We like the location. We wanted the opportunity to build something beautiful. This is a piece of land, 170 feet in the sky, overlooking Central Park West."
It was also, he added, an opportunity to work with one of the world's great architects, who has not designed a private residence in New York other than his own apartment on Fifth Avenue. Why live in a structure designed for someone else, after all, if you can build your own? And not just anywhere, but on the roof of another building?
If the project is approved at next week's Landmarks meeting, opponents say they will try to find a way to fight it. The co-op board at 6–16 West 77th must give ultimate approval; there is an election this week, and the two candidates vying for an open seat fall on opposite sides of the issue. Still, relations between everyone in the building have remained mostly cordial, said one resident, save for the comments about some of them being against change at the community-board hearing. "It's not the kind of building where people make negative comments about their neighbors," she said. "Before now, the largest disagreements have been on what the decorating committee has wanted to do with the lobby."
Everyone emphasized to me that they have no problem with the billionaire who would live above them, just his renovation. Several, though, questioned his motivations and the repeated description of the penthouse as a "family home." The austere Foster design seemed "more like a place you would entertain adults, not have a 2-year-old." (Ackman and Oxman have a young daughter.) Even the overtures Ackman has made to the other residents — offering to redo the roof and elevators at his own expense and to help finance a lobby renovation — have rubbed some the wrong way. "We can afford a new roof," said one, bristling.
Things seem likely to become a lot less cordial if Landmarks approves the project next week. "The project is an assault on the landmarks law and to preservation in New York City," said Michael Hiller, the opponents' lawyer. "It frankly doesn't make sense to me. To put a fishbowl-like structure on top of a prewar 1927 building in a historic district is like putting whipped cream and a cherry on top of filet mignon. It's going to be illuminated at night, like a bathroom fixture. I don't see any redeeming quality other than that someone with a substantial amount of resources wants to have it."
Of course, Hiller conceded, he could see the appeal of living in such a structure. And that was the problem. "If this doesn't come out the right way, we're going to see these shitboxes all over the city," he said. "Every wealthy hedge-fund manager is going to want to do this. If you could have a glass-enclosed penthouse with 360 views, why wouldn't you?"