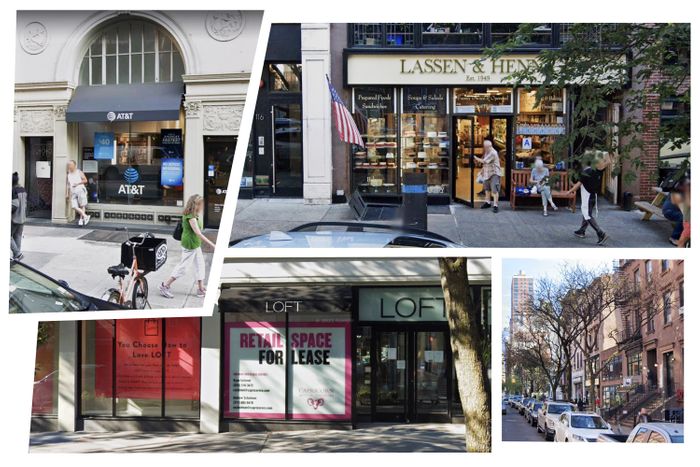 Coffee and sandwiches, plus a lot of empty storefronts.
Photo-Illustration: Curbed. Photos: Google
Walk down Montague Street in Brooklyn Heights on a weekday morning, and the private-school drop-off crowd — Grace Church, Packer, St. Ann's — is as chic as can be. Dads with bushy beards and in Red Wing boots push $1,400 Bugaboo strollers. Moms wearing Rachel Comey jumpsuits and Vejas pedal their kids to school on cargo bikes. The other day, I saw Emma Straub lugging a Pokemon-hatted kid along. A few minutes later, Keri Russell walked by wearing a big puffer and the smile of a mom who had just left her kids at school. Barely five minutes later, Darren Aronofsky walked the entire length of Montague, accompanied by Jennifer Connelly in a tight black leather biker jacket and a beanie. The houses nearby are among the most expensive places to live in New York City, and their median price is up 15.5 percent this year, to $2.7 million. One recently sold for $25.5 million.
Yet Montague Street itself is oddly, intractably unglamorous. The best place to eat is a sports bar that you might try, resignedly, during a ski trip in Vermont. Hanco's, a decent Vietnamese shop that swarms with teens getting bubble tea at 3:30, is solid but by no means a dining destination. There's an eyeglasses shop my grandfather might have gone to before he died and a LensCrafters; a frame store with a bunch of posters you'd see at a bad airport hotel; and a hardware store that's selling stuff every single resident of Brooklyn Heights orders from Amazon. The future of the Hotel Bossert is still unsettled. Some of the older shops appear to at least be trying to get with the times. Tango, a high-end women's boutique with a Talbots sort of vibe, now puts out a chalkboard on the sidewalk announcing new merchandise from Citizens of Humanity and Paige. Capulet's Salon & Spa next door has a selection of children's clothes that any Packer mom would proudly buy, and the Zitomer's-style neighborhood pharmacy City Chemist has the organic night creams that Sephora does not. But by 4 p.m. on one recent day, there was barely any foot traffic, as is the case on any given weekday. A long-haired teen skateboarder in pink Vans was nearly alone, doing tricks on the metal tongue of a parked delivery truck. The Starbucks had a sign on its door notifying customers that it will now be closing at 4 p.m. At least one-fifth of the 120 storefront businesses on Montague Street shut down for good during the pandemic, from beloved local businesses like the Chocolate Works to chains like Le Pain Quotidien. According to the nonprofit Brooklyn Heights Association, Montague Street also lost Five Guys, a nail salon, a dry cleaner, and Francesca's. It's nowheresville.
When Eric Lawton moved from Bedford-Stuyvesant to Brooklyn Heights in 2019, he, like many new arrivals, wondered why this landmarked, picturesque, four-block shopping strip looked so neglected. "It seemed like a great place, with beautiful sidewalks and trees, but it lacked vibrancy. The street was not thriving by any means," Lawton told me. "I'm not sure many people have been like, Let's go to Montague Street just to be there. That's never been said."
Not lately, for sure. But a generation ago, Montague Street was at least a functional, useful resource for its neighborhood. Before Smith and Court Streets took off or Fulton Street had a Shake Shack, Montague was the bustling, eminently practical commercial heart of gentrified Brooklyn — mostly mom-and-pop shops (some of which still exist) plus a scattering of national retailers that met the needs of the neighborhood while making their rent by serving the middle-class office workers of Cadman Plaza. Back then, Montague Street had both an independent bookstore and a Waldenbooks; both were filled with kids and their caretakers after school, just as Barnes & Noble on Court Street is today. In a borough that was still more battered and desolate than not, lawyers ran to Montague Street to pick up a sandwich at Lassen & Hennigs and bought flowers for their wives at James Weir and power-breakfasted at Teresa's. Before there were boutiques like Bird, most Brooklyn Heights residents shopped in Manhattan, though Montague Street also had a Gap and Banana Republic. It wasn't quite the place Bob Dylan immortalized in "Tangled Up in Blue" ("I lived with them on Montague Street / In a basement down the stairs / There was music in the cafés at night / And revolution in the air"), but it more or less worked.
That equilibrium was upset a couple of decades ago, according to many old-timers, when the rest of the borough began to blossom, the rents started to spike, and the chain stores came in and then left. Lincoln Restler, the neighborhood's incoming City Council representative, grew up in Brooklyn Heights and fondly recalls hitting up the Happy Days diner at 1 a.m. after a big night out. Back then, he said, there were fewer vacancies. "Look, there's no silver bullet to solve for Montague. It's been decades of disappointment," Restler told me as we paced awkwardly at the Promenade because we couldn't find a place to sit.
In 2004, when Cobble Hill and Carrol Gardens were increasingly desirable but still relatively affordable neighborhoods, commercial rents on Montague Street were (at $100 per square foot, comparable to what they are today) far outpacing those in the rest of the borough. According to a New York Times "Neighborhood Report" titled "Brooklyn Heights: You Can Buy a Cellphone, But What Happened to Quaint?" locals were already "fearful that their elegant minnow of a main street may be swallowed up by a less dignified commercial whale." Subway, Burger King, Mac, and Design Within Reach all announced plans to open locations on Montague Street that year, and the paper reported that many locals "wish that their street could be more like Court Street in Cobble Hill, a homey strip of bookstores, thrift shops, sit-down restaurants and a small movie theater." Another Times story that same year was more ominous, covering the creeping retail blight on the corridor under the headline "An Odd Hole on Montague." The 6,500-square-foot Gap on the corner of Henry and Montague closed around then, and it remained vacant for months, "spooking" the neighborhood until an Ann Taylor Loft moved in. In 2009, The Brooklyn Heights Blog covered the cascade of closures on the street in a series: "Montague Street Crisis: Mall of Mauled?" By 2016, the average asking rents had peaked at $190 per square foot — and then, as retailers left, they plunged to $72 three years later. The pandemic didn't help, either. The Ann Taylor Loft that had replaced the Gap closed. The former Design Within Reach storefront is now the Brooklyn Cat Café. All the while, the residential part of the neighborhood, always desirable, grew more and more expensive. As those homeowners' needs and desires changed, Montague Street did not keep up.
"The complicating factor with Montague," explained BHA executive director Lara Birnback, "is that you've had a push-and-pull or a tug-of-war between the businesses who felt they were reliant on a customer base of daytime workers, and I think a lot of property owners geared their leases towards businesses that would support that crowd." She continues, "I would love to see a Montague Street with a greater diversity of retail and services. Based on our survey, I think the local residents of Brooklyn Heights would like a street that caters more directly to their interests and needs as well." Restler agrees: "The critique that landlords brought in tenants that were just serving the working population is an absolutely fair critique, and it's been happening for ages."
The holdouts from its more-charming past seem to have moved beyond frustration to resignation. James Weir Floral has survived longer than any other business on the street, perhaps because it has managed to appeal to both constituencies, but even so Estela Johannessen has had to move the business twice since she bought it from her boss — who co-owned the building — in 1992. Her rent then was $5,500 per month; in 2019, it hit $18,000. Now, having recently moved into the old Ricky's space, she's paying $13,000. "You can't just blame the landlords, 'cause the real-estate taxes are very high," she said. "I know a lot of people who own the building and the business, like Tango and Lassen & Hennigs, and they've been trying for years to figure out why the taxes are so high and no one can give you an answer."
Thomas Calfa, co-owner of Lassen & Hennigs (the bakery and sandwich shop that's a local stalwart, opened in 1949), agreed. "This street was the first street to get regentrified back in the '80's, and therefore the city came in and taxed us harder first," Calfa said during a busy morning in his store. For the most part, the Montague Street businesses that were able to survive the pandemic and have weathered other economic downturns are the ones that are owner-operated, Birnback told me. (We met over coffee at Le Pain Quotidien's new location on Court Street because we didn't have a better option on Montague.) In some buildings, there are rent-regulated apartments upstairs, and the high commercial rates are meant to offset those. In others, the loan agreement dictates a certain grade of tenant. Kate Chura, executive director of the Montague Business Improvement District, explained to me that being "a designated historic district has done wonders to preserve the beauty of the neighborhood, but, as a landmarked commercial corridor, with walkups and walk-downs, it can also be more of a challenge to lease the commercial spaces."
Restler thinks that the city should be doing more to penalize prolonged vacancies. "I think that some of these guys have creative accounting practices where they come up with ways to write off their losses. They are waiting for the perfect corporate tenant," he told me. "We need the state Department of Taxation to be much more aggressive in coming after these landlords to make sure they aren't finding really inappropriate and illegal loopholes, and I think we need a more frontal approach and that's really a vacancy tax. If you're going to keep your storefronts vacant year after year after year, then you're going to have to start paying through the nose for it." But almost all the other urbanists, legislators, and nonprofits I spoke with were against a vacancy tax, instead favoring the carrot over the stick. "We'd be in favor of a tax break or discount for a landlord that rents their space to a small business," Birnback said.
Even without government action, there are a few tiny bright spots ahead. At least one forthcoming business has been staked in explicitly by the affluence of the neighborhood. A French bakery, L'Appartement 4F, will move from Court Street to Montague sometime in 2022, thanks to the $65,000 it raised on Kickstarter over the summer and several five-figure loans from neighborhood residents. Felice, the slightly less expensive Upper West Side cousin of Sant Ambroeus, is opening in the corner spot where the old Heights Café used to be sometime next year, and a Korean-fried-chicken chain is leasing the long-vacant former Theresa's restaurant as well. Oula, a maternity clinic with a Joshua Tree–meets–The Wing aesthetic, opened recently as well.
Calfa expresses some skepticism about all of it. "This is a bedroom community for Manhattan, and it always has been. That's never changed. People around here will basically stay in Manhattan and do their clothing shopping and go to restaurants. It's maybe shifting a little bit, but it's always been like that since the 1970s." But is it really? No one really knows who frequents Montague Street, including the head of the BID, Kate Chura. Deborah Marton, the executive director of the Van Alen Institute — and a Montague Street resident — believes that it's impossible to get the retail mix right without that knowledge. "Who would come to Montague Street to spend money, and how do I get them to do that? I think if there is more clarity on what the market is, then people will feel more secure that they are not just putting down a business and hoping for the best." But she's also optimistic: "There are a lot of family landlords, and if the pandemic taught us anything, it was that you need to be able to do things within walking distance of their home. Montague Street has great bones, there's beautiful architecture, the scale is perfect for pedestrians … it could be one of the gems of Brooklyn in terms of What are we going to do on a Saturday afternoon? And I think there is very much a hunger in the neighborhood for diversity of uses on Montague Street … that Montague Street would stop feeling like some sort of weird abandoned anachronism."
Meanwhile, many spaces sit empty. In some cases landlords would prefer to wait for the office workers to return and bring the triple-A tenants with them than negotiate lower rents or shorter-term leases with the kind of small businesses the neighborhood is yearning for. Lior Cohen, the broker for the former Sprint store at 147 Montague, said he has noticed many landlords dropping asking rents by up to 30 percent but insisted that it makes no sense for them to compromise on a ten-year lease, locking in a lower rate now, when the lunchtime business from the courts is likely to return next year, giving local businesses and rents a boost. In November, Cohen said he was asking $7,500 for the 920-square-foot space and declined to specify what the pre-pandemic rent was, saying only, "You can imagine." The former Starbucks at 112 Montague has been unoccupied — except as a storage space for Lassen & Hennigs — for at least eight years.
I called the number on the Starbucks window twice and spoke to the same very talkative man, who admitted to being the landlord but refused to give his name. (People in the neighborhood identified him as Nathan Silverstein. The building is registered to an LLC in Newark, New Jersey.) He said he is asking $15,000 a month for the second-floor space and "more than double that for the ground floor." "We started with a Sleepy's and then we had a Starbucks, and we are holding out for tenants like that," the man said. "When Starbucks first closed, I had all the restaurants call, like Armando's. But I'm holding out for a triple-mint tenant. In the last two or three weeks, I've finally started getting calls. There was some sort of bank or financial institution that wanted it, and that's appropriate. I got a dance studio, I think, but if I get someone like that, I tell them, 'You don't have to be on Montague Street. You can go around the corner.'"
I point out that 1,400 of his neighbors made it clear in the BHA survey last year that they don't want another bank on Montague Street and are looking for a retail mix that benefits the neighborhood — a butcher, a baker, a fishmonger. "The bakery can only pay a fraction of the rent. A bakery or someone who's going to start a dance studio and close after a couple of weeks, that's not suitable for the location. You don't put someone who can only afford a little rent on a street like Montague." He hung up before I could hear his thoughts on the new head shop across the street.