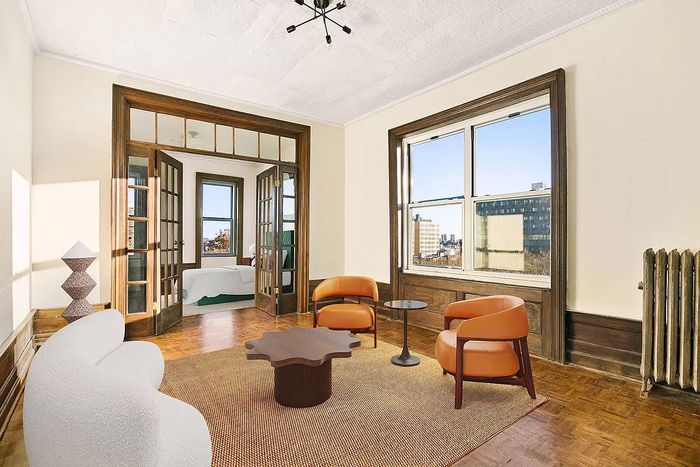 Photo: Courtesy of The Corcoran Group
For under a million dollars, one can find all sorts of housing configurations: park- and subway-adjacent studios, one-bedrooms hidden in carriage houses or former shoe factories, and even the occasional true two-bedroom. With apartment prices rising again and inventory continuing to tighten up, we're combing the market for particularly spacious, nicely renovated, or otherwise worth-a-look apartments at various six-digit price points. This week: a $399,000 Chelsea studio, a floor-through Crown Heights two-bedroom, and more.
A Chelsea Studio With a Walk-in Closet for $399K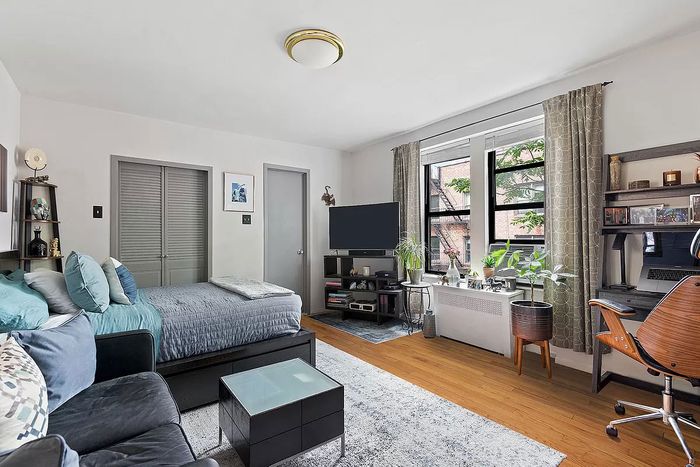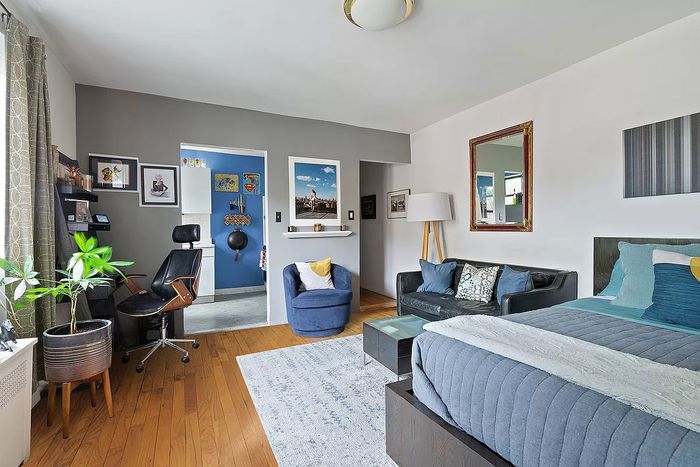 319 W. 18th St. Apt. 5G — The two cheapest studios in Chelsea right now are both in this West 18th Street building, which is a prewar elevator co-op on an Open Street block. Compared with the fifth-floor unit asking $389,900, this one (also on the fifth floor) is slightly more yet feels significantly less like a shoebox. The foyer has a coat closet and leads to a long hallway. And the kitchen, though a bit dated, is in a separate, windowed room. There's also a walk-in closet that has built-in bars and shelves. All the windows, including two in the living area and one in the bathroom, are rear-facing and overlook tall trees.
A Well-Preserved Prewar Two-Bedroom in Washington Heights for $475K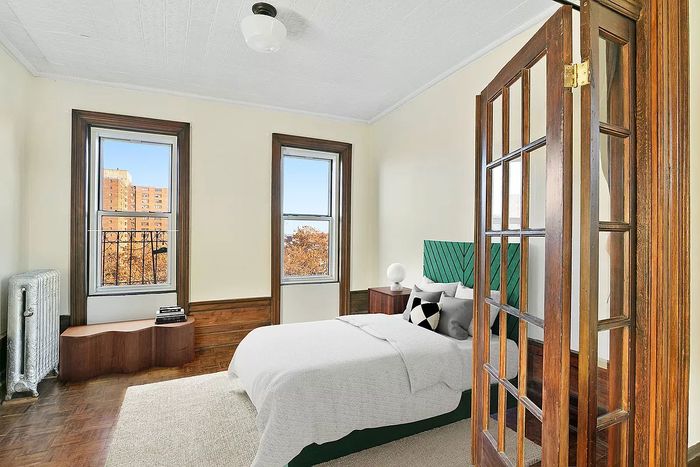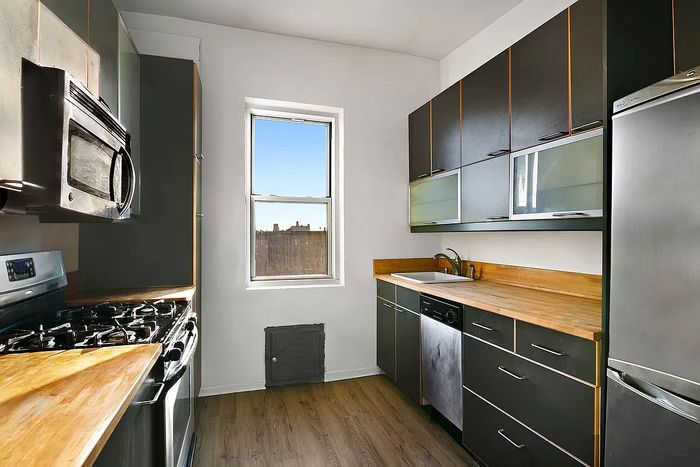 930 St. Nicholas Ave. Apt. 63 — This two-bedroom apartment has exceptional natural light throughout. It's a corner unit on the top floor of a six-story elevator co-op with high ceilings, six windows facing south and east, and French doors with transom windows and sidelights. The unit has tons of meticulously preserved prewar details including original window casings, base and crown moldings, a claw-foot tub, and an original potato cooler built into the wall under the window in the kitchen. Speaking of: The rest of the kitchen has a few updates like butcher-block countertops, charcoal-colored cabinets, and stainless-steel appliances (dishwasher included). The building is only a minute from the 155th Street C train and has a landscaped common garden with a paved path and patio seating.
A 1,000-Square-Foot Two-Bedroom in Crown Heights for $699K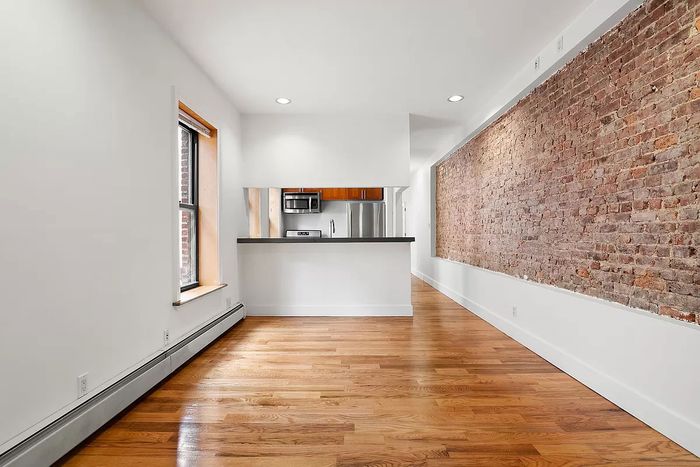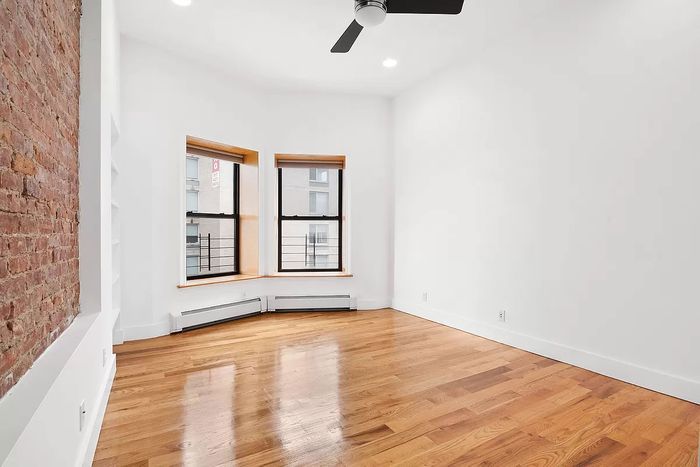 1520 Bedford Ave. Apt. 4A — Sitting just around the corner from the Franklin Avenue–Medgar Evers College 2/3/4 trains, this floor-through condo measures over 1,000 square feet,with a large bedroom on each end, a third windowed room that could be an office or railroad-style bedroom, two full bathrooms (one is en suite), 11 windows (all with deep sills), and four double closets. The renovated kitchen has a wide pass-through window overlooking the spacious living room, bar seating for three, maple Shaker cabinets, and stone countertops. Back on the market after almost 15 years, the apartment just got its hardwood floors refinished. There's also recessed lighting throughout, exposed brick in almost every room, and a recessed built-in bookshelf in the office.
A Renovated Brooklyn Heights One-Bedroom With a Private Roof-deck for $999K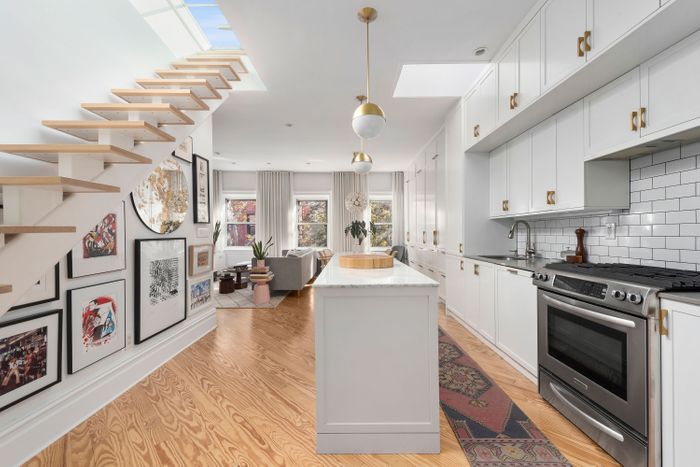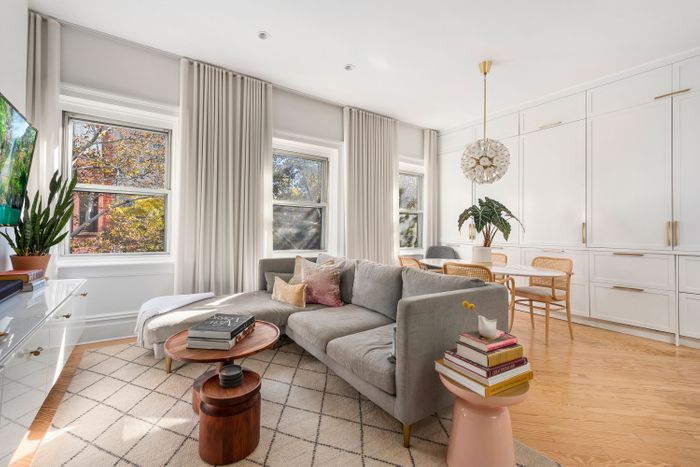 8 Sidney Pl. Apt. 5 — This apartment is fairly pricey for one-bedrooms in the neighborhood, but it's one of the few available with a private outdoor space (a large roof-deck surrounded by trees, to be exact). The interior renovation is also a bit more inspired than usual: The large open-plan living and dining area has a wall of sleek built-in cabinets (all white with brass pulls), which extend into the adjoining kitchen (the fridge is concealed by matching cabinet doors). The kitchen has a skylight over the sink area and a narrow but practical island that fits in additional storage and counter seating for two. A striking floating staircase across from the kitchen leads up to another large skylight that opens to the roof-deck. There are more skylights in the bathroom, where there's also a washer-dryer, a walk-in glass shower, and tons of built-in storage. The building is a five-minute walk or less from all the trains in the area (R, 2/3, and 4/5).