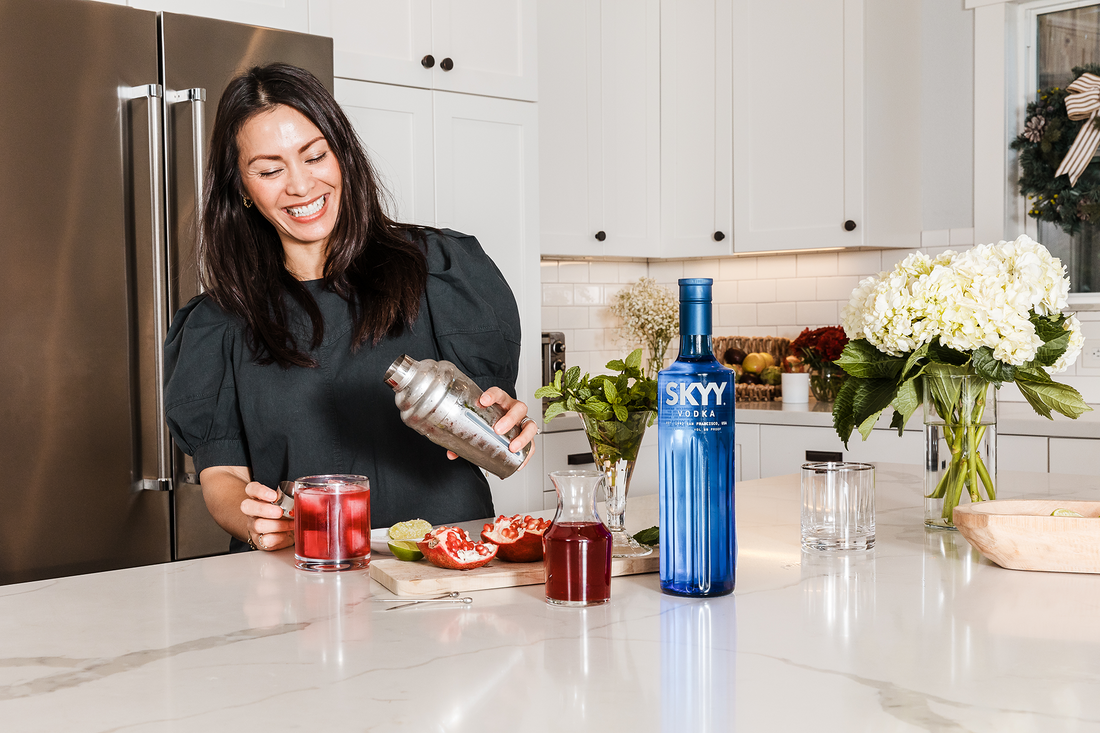 An East Coast holiday means blizzards, toasty fireplaces, and warming winter spices — your gingerbread-eggnog-apple-allspice-caramel everythings. But a West Coast holiday? That's an entirely different vibe: one that's relaxed and natural.
And of course, the cocktails you serve should reflect your locale, too. Local San Francisco interior designer Cristina Lehman worked with SKYY Vodka and two San Francisco cocktail experts, Carey Jones and John McCarthy, to develop two cocktails for the holidays, that are a perfect fit for a West Coast Christmas. "I love that SKYY was founded in San Francisco," Lehman says. " And I love the versatility of SKYY Vodka, it has a smooth, crisp flavor that's great for so many kinds of mixed cocktails like a Cosmo and a Lemon Drop."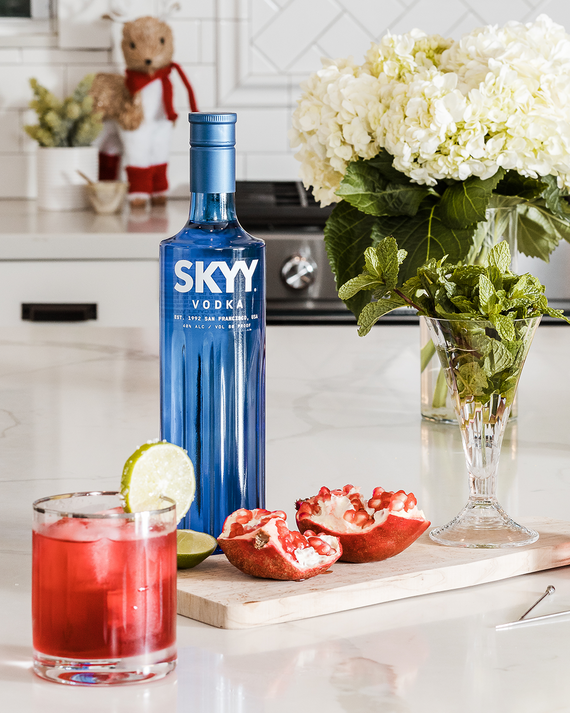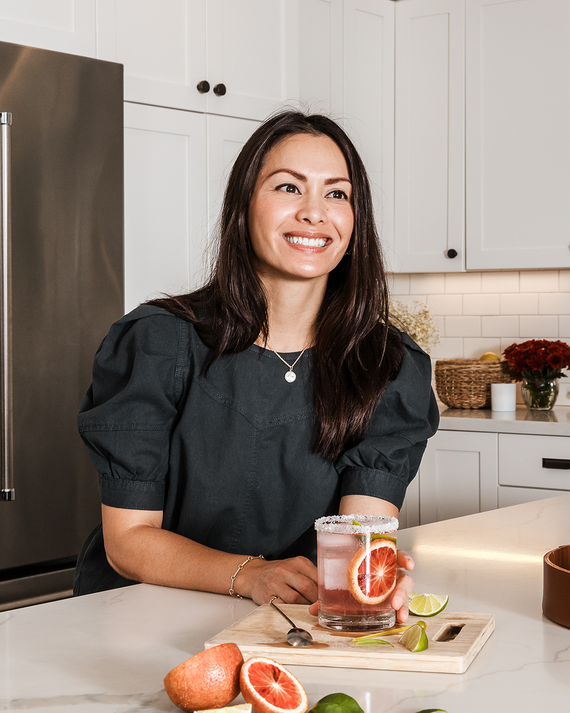 For a drink that feels festive but not so wintry, lean into seasonal flavors outside the box. Like the Solstice Sunset: Blood orange and cranberry make for a beautiful pairing; here, tart cranberry juice lends color to SKYY Blood Orange and soda. "I love the flavors and presentation of this cocktail," Lehman says. "The red color with the green lime wedge looks so festive and it tastes like it's time for the holidays."
She says she'd have plenty of blood oranges on hand when serving this at home or at a party, for both serving and decor. "When they're cut open and sliced, they look so interesting and pretty and it would be great to have this out at the cocktail area for the drink and as decor. This would be really pretty in gold rimmed glasses and I'd serve it alongside a colorful charcuterie board."
The Solstice Sunset
Ingredients:
1-1/2 parts SKYY Infusions Blood Orange

1/2 part 100% cranberry juice

4 parts club soda

Lime wedge, for garnish
Preparation:
Combine vodka, cranberry juice, and club soda in a Collins glass with ice and stir briefly.

Garnish with a lime wedge.
Another way to add some color to your holiday party? Add pomegranate juice for a Pomegranate Sour. In this refreshing cocktail, pomegranate juice steals the show, backed up by lime and, of course, a fresh-tasting vodka like SKYY, made with water enriched by Pacific Minerals. "I also love the presentation of this cocktail because of the red and green colors; the mint especially makes it look and taste festive," says Lehman. Serve it at home with some fresh pomegranates in a basket for decor next to the cocktail area, and pair it with a chocolatey dessert — some dark chocolate or brownies with pomegranate seeds, she says.
The Pomegranate Sour
Ingredients:
1 1/2 parts SKYY Vodka

1 1/2 parts pomegranate juice

1/2 part lime juice

1/4 part simple syrup

Mint sprig, for garnish
Preparation:
Combine all ingredients in a cocktail shaker with ice. Shake until well-chilled, then strain into a rocks glass with fresh ice.

Garnish with a mint sprig, tapped firmly against your hand before adding to the drink to release its aroma.
Savor the Moment with SKYY
Carey Jones and John McCarthy are co-authors of Be Your Own Bartender: A Surefire Guide to Finding (and Making) Your Perfect Cocktail. Carey is a food and spirits writer for publications including Food & Wine, Travel + Leisure, and Vogue. John is a consulting mixologist and spirits writer who has created bar programs for more than a dozen establishments in New York and beyond. He and his cocktails have been profiled in The New York Times, The Wall Street Journal, and other publications; and he has appeared on-camera on Good Morning America and the Today Show. They live in Sonoma County, California.
This advertising content was produced in collaboration between Vox Creative and our sponsor, without involvement from Vox Media editorial staff.