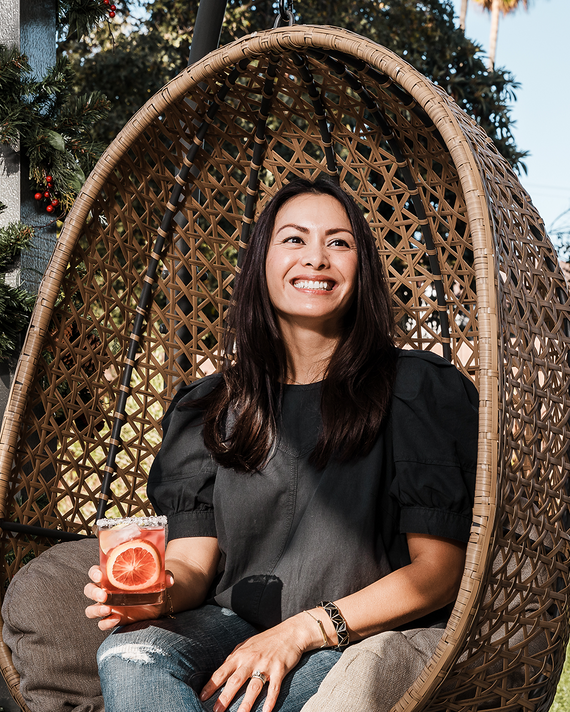 It's coming up on the holiday season, and Cristina Lehman, an interior designer, has already laid out her holiday decor spread. You won't find all the typical normcore decorations at her sleek Bay Area home. With the exception of some touches of nostalgia (like a homemade ornament, or a family heirloom gingerbread pillow), you'll instead see a palette of neutral colors and modern accents with a hint of boho — blended together with old and new.
A home design show is playing on the TV, the couch is covered with a chunky knitted blanket, and a bottle of SKYY Vodka sits on a refurbished countertop. The holidays are not only for tasty dishes —it's also for familial connection, and the gratitude it brings. The season may look a little different for a California local, but the foundation remains the same.
Happily married for 16 years with two children (a boy and a girl), Lehman knew her passion for interior design was more than just a hobby after decorating her home from scratch. She's since designed for her own family (now in their third home) and taken on a roster of local clients, determined to make every space beautiful while sticking to a budget. "It's self-taught," she says. "When we purchased our first home, we renovated the whole thing with help from our friends and family. We're on our third home now, and it's just evolved from there. I realized it was my passion quickly. All I watch are interior design shows; I read interior design books and magazines. It's what I'm always thinking about."
When decorating her California home for her and her family, Lehman leaned into the ease and effortlessness of Bay Area living — mixed with organic elements and textures from her upbringing. "I start by swapping out my throw pillows to more seasonal color pillows, adding thicker and cozier blankets on the sofa. Then, I add in baskets and holiday decors like garlands and wreaths with little holiday vignettes in select areas so it looks festive but not cluttered," she explains.
For her, the holiday season is about embracing the area's unfussy tones and taking inspiration from local elements. Ahead, her tips for having a calm, aesthetically-pleasing holiday season — with no stress-inducing parties or overcomplicated decor involved.
This advertising content was produced in collaboration between Vox Creative and our sponsor, without involvement from Vox Media editorial staff.