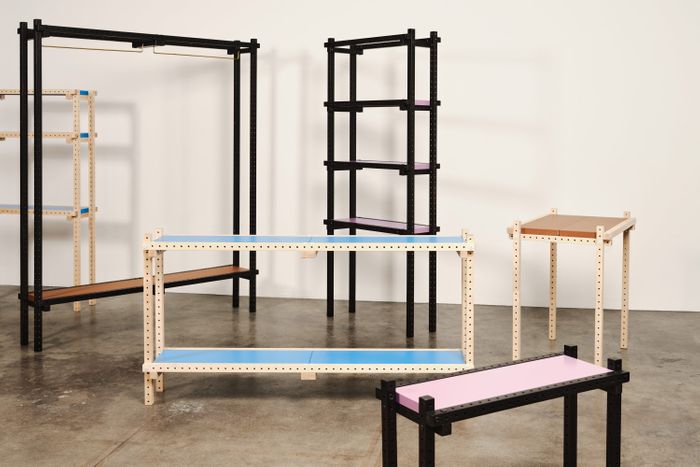 Americans throw away over 12 million tons of furniture every year, and most of it ends up in landfills. But are we atrociously wasteful beings, or is furniture just not durable enough? If you ask the industrial designer Jennifer June, founder of the furniture brand Loose Parts, the real problem is the latter: Furniture ought to grow and change as our needs do and be able to hold up over time. It's the opposite of single-use furniture that won't last longer than your lease.
At Wanted Design, Loose Parts debuted the Original Assembly Kit (OAK), a modular furniture kit composed of eight powder-coated steel shelves, which can also be flipped to serve as trays; 32 solid-wood rails with holes drilled every couple of inches for fasteners; two metal hanging rods; and steel fasteners. June calls the OAK a "Swiss Army knife approach" to furniture since the parts can be assembled using just an Allen wrench to make a garment rack, bookshelf, dining table, end table, and console. The kit, which is manufactured in Los Angeles, includes enough parts to make one large piece of furniture, like a garment rack or long bookshelf, and two smaller ones, like an end-table-sized piece. If you need something else, just unscrew the steel fasteners and build a different piece. Aesthetically, the furniture lands somewhere between an erector set and industrial-modern design. Starting at $4,180, the OAK isn't inexpensive, but it'll surely outlast a particle-board Billy bookshelf.
June launched Loose Parts in 2019 based on the idea of architect Simon Nicholson's Theory of Loose Parts — a play-based concept that prizes creative environments with lots of variables over static ones with limited experiences. This kit isn't June's first foray into modular design;  she has sold flat-pack daybeds, coffee tables, bookshelves, and chairs that are based on her own experiments with modular design. June wanted to challenge herself to build as many  different pieces as possible using the same handful of components that comprise the OAK.
During the pandemic, June saw the need for a more flexible furniture system. Clouded by uncertainty and constantly evolving health guidance, offices, stores, and restaurants had to quickly transform their interiors to meet changing regulations and business needs. As time has gone on, that uncertainty hasn't waned. June calls the kit a "creative partner" whose variables will help people build furniture that'll meet their needs at any given moment in time. While June designed the kit with commercial spaces in mind, it's almost like an apartment in a box. The most durable furniture is stuff you can keep, but who wants to schlep a mammoth wardrobe or a bookshelf around? Given how often we move — 11 times on average, and New Yorkers probably a lot more — this flat-pack modular kit of parts feels like the platonic ideal for renters.